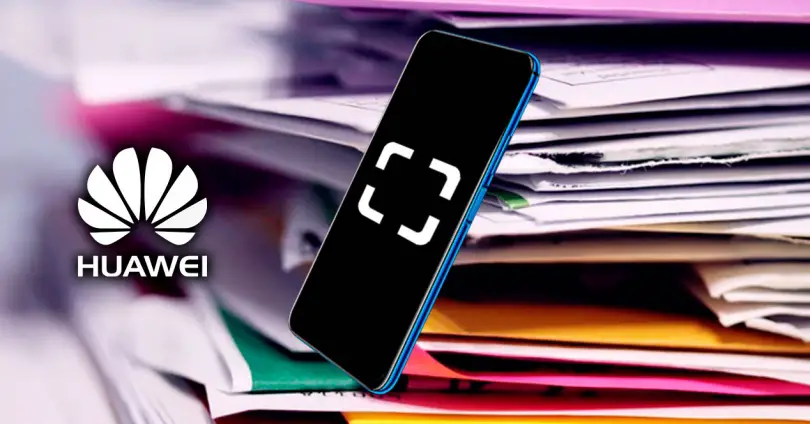 Although we have more and more digital documents, we continue to come across tickets or invoices that live with us in printed form. To try to avoid saving all this paperwork, we can choose to scan the documents on Huawei phones with a function that is present in EMUI and that without difficulties will be of great help.
We have already seen this method in some smartphones, such as the Samsung scanner in its latest versions of its customization layer. A tool that once you try it, you add a new option to your smartphone and you end up being convinced of how useful it is. We go on to show you everything we must do to use it in Huawei, the problems and different questions that may arise.
Scan documents on Huawei step by step
The whole process begins with Huawei's camera app, which has many integrated options that we can access by simply sliding our finger across the screen until we come across the "More" section. This will take us to a tab in which we have several possibilities to take creative photography or get more out of our mobile cameras and among those options we will see the EMUI Documents mode that offers us what we are looking for.
Once we touch on the option, we just have to put the mobile vertically with the desired documents. We will have to help ourselves with the square that is superimposed on the sheet on the mobile screen and at the right moment touch on taking a photo to scan with the mobile in just a few seconds, a process is very fast that leads us to save the document in the mobile.
Correct scanned documents
Once we have completed the scan with the previous steps, we will have the final result in the gallery. We can settle for what Huawei's artificial intelligence has offered us or choose to improve the clipping of documents , something that we have at our disposal in the gallery just by touching the button that appears at the top next to the information .
By clicking on this icon, the invisible lines that Huawei chose to cut the document will appear and we can move them manually until we can adjust it in the best possible way. In case they do not convince us, we have the possibility of restoring it to the previous state and once completed, we will only have to touch on the validation so that it is saved in this way. It is important to know that we can only do this on the original mobile where we took the photo to scan.
To continue improving the scan, we have the possibility to enter the Huawei image editor, where we can increase the contrast, saturation and brightness depending on what we see on the screen. It is not recommended to modify it too much since artificial intelligence behaves well in these cases, although there are times when it is difficult not to resort to it if we had bad light.
Organize documents with EMUI
Once we have the document on our device, it will appear in the gallery along with the rest of the photographs. To make it more identifying, we will see that in the set of images it can be easily recognized by including a symbol that refers to the document. To place model and organize all scanned documents, we can keep our finger on it and then choose the option to move it to a new album.
If we touch on the advanced options within the document, we will also see that we can add notes that will help us remember exactly what the document is about and thus keep everything well organized. Anytime we need it, we can also export it as PDF to send it by email or any kind of need.
Possible problems when scanning documents
Among all the situations that may arise when trying to scan documents on Huawei phones, we find that we do not have adequate light and therefore the level of detail that we achieve is not indicated. It will be very important to have good lighting so that noise is not created in the image and although the best solution is always natural light, in some cases we would have to opt for artificial light to get out of the way and ensure that the texts can be read well. .
To activate the flash light on our mobile we just have to touch on the bulb that appears above the screen when proceeding to scan a paper with the mobile , in this way we notice in a prominent way as now that the result is what we were looking and which offers us a scanner more similar to what we could do with a traditional scanner.
Why is the option not displayed on my mobile?
It is likely that you have tried to use this option on your Huawei mobile phone and you did not have the option to use it, which could be because you do not have the necessary EMUI version even though it has been running for years. All smartphones with EMUI 9 onwards integrate this option, but if your smartphone does not integrate it, you can always try to find it among the HiVision system apps, which also offers the option to scan documents in a very similar way.
Scan photos with Huawei phones
Since we have already seen how we can use our Huawei mobile and this useful function with documents, the possibility of using it to scan photographs also comes to mind. This is something the tool is not designed to do but it does a very good job nonetheless. Therefore, it will be useful for us to digitally save analog photos that we do not want to lose forever.
We will have to repeat the previous process, entering the camera and going to the documents option. When trying to scan the photo, the corners may not delimit what we see on the screen, but if we press the button, we can see after the gallery as if it is capable of doing it and we obtain a good result, which like before we can also adjust and improve manually.