When it comes to working with files from our Windows computer, we come across popular files that we will immediately know with which program we can open and edit them. However, it may be that on occasions in which a file with a format unknown to us may reach us, that we simply do not know how to open it to view its content. This may be the case for EPS files.
EPS files is an old format but one that is still used within the design industry, so if we move into fields related to it, it is possible that a file with this format may come into our hands. That is why today we are going to know what EPS files are, what they are used for, what advantages and disadvantages their use has and how to open them in Windows.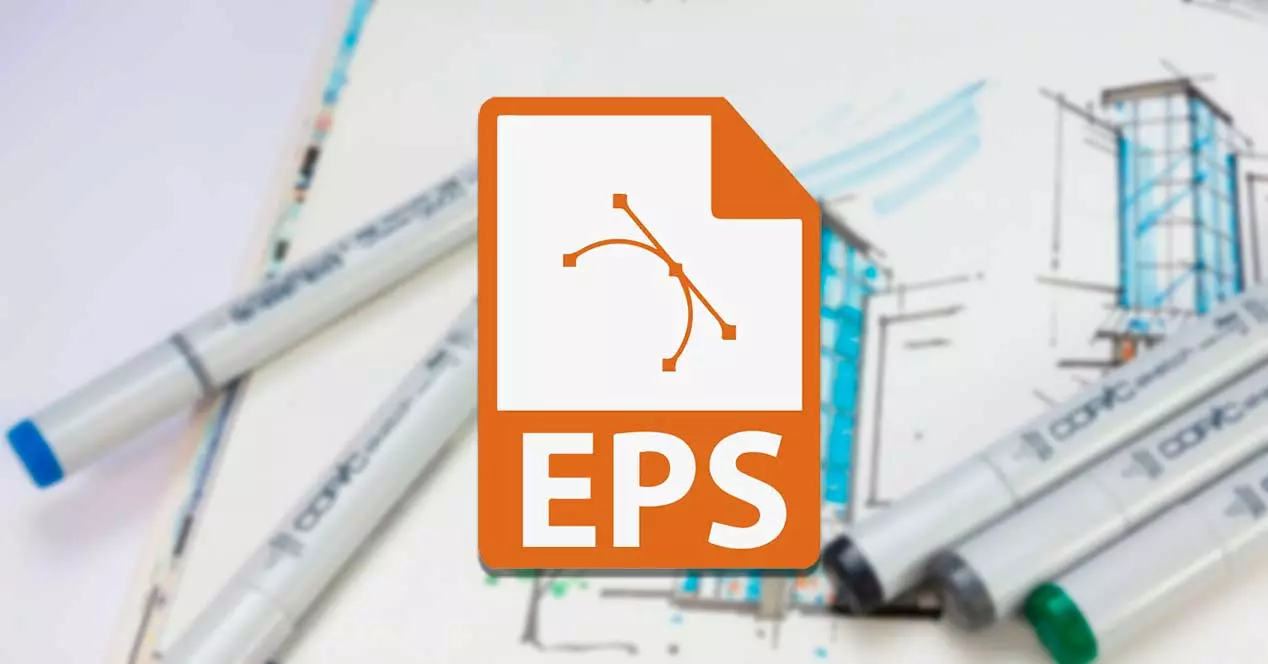 What are EPS files
We are talking about a graphic file format created by Adobe in the late 1980s, which made it one of the first image file options for the design industry. The format was developed to make it easy to incorporate images and illustrations into predominantly text-based PostScript creations. The EPS file format could also generate a low-resolution preview before printing, something that was previously not possible. These low previews make it accessible with programs that cannot edit the internal script.
They are especially used by graphic design programs to save both 2D graphics and vector images, as well as produce images, drawings or designs. These can contain text and graphics to describe how the vector image is drawn, but also often include a bitmap preview image "wrapped" inside. Publishers use this file widely because it is compatible with different operating systems.
Additionally, EPS files may also appear with the extensions EPSF and EPSI .
What are they currently used for?
EPS files have a wide variety of uses when designing and printing graphics . Although they have already been superseded by more modern formats like PDF, EPS files still have a function as a legacy format that is compatible with almost all systems and software. In fact, they are not rare files to find, or at least as rare as their name might suggest.
This format is still used by professionals for large-scale jobs. Its file format backwards compatibility feature makes it suitable for working with a wide range of printers, including those that may be outdated by more modern formats such as PDF. Computer-controlled engraving machines may also find EPS data easier to reproduce in detail, making it ideal for working with.
Also, since the individual image data is stored in vector files, it means that EPS files retain resolution regardless of scaling. That makes them ideal for enlarged images such as billboards and other large-scale marketing materials.
Advantages and disadvantages
As we have discussed, the EPS format is ideal for being able to scale any image , as they make sure that the resolution remains high, even when it is stretched or enlarged to larger proportions. Your data also benefits from having a form of lossless compression , which ensures that image quality remains high, even as we reduce file size.
Additionally, most printers used by professionals today are capable of comfortably handling EPS files, making them a universal choice for larger, bulkier print jobs.
But not everything is perfect in EPS files, as their use also has some disadvantages . Since this format consists of mathematical data that determines how the image will look in a thumbnail preview, it can cause it to take a long time to set the image settings before creating the file. This is inconvenient for work environments that have a high and fast pace.
Also note that once the file is saved as an EPS, it can no longer be edited. In the event that we discover an error and want to make changes, we must return to the original file to make the appropriate changes before resaving the file as EPS. In addition, to be able to open them it will be necessary to have specialized software.
How to open in Windows
Windows does not have any built-in capabilities or applications that are capable of handling the EPS format, which means you will need additional software to edit and view any image.
photoshop
We are talking about one of the most popular photo editors of the moment, especially aimed at professionals, although it is increasingly used within the domestic sphere. It is not a free program, but you will have to pay 24 euros per month to use it. We can also download your trial version for 7 days .
Once opened, we just have to click on the File tab, located in the upper left. This will open a menu where we select the Open option. This will open Windows Explorer from where we must search and locate the EPS file. Once selected, we double click on it or click on the Open button, so that it appears in the program.
EPSViewer
It is a free program that we can use to view, rotate, move and resize our EPS files. It is very simple and easy to use, as all you need to do is open the EPS file, zoom, resize and save it in another format if you wish. We can also use it to convert the EPS file to another image format like JPEG or PNG. We can download it from the developer's website .
Once we run it, a window with the Windows File Explorer appears automatically. In it, in the Type section we select Encapsulated PostScript (EPS) and navigate to the folder where the file is located and select it. Finally, click on "Open" to load the program.
IrfanView
If we need a program with which we can carry out more actions than viewing and performing simple rotations, IrfanView is one of the best free options, since it allows us to open a wide variety of image files and perform editing functions on them. We can download IrfanView for free in both a 32-bit and 64-bit version.
In order to open and edit EPS files with IrfanView, we will need its plugin package, as well as software called Ghostscript . To install the plugins we must access its download page and obtain the 32 or 64 bit version. We double click on the .exe file and complete the wizard to install the plugins.
Now we can open any EPS file in IrfanView. To do this, we simply have to click on the File tab and click on Open. In the drop-down menu we make sure to select the PostScript files , and select the desired file to be able to open it.