Who has not found himself or in a moment of trouble where he needed to put a table, a space in the room or the computer measurements among many other elements. A problem that affects us more than we would like and that nevertheless we can solve quickly thanks to the technology that mobile phones offer us today.
Although for many cases the subway may continue to be the option that many prefer, for those emergencies where we do not have it, using augmented reality to measure with the mobile is a fantastic solution. A clear advantage that does not need anything more than our skill through the virtual world, combining it with ours of reality and the technology that mobile phones already integrate.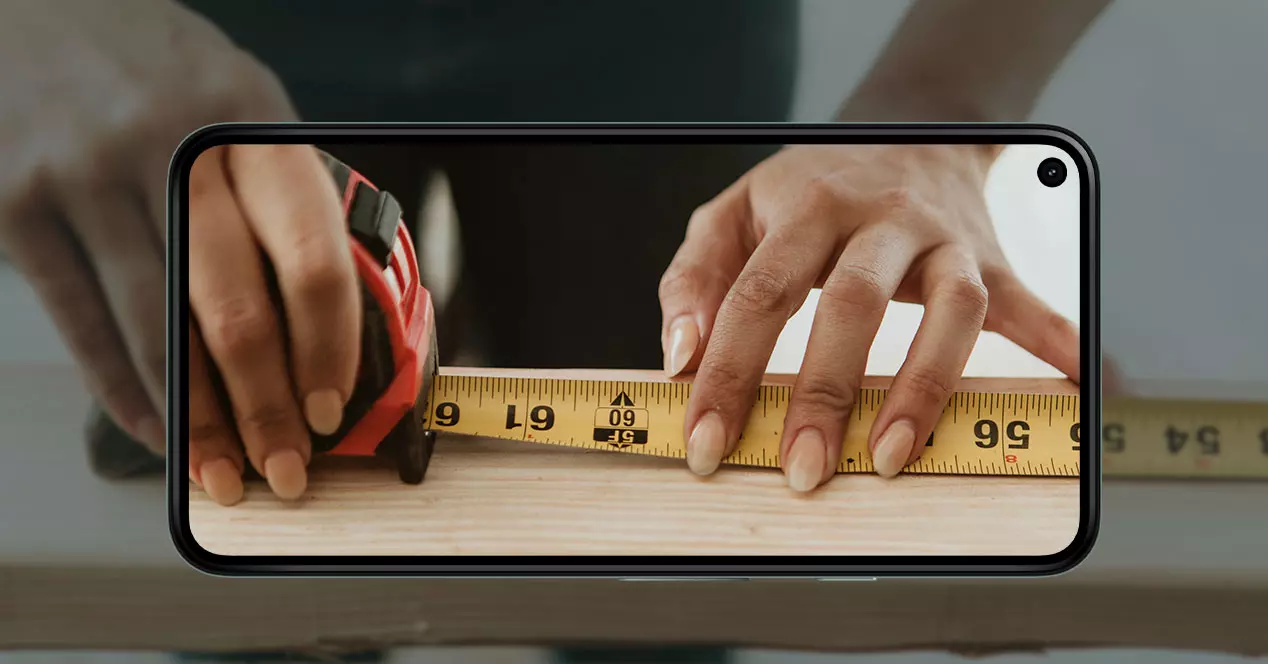 What to keep in mind?
We cannot go on to measure objects and elements just like that, because this advanced technology requires a little learning and steps to follow. If we do not follow the main steps, the result of the measurement with the phone will not be as expected and we could find that the measurements are not as expected or even that the system does not work. It does not matter the smartphone that we are going to use or the operating system, in any case we will have to look at the following:
We need good lighting: without an ideal light the mobile will not be able to differentiate between areas and objects.
Textures help you: whenever you can, place the object on a surface that is not identical to it, so that the result is better.
Aim correctly: once we want to measure, we must try to be precise and place the camera at the correct point in the most precise way.
Take measurements with your iPhone
Anyone who has an iPhone in their hands has a tool to check measurements without having to download anything, just by accessing the Measurement app. A function that offers us the advantage of having the measurement of an object at our fingertips in a matter of seconds, just by detecting the object, clicking on the plus on the screen and repeating it when completing its diameter. In the event that we want to measure an area, such as a geometric shape, it will detect it and pressing more will recognize the entire area without having to do anything.
Apple is more accurate
Although this function that we have known is available in all those who have iOS 14, it will be more accurate in the case of models that integrate the LiDAR scanner, although in good light conditions there should not be too many changes in simple objects. The ones that benefit from it therefore are the iPhone 13 Pro Max, iPhone 13 Pro, iPhone 12 Pro Max and iPhone 12 Pro.
Measure objects on Android
To carry out the process of measuring objects with the mobile in the case of Android, we ran into a curiosity. For years, Google itself has been working on the technology called ARCore to give advanced results when using augmented reality on smartphones. For a time it was one of the brands with the best development, but as on other occasions it has happened, they have put it aside and half way.
So much so that even its own tools in the form of an app have disappeared. Previously we could use an app called Measure to measure objects in a matter of seconds, but they have withdrawn it from Google Play and now it is difficult to get hold of it. Luckily, other developers have acquired this technology and we can achieve the same result from other apps.
The tool that develops in a similar way to the Google app is called AR Ruler. In this case, although it will offer us a paid version when entering, we can measure without limitations with the free option, you just have to touch the "X" in the upper left when entering for the first time. Afterwards, the area next to the objects to be measured will have to be scanned with all the principles that we have mentioned above to have a good result.
It will be as easy as touching on the mobile screen once we have the part of the object where the measurement begins and repeating it at the end. We can even choose the unit of measure , to always have the desired result. If we want to check an area, we just have to join the points of all the corners that form it.
Phones are ARCore compatible
The system and technology created by Google for the Android landscape is still active to ensure a smooth operation along with augmented reality . A certification that smartphones must pass to boast of it. Among the wide list of smartphones that we find, there are models of all brands and ranges, we share those that have arrived in recent times and therefore boast a better result:
Google
Nexus 5X
Nexus 6P
Pixel
Pixel XL
Pixel 2
Pixel 2 XL
Pixel 3
Pixel 3 XL
Pixel 3a
Pixel 3a XL
Pixel 4
Pixel 4 XL
Pixel 4a
Pixel 4a 5G
Pixel 5
Samsung
Samsung Galaxy S21 Series
Samsung Galaxy Z Flip 5G
Samsung Galaxy Note20 Series
Samsung Galaxy A51
Samsung Galaxy A51 5G
Samsung Galaxy A71 5G
Samsung Galaxy S20 FE
Samsung Galaxy A22 5G
Samsung Galaxy A72
Samsung Galaxy A32 5G
Samsung Galaxy A42 5G
Samsung Galaxy M20
Samsung Galaxy A31
Samsung Galaxy A41
Samsung Galaxy Tab S6 Lite
Samsung Galaxy Tab S7
Samsung Galaxy Tab S7 +
Samsung Galaxy M31
Samsung Galaxy M21
Samsung Galaxy A70s
Samsung Galaxy A71
Samsung Galaxy Note 10 5G Series
Samsung Galaxy Note10 Lite
Samsung Galaxy S10 Lite
Samsung Galaxy Z Flip
Samsung Galaxy Note 10 Series
Samsung Galaxy S10 Series
Samsung Galaxy S10 5G
Samsung Galaxy A3 (2017)
Samsung Galaxy A5 (2017)
Samsung Galaxy A6 (2017)
Samsung Galaxy A7 (2017)
Samsung Galaxy A8 (2018)
Samsung Galaxy A30
Samsung Galaxy A50
Samsung Galaxy J5 (2017)
Samsung Galaxy J7 (2017)
Samsung Galaxy Note8
Samsung Galaxy Note9
Samsung Galaxy S7
Samsung Galaxy S7 edge
Samsung Galaxy S8
Samsung Galaxy S8 +
Samsung Galaxy S9
Samsung Galaxy S9 +
Samsung Galaxy A6
Samsung Galaxy A20
Samsung Galaxy A20s
Samsung Galaxy A30s
Samsung Galaxy M31s
Samsung Galaxy A20e
Xiaomi
Xiaomi Mi 11 / Pro
Xiaomi Mi 11 Lite 5G
Xiaomi Mi 10T Pro
Xiaomi Mi A3
POCO X3 Pro
LITTLE X3 NFC
Xiaomi Mi Note 10 / Pro
Xiaomi Mi 10 Lite 5G
Xiaomi Mi 9T / Pro
Xiaomi POCO F1
Xiaomi Mi Mix 2S
Xiaomi Mi Mix 3
Xiaomi Mi 10 / Pro
Xiaomi Mi 10 Lite 5G
Xiaomi Mi 10 Ultra
Xiaomi Mi 9 Lite
Xiaomi POCO X3
Xiaomi Redmi Note 10 / Pro
Xiaomi Redmi Note 9 5G
Xiaomi Redmi Note 9 Pro Max
Xiaomi Mi 9
Xiaomi Mi 8
Xiaomi Redmi Note 8
OnePlus
OnePlus Nord N10
OnePlus Nord
OnePlus 3T
OnePlus 5
OnePlus 5T
OnePlus 6
OnePlus 6T
OnePlus 7
OnePlus 7 Pro
OnePlus 7 Pro 5G
OnePlus 8
OnePlus 8 Pro
OnePlus 8T
OnePlus 9
OnePlus 9 Pro
OnePlus 9R
OPPO
OPPO Find X3 Pro
OPPO A94
OPPO A92
OPPO A72
OPPO A52
OPPO Find X2 Pro
OPPO Reno
OPPO Reno2
OPPO Reno2 Z
OPPO K3
OPPO Reno3
OPPO Reno3 Pro 5G
OPPO A52
OPPO A72
OPPO A92
OPPO A92s
OPPO Reno 3A
OPPO A72 5G
OPPO A93 5G
OPPO A94
OPPO F19 Pro +
OPPO Find X3 Pro
OPPO Reno 4 SE 5G
OPPO Reno 5 5G
OPPO Reno 5 Pro 4G / 5G
OPPO Reno6 Pro + 5G
Realme
Realme 7 / 7i
Realme 7 Pro
Realme 8 Pro
Realme Narzo 20 Pro
Realme X3 Super Zoom
Realme X2 Pro
Realme 6
Realme 6 Pro
Realme X50 Pro
Realme X50 Pro Player
Huawei
Huawei P30
Huawei P30 Pro
Huawei P20
Huawei P20 Pro
Huawei Mate 20
Huawei Mate 20 Pro
Huawei Porsche Design Mate RS
Huawei Nova 3
Huawei Nova 4
Huawei Mate 20X
Huawei Porsche Design Mate 20 RS
Huawei Y9 2019
Motorola
Moto G50
Moto G100
Moto G Power 2021
Moto G9 Power
moto g power
motorola edge
motorola edge plus
moto g⁷ play
Moto G8 Series
One hyper
One macro
One Vision
One
Moto Z4
Moto G5S Plus
Moto G6
Moto G6 Plus
Moto Z2 Force
Moto Z3 Play
Moto X4
Moto G7 Series
Moto G8 Power Lite
Moto G Pro
Moto G9 Plus
Edge
Edge +
Moto G 5G
Motorola One Fusion
Nokia
Nokia 5.4
Nokia 8
Nokia 6.1
Nokia 6.1 Plus
Nokia 7 Plus
Nokia 7.1
Nokia 8 Sirocco
Nokia 8.1
Nokia 8.3 5G
Nokia 3.4
LG
LG V50 ThinQ
LG V40 ThinQ
LG V35 ThinQ
LG Velvet 5G
Stylo 7
LG G6
LG G7 ThinQ
LG G8 ThinQ
LG Q6
LG Q8
LG V30 Series
LG G8
LG G8x
LG Q70
LG V60 ThinQ 5G
LG Q92
LG K61
LG Wing 5G
LG K92
Sony Xperia
Sony Xperia XZ Premium
Xperia XZ1
Xperia X Compact
Xperia X Performance
Xperia XZ2
Xperia XZ2 Premium
Xperia XZ3
Sony Xperia 1
Sony Xperia 1
Sony Xperia 1 II
Sony Xperia 5 II
Sony Xperia 1 III
Sony Xperia 5 III
Sony Xperia 10 III
Alive
I live X50
Vivo X50 Pro
Vivo X50 Pro +
I live Y51s
I live Y70s
Can we use other non-certified mobiles?
As in iOS if we have an Android mobile that has not been certified to work together with ARCore, we will also be able to use the selected application to measure objects. However, we will not have access to the next Google developments, if they come into being to offer proprietary technologies.