Now that Microsoft has added full keyboard and mouse support to its version of Microsoft Edge (the company's browser) for Xbox, you may be interested in how to connect them. So you can get the most out of everything the console can offer, which is becoming much more like a PC.
Keyboard and mouse for Xbox Series X / S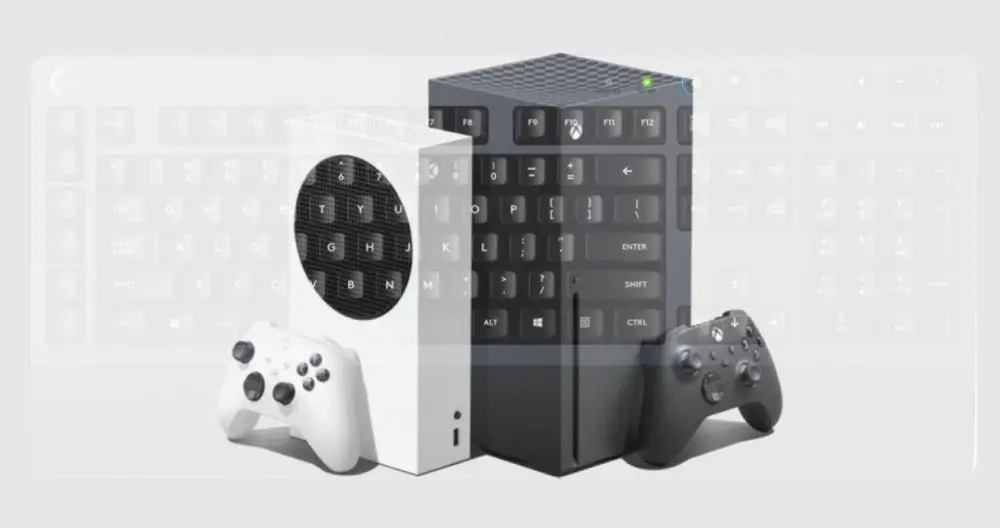 There are many reasons to use a keyboard and mouse with your Xbox Series X / S , but since full support has been added to Microsoft Edge it is much more interesting to do so. Because also thanks to the support it offers to access services such as Google Stadia, console users could greatly expand the generous catalog that Microsoft already offers through services such as Xbox Game Pass.
So, we encourage you to do so. But before launching into it, let us tell you some details that you should know to avoid wasting time or taking a possible disappointment later if you see that there are things that do not work as you could expect.
The first thing is that the Xbox Series X / S offer several USB Type A ports that are compatible with the USB 3.1 standard . In these ports therefore connect different types of accessories such as external storage units and the aforementioned keyboard and mouse.
When you connect a wired keyboard or mouse to one of the USB ports in a matter of seconds they should have been recognized and you could start using them. Although, yes, only the keyboard can be used to move through the operating system of the console using the direction arrows.
The mouse for its part will only be activated when a menu, game or application that is enabled for it is accessed. For example, there are many games and applications would be the aforementioned Microsoft Edge.
If they are keyboards and mice with their own wireless receiver, you can also use them since that receiver should not give problems when it comes to being recognized and controlling both accessories without cables. Once you have it, there are a number of details to consider.
How to connect a mouse to the Xbox
To use a mouse with your Xbox you only need to connect a wired or wireless mouse with a USB adapter. Once you have done it, you have to know that there are some configuration adjustments that you can make. To do this, do the following:
Turn on your Xbox console and take the controller
Press the button on the controller to open the guide
Now go to the Profile and system option and there go to Settings> Devices and connections
Once inside this section, select Mouse and you will see that once it is connected, you will be able to access a series of additional options to configure the experience a little more to your liking. And it is that you will be able to vary aspects such as the scrolling speed or configuration of the main and secondary click
How to connect a keyboard to Xbox
Connecting a keyboard to the Xbox is also a very simple process and similar to the previous one for the mouse. Then, once connected, you can go to the settings to adjust some details. For that, follow this step by step:
Turn on your Xbox console
On the remote, press the button to open the guide
Access Profile and System> Settings> Devices and connections
Review the options and adjust what you think is necessary
Ready, easy right? Well, now you also have to know that the keyboard can even be used to move around the system as we said before. In addition, there are a series of actions or shortcuts depending on the key or combinations of keys pressed on it. These are the ones you should know:
Windows key opens the guide
The space bar or Enter / Enter key is used as a Select button
Windows key + Backspace or ESC performs the action of going back
The Y key opens the browser
Windows key + M opens the menu
Windows key + I open the settings
Windows key + X
Windows key + V changes the view
Tab moves to the next element
Tab + Backspace to the previous item
Direction arrows allow you to navigate the system
Why you should use a keyboard and mouse on your Xbox
Using a video game console with a keyboard and mouse can sound a bit strange and even make no sense to the vast majority. Because, why do something like that with how comfortable it is to play with a gamepad and even more so with one like the one included in Microsoft consoles.
Well, it is true that a controller like the Xbox is very rewarding to use. It also allows you to do it practically anywhere because you do not need any surface to support either the keyboard or the mouse. And that is something important and valued. In addition, most games are designed for these types of controls … but not all.
Regular PC gamers know that a gamepad brings benefits, but also that compared to using a keyboard and mouse in certain titles it loses. Because FPS (First Person Shooter) games like Call of Duty, Fortnite, Overwatch, Valorant, etc., are much more accurate when played with these accessories than with a gamepad.
That's where the real interest lies, because now that many titles offer cross-play option, if you want to be competitive against a PC gamer you have to use their same controls. What's more, there were even those who at the time connected a keyboard and mouse to a mobile phone to gain an advantage.
In addition to all this, the recent support of Stadia by Microsoft's Edge browser also makes it interesting to be able to enjoy the games of that platform on your Xbox with keyboard and mouse.
So you know, in the end it is all a matter of choosing which option makes you feel more comfortable, but it is always important to know all the ones that are available. Only then can you fully enjoy products as attractive as the new Xbox Series X and S from Microsoft.