Simulation games are on the rise right now. One of the most important categories are the options that are focused on companies or startups. The fact of succeeding or ruining with your company is in your hand with these options in which you can find quite a bit of realism. Here we show you the best games that can be found in this category in the App Store.
What to look for in these games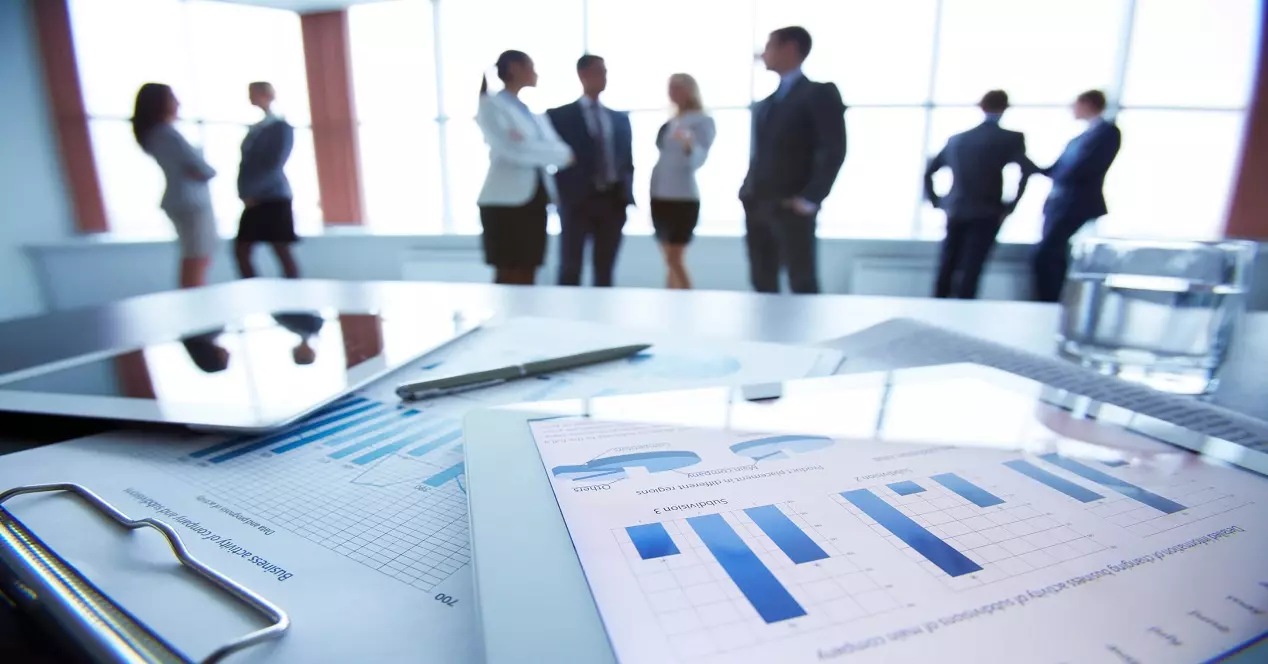 When it comes to business management, there are many options that can be found that aim to teach that having a company is not easy. But there are also other options that offer you ideas on how to venture when it comes to being a true entrepreneur. From companies from scratch such as a startup to large real estate empires, there are many games available in the App Store to enjoy with this management or simulation theme. To have the best possible experience, we recommend that you follow the following points before downloading:
History behind: one of the most important parts of a game is the history that exists to be able to enter and get involved with everything that happens in the game. In this case, you can find a wide variety of stories, always starting from a person who is humble starting with a small business until he becomes absurdly rich doing some things that are not 100% legal along the way.
Freedom in decisions: when talking about a management simulation game, you must allow yourself to fail. In this sense, the game that gives freedom when making decisions and managing a budget should always prevail. If you make bad decisions, you will fail. If you make good decisions, you will succeed.
Business Category: In real life you can find a lot of business type. From a software company to a bookstore, they all act like companies. In the App Store, the fact of starting with a startup prevails and that you decide the activity you want to develop yourself, having in many cases a lot of freedom.
Price: this is undoubtedly one of the critical points when it comes to games. In general, there are no versions that are 100% free. In many cases, it is necessary to buy a virtual currency to accelerate different processes that require removing the wallet to complete a specific game. This is in addition to the constant ads that may appear and that you must pay to remove them completely.
The options to develop your virtual startup
When it comes to companies, the most typical thing is to have startups that are small companies that emerge and that must be scaled. This is where you can find the greatest challenge when making different business decisions and that puts you in the shoes of a true entrepreneur. Here we show you the best options with this setting.
The Startup: Interactive Game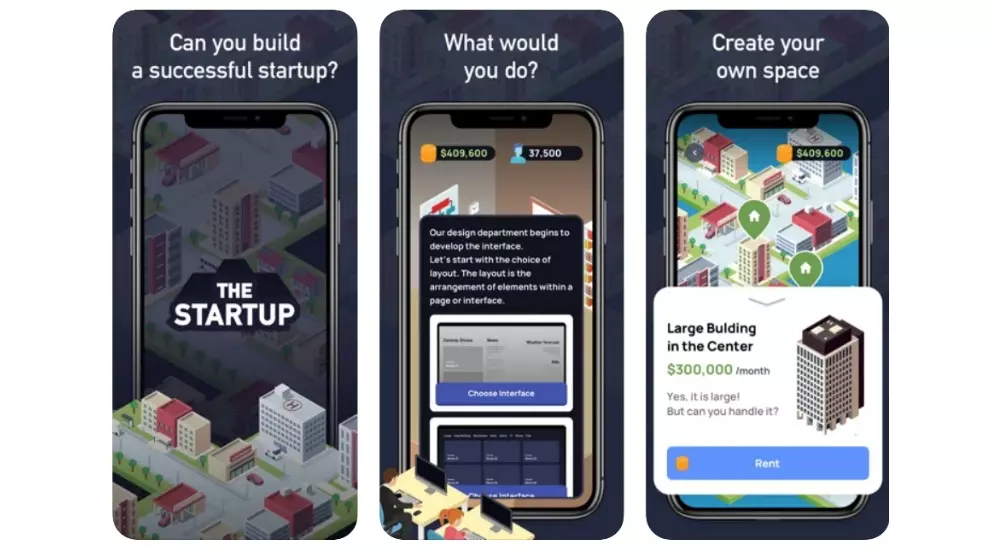 Would you like to be the CEO of a new company in Silicon Valley? With this game it is possible since it puts in front of one of the most promising companies in the sector with a quite good simulation system. As soon as you start, you must recruit your team of specialists and create the new product that you want to bring to the market to succeed. Obviously you must know how to sell it to get investors and therefore end up being one of the richest people in the world.
It certainly poses a real challenge, since it will always depend on you whether you have a successful or bankrupt company. The story is interesting and unforgettable and integrates an interesting role management system. It also has the possibility of managing using a budget and as we have mentioned previously it has different endings that you can comfortably unlock. On the negative side, it is a game that is being opened through subscriptions.
Startup Business Founder Ideas
Start your adventure in this game in a small company and aim to become one of the most capitalist companies in the world. This is the best summary that can be made of this business simulation sandbox game in which you take on the role of an entrepreneur starting a software startup.
Your mission is to manage, develop and build the startup of your dreams. In this way you will have to make important decisions such as the number of employees you should hire or the equipment of the office itself. The objective is clear: earn the maximum amount of money and develop the company. As we have mentioned, you will start in a small place but as the game progresses you will be able to look for new offices and new employees.
Tap Company: Startup in Miami

Fun little game with a great story behind it. The really funny thing is that it has an unexpected twist that allows you to fully enter the whole story. It is mainly based on winning the best casino in the city by managing the constructions and also the strategy to follow. You must earn money to improve the casino and the more you win the higher it will become.
Hire the best possible employees so you can attract all the customers and make them happy. But not everything is as legal as it seems, since you can place bets in your secret hideout. This means that the largest casino in the world can be built using all the money that is obtained in an illegal way.
My Business Empire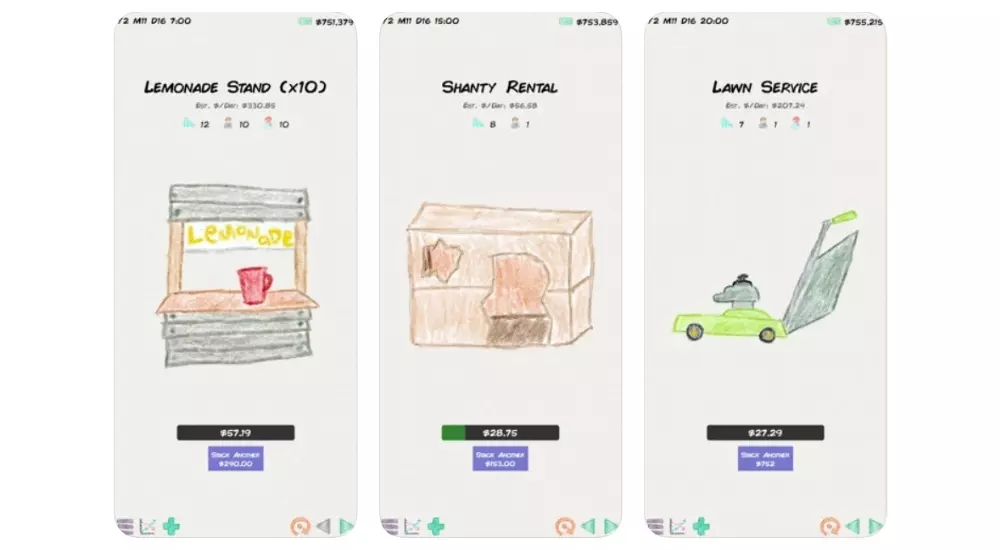 Become the best CEO of all time with this game! Continuation of this saga expanded with many functions. You will have in front of your screen a 2D map where you can carry out your business activity. You will start from scratch and you will have to create your company brick by brick being a true game of improvement.
A general map of the world is included that allows for the collection and management of resources. But from the beginning you will not have all the technologies unlocked since you will have to invest part of these resources in technology, bribes to politicians to obtain licenses and much more. This makes you have to use the tricks of the capitalist entrepreneur to win you with the largest possible company.
Business Tycoon Sim
If you have ever wanted to become a business tycoon, be a true capitalist or a true millionaire this is the game you must install. It allows you to start from the bottom in a small bookstore and finally reach the heights in a sports center. All this contributing millions of millions of capital in more than 30 businesses that are different.
One of the key points in this game are investors. This means that the more you earn, the more interest your business will have in the general market. This will incentivize large investors to invest in you by making each of them earn 2% more income. In this way you have all the necessary tools to be one of the richest people in the world.
Games focused on the real estate market
Undoubtedly one of the large business sectors where more money can be moved is real estate. The fact of buying houses and reselling them or living on rents is something quite common today, without entering into speculation. That is why the following games are proposed to enjoy this business model.
Landlord Go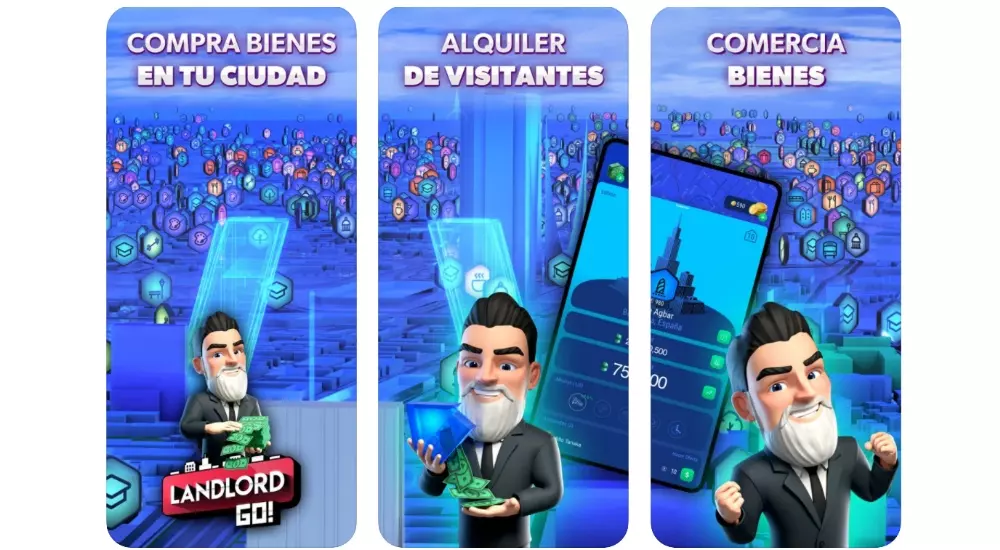 Do you want to create your real estate company starting with your own home? This is what Landlord Go allows you to do by being able to invest in real properties to create your empire. And yes, this is a game that is based on reality to simulate your business using GPS or geolocation to play with homes that are 100% real. You can end up buying your entire town or the building where you are living, the limit is up to you.
The challenge here is that people can register in your homes. This can be achieved through social networks by inviting your friends to play with you. In order to earn more money even with all the rentals that you have active with your real estate market, you can choose to integrate improvements in the apartments or houses. In this way in the end you can have a real monopoly with real life objects.
Donut Trumpet Tycoon
From the first moment the developers emphasize that he has no relationship with Donald Trump and that any similarity is pure chance. And it is that there are many references to the President of the USA being able to buy in this board game of properties numerous locations throughout the world. This makes this game turn the whole world into a real place to buy and sell real estate for your new company.
You will be able to buy, sell and trade digital properties based on real locations. The key that you yourself must take into account is which properties can generate a greater amount of money. You have in your hand to buy Times Square or the Eiffel Tower, but also choose to buy the area where you live or the school where you gave your first classes. This is where your decision-making power comes in to end a true world empire.
CashSquare
Build your own real estate empire thanks to this incredible game. It combines the best of the most popular board game, such as Monopoly and location technology. You can walk around your city and buy absolutely any place nearby location, be it a restaurant or even a monument. But this does not end here, since you will have to compete with your friends to show who has the best management tools and become the owner of the largest real estate collection.
At first you will have $ 150,000 in virtual credits. Depending on the number of places you own. It is for all this that many people categorize it as a Monopoly but with real life buildings that you know yourself. There will be a global classification to be able to have a clear vision of who is going first when it comes to the property portfolio.
What is the best of all?
It has been seen throughout the article that there are many games that can be found in the App Store focused on business management. Among all these we must recommend My Business Empire , since it is a game in which you start from scratch with a simple lemonade shop. The developers have bet everything on a tremendously curious aesthetic but it does not mean that it is a game that must be minimally tested by integrating the most basic management tools.
In the event that you like reading and especially realism, we must recommend The Startup: Interactive Games . It has a pretty good story and, above all, the power of decision allows you to have different endings that can be progressively unlocked. The only drawback to take into account is the impossibility of playing the game for free since you must always choose to buy each of the chapters, being a major problem.