When Netflix introduced the ability to download content so we could watch it offline, users received the news with an uproar, and rightfully so. Now, the streaming video platform offers the possibility of enjoying its movies while traveling on the subway or by plane, or when we don't have access to a data network. However, some customers of the service begin to encounter some other problem that, luckily, have an easy solution. As is the case that we bring you.
As the company itself tells us in its help center, you can't enjoy the downloads indefinitely to view the content when you don't have Internet, since there are some limitations when using this function. If you encounter the issue of Netflix displaying an error message that you have exceeded the limit of your device, there are different solutions that will help you say goodbye to this annoying error forever.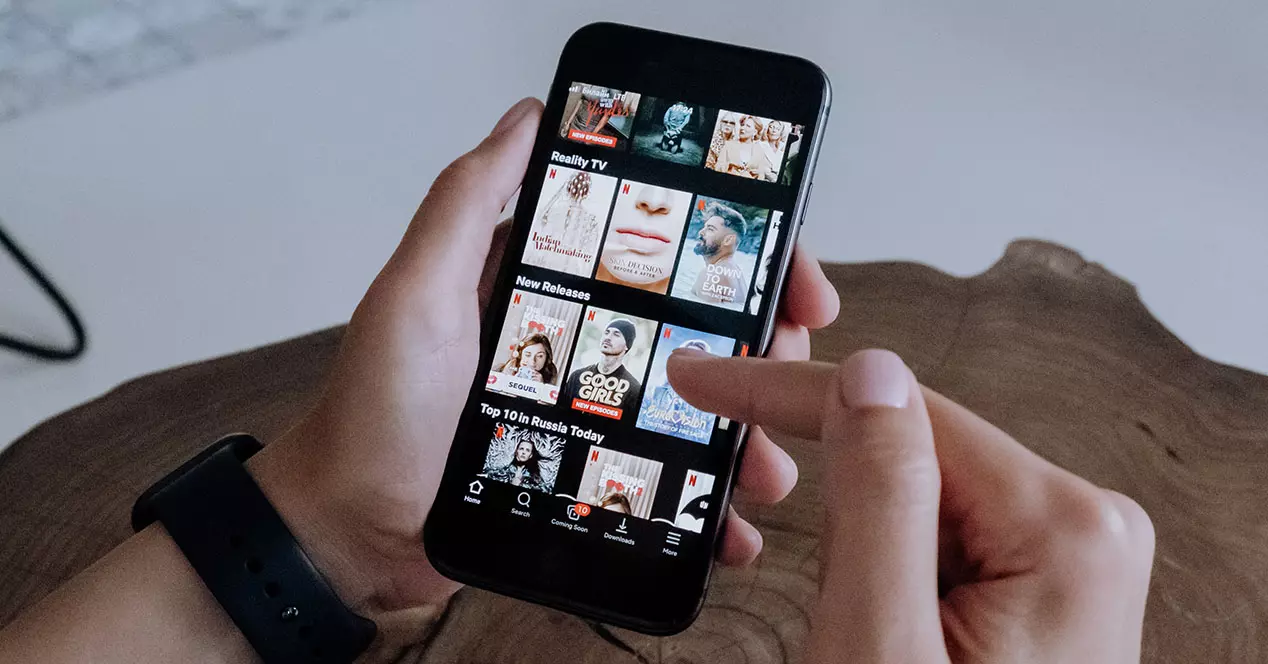 The famous error message
The Netflix message ' You have downloads on too many devices' , has its origin in the limitation of devices associated with the same account that were contracted at the time of subscribing to the streaming video platform. We remind you that there are currently 3 plans :
Basic (only one) with 480p resolution.
Standard (2 devices) with 1080p resolution.
Premium (4 connected at the same time) with 4K + HDR resolution.
In addition, this notice is usually accompanied by a code that will help us easily identify this fault from the company's help center, which is 'NQL.23000' for Android mobiles, while on iPhones it appears accompanied by (10016 -23000). Although, in any case, they will have the same solution that we will see later.
If you try to download content on another terminal than those indicated in each plan offered by this streaming platform, the download error will appear on too many devices. That is, if, for example, you have your Netflix account connected on a tablet and on your regular phone, you can only download content on one of them. Although, you will be able to continue viewing the different contents offered by this company without problems.
And don't worry, because there is a quick solution so that we don't have to end up changing plans and paying more when we don't need it. At least for now.
How to solve it
There are mainly two ways to fix this Netflix message, aside from the option to change plans . More than anything, because it will mean that we will have to pay more than we want monthly to be able to have all the series and movies on different devices.
Delete downloaded content
If you have finished using a mobile to watch downloaded titles, you should delete those titles from the smartphone. In this way, the service's servers detect that this device is no longer being used to view downloaded content and will allow titles to be downloaded on another phone that you have.
Open the application on your mobile or wherever you want to delete the content.
Tap your profile button (the photo you selected when you created it) > Application Settings.
Go to the Download section.
Select the option to Delete all downloads.
In addition, you must make sure that the phone is connected to the Internet so that the application recognizes that the files have been deleted from the device and this error does not continue to appear. Also, if you leave any, it will continue to give you an error, so you must delete all the movies or series that you have downloaded to your mobile.
Of course, you can also change plans through netflix.com/changeplan to download titles on other devices such as consoles, PCs or tablets. And if for any reason you can't access a certain device in order to remove Netflix downloads , you'll need to wait 30 days for the service to automatically interpret it as 'expired'. Afterwards, you will be able to re-download movies and series to another terminal as normal without that annoying message continuing to appear.
Wipe a device
However, if we do not want to have to delete the content, we will always have the option of erasing the device itself that we are not going to use, or which is the culprit that has caused that error message to appear when trying to download a series or Netflix movie. Therefore, we must follow the following steps:
Log in to the streaming platform page from a mobile browser (it will not work from the phone app).
Click the profile menu or tap More.
Click on the Account section.
Select on Manage downloads.
Tap on the Delete device option that you want to delete forever, or for now.
Later, when we try to save a movie on our smartphone again, this notice will no longer appear on the terminal panel.
Why don't you let me?
However, there are many users who have complained that, despite having followed the instructions that the company offers us on its official support website, they have continued to have this same error message over and over again no matter how much They have tried to solve it in the ways that we have just explained.
For this reason, the streaming platform itself explains to us what are the three main factors that lead us to 'fail' when carrying out the steps that we have previously explained to you. Mainly, they clarify that there are three reasons :
A network connection problem.
An error with your phone or device.
A bug with your Netflix app or account.
In those cases, the first thing we should check is that our Wi-Fi signal or mobile data are working properly. To do this, all we have to do is use other apps that need Internet access. Second, try to do it with another phone. You just have to add it and then proceed to remove it with the previous steps.
Finally, we will only have to try to update the video app, in the event that we have not installed any of the latest versions that have been released. More than anything, because it can be a specific error due to that version that we have installed. So, once updated, it should let us remove the content without issue.