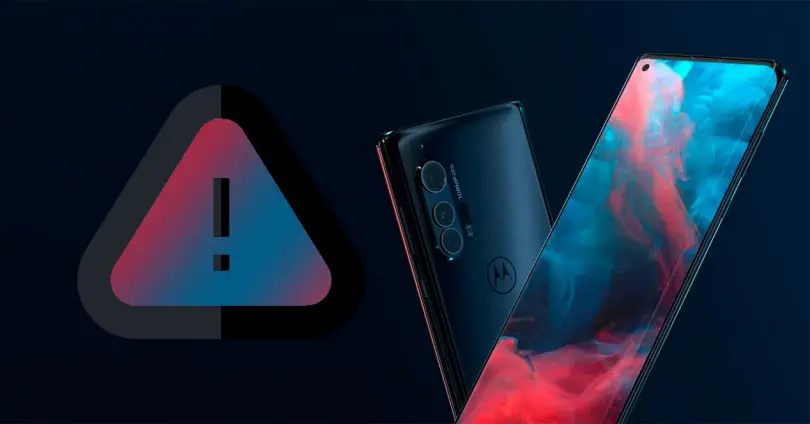 That a smartphone is a top of the range with all of the law does not mean that it is without problems. It has been suffered by users of Samsung, Apple, Google, Huawei and now, Motorola . It seems that some users of the Motorola Edge + , one of the best smartphones of the company, suffer from problems with their screen .
Several customers of the brand have met at the Lenovo support center to complain that their screen has faults. Sometimes spots appear on the screen that alter the color of a certain region and, in others, the dreaded green tint failure appears that has been affecting countless smartphones for several years.
What happens to the screen of the Motorola Edge Plus?
The smartphone has a very high quality screen, featuring OLED Full HD + technology and a 90 Hz refresh rate. Unfortunately, as shown in these photos, it cannot be enjoyed as it should due to its color problems.
On the one hand we have the appearance of purple spots that, according to those who suffer from it, appear not at any time, but after prolonged use of the phone. When the mobile loses heat and cools the stain disappears but as soon as the overheating returns, the problem is replicated. The worst of all is that this stain is growing, occupying a significant percentage of the Motorola mobile display.
In another place we have the green tint that has affected many top of the range in recent months equipped with OLED panels. Again, it is a failure related to overheating because when we let the phone rest, the screen returns to normal.
The third flaw is that the screen lightens or darkens by areas , regardless of the time of use as some customers of the brand have detailed that this happens even when the smartphone is a few days old.
The solution, for now
The Lenovo support forum has the participation of different brand workers who have released various solutions to affected users, such as updating the software with the latest versions of the operating system released. Unfortunately it seems that many still cannot use the smartphone normally after doing so.
We have seen that this software fixes the problem, but in some cases the "blemish" might be too advanced to be solved this way.
If you have the mobile under warranty and cannot solve the problem of the Motorola Edge + screen stains after applying the updates, the most appropriate thing is that you request a replacement from the brand.