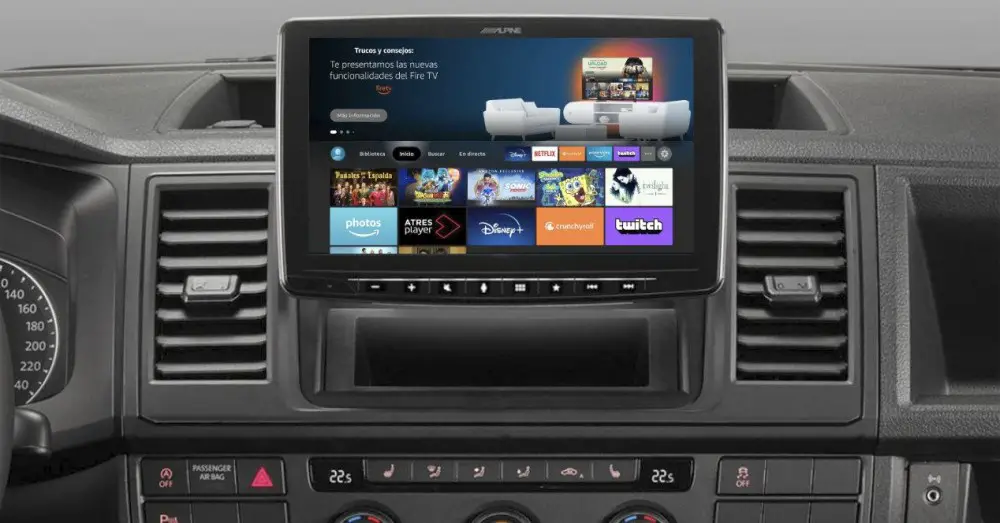 Amazon is exploring new ways to grow its presence and services, so the last idea it seems to value is bringing the Fire TV experience to the car. Yes, although they already do it with some manufacturers, now it seems that they want anyone to be able to offer this entertainment solution to their customers.
Fire TV in the car
In a recent interview with Daniel Rausch (Vice President of Amazon) to the online medium Protocol, the manager of the online shopping giant made some interesting statements related to the future of Fire TV and the entertainment proposals offered by the company. Among them the most prominent was undoubtedly their intentions to take him to the car.
That is, in the same way that you can already have Alexa through the Amazon Echo Auto, now they also want you to be able to enjoy Prime Video or any entertainment service that you can access through their devices for the TV. And it is an interesting proposal seeing as, in addition, many other manufacturers are already doing it. Especially now that electric cars and the use of large dashboard displays are starting to look normal.
Logically, for this Amazon proposal, the use of 5G connections will play a fundamental role. Because if you can't access any online content it wouldn't make much sense compared to any other player that you can install in the car with local content reading.
Fire TV and Alexa in the car to make you feel at home
Betting on the conquest of the car is not something that should surprise anyone. For many, this is one of the places where they spend the most time after home and work. So offering them everything they can enjoy in the comfort of home makes perfect sense.
In addition, if we put aside the cars that most use in their day to day to go from one place to another and we focus on solutions such as caravans or camper vans that are becoming so fashionable with the whole theme of nomadic life and desire to enjoy different ways of traveling due to COVID, as this bet makes even more sense.
In addition, having all the Fire TV options would also have all those offered by Alexa. So you could do almost anything from your car. You could control the lights or any connected device and even access possible security recordings of the installed cameras to check that everything is correct.
And yes, you could also do all this from your mobile device, tablet or computer, but that is something that will always happen and the idea of ​​these bets and integrations is to be able to enjoy a much more comfortable experience. Taking advantage of what each system can offer instead of a single product for everything.
Also, if Tesla runs Cyberpunk 2077 in its cars , why wouldn't Amazon be able to make its Fire TVs run its available services and applications in any car.