In the field of text editors, at this time we can say that over the years Microsoft has developed several programs of this type. All this in order to facilitate our day-to-day work with the Windows PC. In fact we must know that from the same software giant are solutions such as Notepad, WordPad and Word.
At first they might seem somewhat similar applications, since they perform very similar tasks. However, they are different in many ways, as we will see. At first we will say that most users have become accustomed to working with Word , which is part of Office. However, for specific works with texts, Notepad and WordPad are integrated into Windows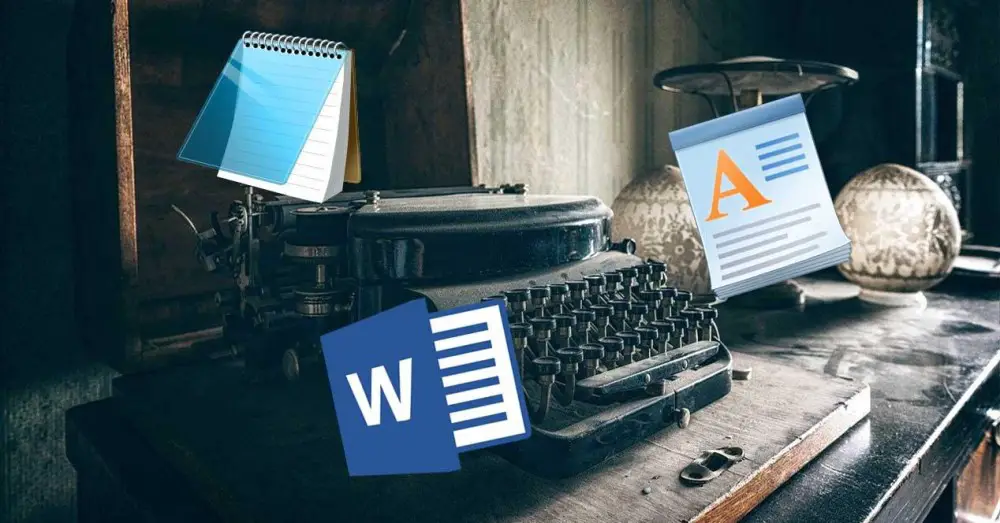 To begin with, we will tell you that Notepad is a text editor that has many fewer functions than WordPad or Word. On the other hand we find WordPad and Word, which are closer to each other, but still very different. Therefore we are going to see which program to use in each case depending on what we need and it will help you simplify your activities related to text editing.
Notepad, a very simple text editor
Perhaps many of you already know that Notepad is a very simple and basic text editor. That is why it can be used to edit and create simple documents such as note taking, or for ideas. It has been with us since 1983 and is also characterized by allowing us to read and write plain text. In fact, it does not offer any type of format and therefore it is the most suitable when we need to write code to program or create web pages.
Another interesting use is to create batch files to run at the Command Prompt or scripts for the Power Shell. What's more, it allows us to create and save documents as .TXT files exclusively. It does not support images and graphics and we create for all this, very light files.
WordPad, a basic word processor
In comparison, WordPad is a basic word processor with which we can edit texts and create more complex documents such as letters , Resumes, class assignments, etc. This application is compatible with almost all versions of Windows and is much more advanced than Notepad, but simpler than Word.
It could be said that WordPad can be a text editor superior to the aforementioned Notepad and more versatile when it comes to creating documents. In fact here we already find the usual toolbar, and menus with options , some of them for the design of the page. It supports the .TXT, .DOC and .ODT file types. Also here we can insert images, hyperlinks, graphics, etc. At the same time we also find some formatting functions for documents.
Therefore, it can be said that Notepad is a basic program for editing plain text, while WordPad supports more types of files, page formats, and elements such as images and graphics.
Microsoft Word, a powerful text editor
And finally we find the third proposal from Microsoft itself, the popular Word. This is a very useful word processor to create documents of great volume and complexity. It adapts to all kinds of uses of this type, from the simplest to professional environments.
It is one of the Office programs and one of the most used in the world. Text-based documents can be easily formatted thanks to all the available functions. In this almost the documents can be saved as .DOC , while it supports all kinds of text documents. In addition, Word has a series of very complete and customizable toolbars. In short, here we are going to find everything we need for the text publishing industry.
Unlike Notepad and WordPad, Word provides tools such as spelling and grammar checkers or advanced writing functions. It provides us with special gluing options and is suitable for all types of work, both business and personal. We can also use templates to make letters, invitations, posters, catalogs , brochures, etc.