When we need to be able to work from anywhere and we have to get a work tool to be able to work through the Internet, the first thing that comes to mind is a laptop. These computers generally come equipped with a Windows 10 operating system and can be slightly more expensive than a Chromebook and cheaper than an Ultrabook. But what are the differences between a laptop, a Chromebook, and an Ultrabook?
Although there are many people who today choose to buy a desktop computer, a large majority choose to buy a laptop with which they can work and be connected from anywhere. A Chromebook or an Ultrabook also falls under the category of laptops, but they have particular characteristics that differ from a common laptop.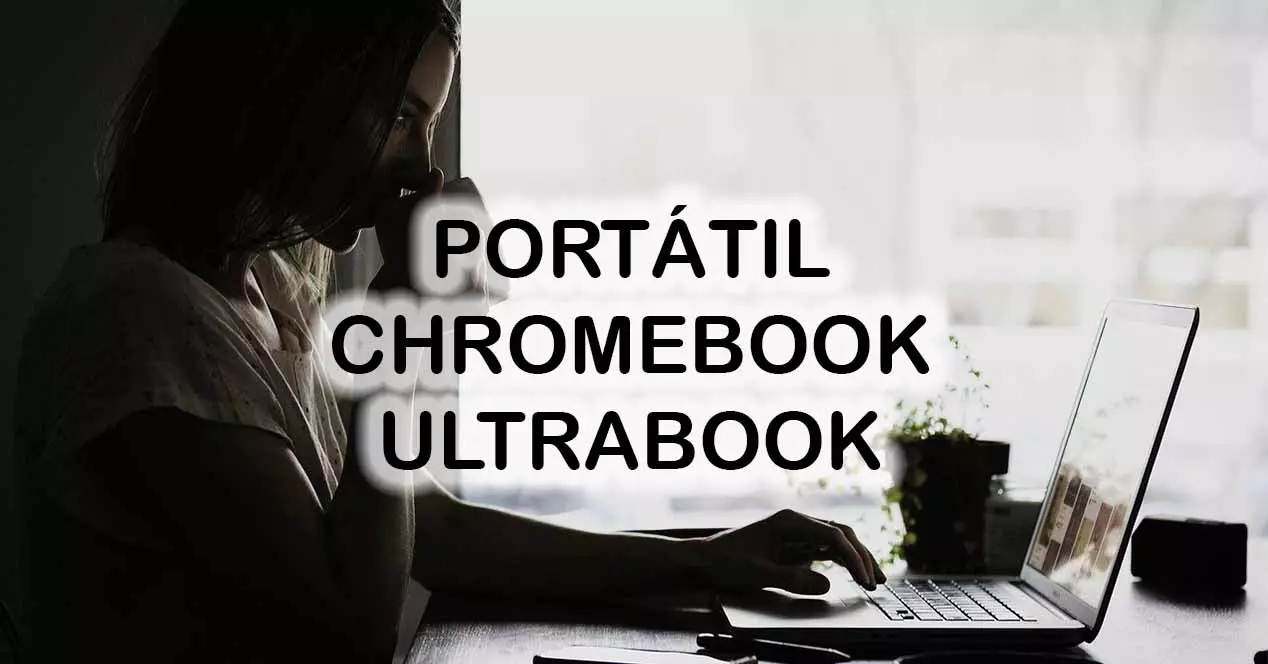 Laptop VS Ultrabook
As far as appearance is concerned, an Ultrabook looks like just another laptop. Obviously, as we mentioned before, it belongs to the category of portable computers, since it is not a desktop computer or a workstation. Like a laptop, it has a battery that allows us to work without connecting to a power outlet. Ultrabooks are considered high-performance laptops, that is, high-end and in some cases also have the quality of being convertible.
Everything will depend on what use you are going to want to give it, but some of the main differences and advantages of an Ultrabook with respect to a laptop are these:
The design is slimmer and more attractive.
The autonomy of its battery is greater.
The processor is more efficient.
Process data at high speed thanks to the use of solid SSD drives.
The biggest problem that these innovations and good features can bring is that the price of an Ultrabook is high compared to a laptop. They are equipment indicated for entertainment or productivity so they are out of the compatible options for game lovers.
Laptop or Chromebook?
One of the great advantages over a conventional laptop is that the Chromebook is cheaper. As a general rule, a Chromebook is in the price range of the cheapest laptops on the market.
Chromebooks were originally created for the education sector due to their simplicity and easy navigation in their operating system. Yes, Chromebooks have their own operating system called ChromeOS. Quite specific operating system and with certain limitations, but it is compatible with most Android applications.
The main advantages compared to a standard laptop of Chromebook computers is that they do not need antivirus and they are generally computers that have low consumption so their battery life is good. Like any aspect of life, Chroomebooks also have their downsides. Some of the most relevant and that can put us back when buying a Chromebook is that they are not compatible with Windows applications and storage is quite limited.
Which of them do I choose?
As with any technological device that you are about to buy, it all depends on the use you are going to give it. Chromebooks stand out for their cheap price and are quite effective. You might consider buying one if your job requirements are not very demanding and involve doing jobs and storing files that do not weigh too much. Now, if you need a computer with higher features , or compatible with Windows applications, it is best to discard the option of getting a Chromebook.
Now, if you need a laptop with high features such as processing data at high speed, you dedicate yourself to photo or video editing that requires a more efficient processor than those that a mid-range laptop can offer, or you want to have a computer With greater battery life, the best choice may be an Ultrabook, since, as we have mentioned before, they are considered high-end laptops. Each person is different and their needs will be completely different, but based on the differences between a laptop, a Chromebook and an Ultrabook explained in this article, we can have an overview of the main strengths and weaknesses of each of the equipment .