Audio as a format continues to gain ground and especially live broadcasts. Applications such as Clubhouse, although there are already many others, have shown that there is interest in this new way of creating content and connecting with the audience. For this reason, Instagram also now offers the possibility of directing without video, only with audio . So we are going to explain to you what the whole process is like and why it might interest you.
Audio-only broadcasts hit Instagram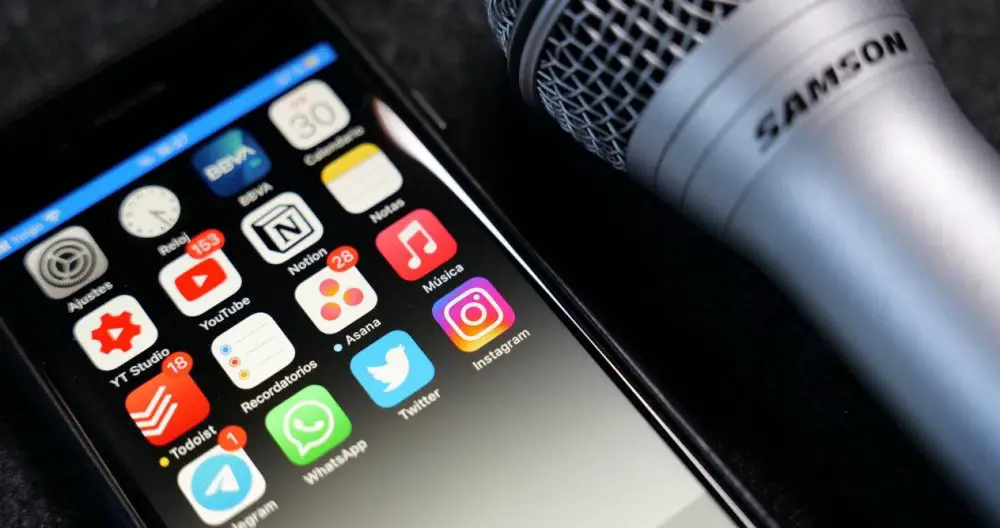 Instagram has joined the current trend that bets on audio as one of the most interesting internet formats right now. And we don't mean podcasts. These have been with us for many years and have not only proven that it is true that they are very interesting, but also that today it is still a very intimate and attractive way to connect with other users.
What Instagram is adding now after seeing how many other services and applications have done in recent months is the possibility of performing live shows where the only thing you will have is an audio streaming. No image as the platform allowed until now.
Thus, with this movement and without the need to create any additional application, Instagram is going from offering its traditional Live Rooms where up to three more people could be counted on to allowing a kind of Clubhouse (for being, perhaps, the most popular app right now in this sense) where four people could participate and have as many listeners as users want to sign up to hear what has to be said.
How to create audio-only Lives Rooms on Instagram
The process when creating one of these rooms where you are only going to listen to an audio signal and there is no type of image beyond the host's avatar is as simple as creating a live video of the ones you already know.
So, although then we put the steps outlined and in order, basically the creation of an audio Live Room consists of taking advantage of the options that are introduced through two new buttons in the application interface.
These buttons, from what you can see in the images, what they offer is the possibility of independently controlling both the audio and the video . Thus, you can tap on any of them to mute the microphone input or deactivate the camera and nothing is captured.
As what you want is only to broadcast audio, because the only icon that you would have to touch to deactivate is the one that corresponds to the video. From there everything works as usual. That is, you have a text box where you can enter comments and there is also a live chat where people who are seeing or hearing you, as would be the case, could leave their questions, contributions or anything else that comes to mind so that you can interact with them if you find it interesting.
So, as you can see, the process is extremely easy. But if you think so, we make a more schematic summary so that you have it even clearer:
The first thing you have to do, of course, is open the Instagram application
Once done, swipe from left to right to access the interface that allows you to publish a story to a Reel or do a live
Select the option to do direct
Enter the title of the room and then start the event
On the right you should see the icons corresponding to a microphone and a camera
If you touch them, they are deactivated, so to emit only audio the only one you have to mark is the video
Ready, from now on there will only be an audio transmission
As you can see, a very simple process.
Why direct with audio only
Video has been in recent years one of the preferred ways of many creators when it comes to sharing content on the internet. As we have already said on occasion, the increasingly fast connections, the possibility of doing it even while on the move thanks to generous mobile data rates in gigabytes or even "unlimited", devices with larger screens in the case of smartphones, etc. ., they have promoted it.
However, just as radio was able to stay alive when television arrived, audio has also played an important role from the beginning on the Internet. Now that podcasts are well established, despite the room for growth they continue to have, it is live radio-style audio that is gaining ground.
And if you wonder what is interesting or why it can be more attractive than a video broadcast through platforms like Twitch, the answers are two:
On the one hand, an audio broadcast requires less complexity since the image factor is ruled out. So you do not have to worry about the camera and the quality it can offer, neither about the lighting and much less having to be careful that what you see on the screen is always what you really want to show.
On the other hand, the audio is a bit more intimate and if as a creator you download certain aspects to control, the user who listens to you is freed from having to pay attention to the screen in case something you can show is lost. So it is also more efficient even as "company" while doing other activities.
This is why directing on Instagram with only audio can be interesting. You keep in contact with your community of followers, you can invite other people and not be violent because they want to see you or see you.
A first step towards new ways of interacting
At the moment, Instagram's proposal to offer live shows where there is only audio streaming is very basic. The functionality is there and surely they have had to make internal changes regarding the operation of the Lives Room. But in terms of interface there is still room for improvement and there are already indications of what it seems that the future audio rooms will be.
Therefore, this is only a first step or advance of what is to come. Because it's not going to stay here. Surely if they are also reaching Facebook, in the near future they will add new options to give it more value and that when someone considers creating an audio room, they will do so on Instagram and not on Twitter, Clubhouse or any other application or service.