Although Adobe is one of the most renowned developers when it comes to graphic design, it is not the only one, nor the best. There are other large companies in the network that are dedicated to creating professional design tools and suites with which to adapt to the needs of a greater number of users and allow them to carry out their work more comfortably. And one of these creative graphic design alternatives away from Adobe is CorelDRAW Graphics Suite .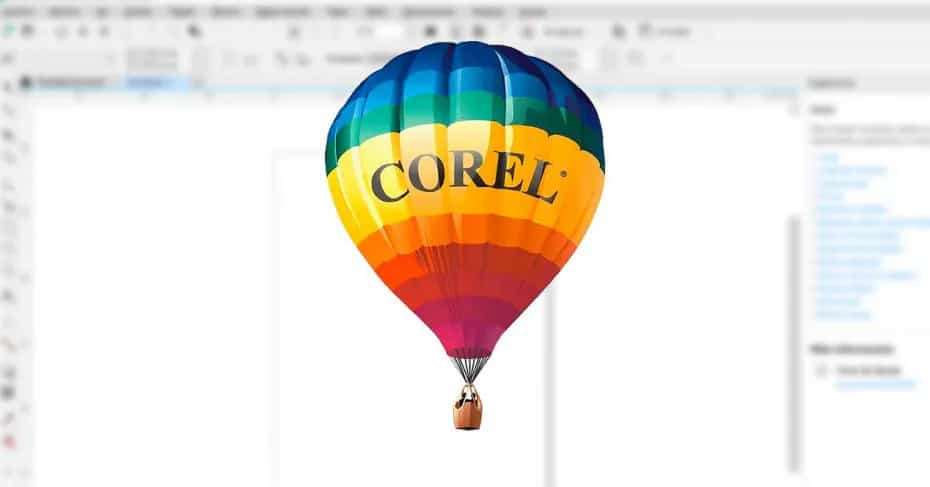 CorelDRAW Graphics Suite is a graphic design toolkit that seeks to open a gap among amateur users while seeking to offer everything that any professional needs. Among others, the main features offered by this suite are:
Suite of vector design programs and photo editing.
It allows you to easily create websites with CSS3 and HTML5.
Hundreds of royalty-free templates and images for use in projects.
Supports 4K displays.
Designed for use with keyboard and mouse and with digital pens.
Large number of tools within each program.
Compatible with over 100 different file formats.
Fully customizable and adaptable workspace to the needs of each designer.
The CorelDRAW design suite is made up of several independent programs, each of which is designed
What CorelDRAW Graphics Suite offers
As its name suggests, CorelDRAW Graphics Suite is a suite of graphic design programs, similar to Adobe Creative Suite. Within this suite we can find a series of programs and tools focused on different tasks.
CorelDRAW
CorelDRAW is the main program of the Graphics Suite of this developer. This is a vector design program that also has some simple tools for processing bitmap images.
This vector drawing program has a large number of graphics functions and basic diagramming tools. For professional users it is one of the most versatile because of the way it allows manipulating vector graphics together with bitmaps.
Among its best features we can highlight above all its great compatibility with numerous file formats among its competitors, and even for the possibility of opening external documents, such as Word or PDF.
CorelDRAW vs Photoshop
Although both are graphic design programs, in reality we are dealing with two very different types of software. The first difference to keep in mind is that while CorelDRAW is vector design software, Photoshop is a bitmap editing program. This means that while Photoshop rasterizes photos and allows us to manipulate them by layers, CorelDRAW focuses on converting images to vectors and generating images from complex mathematical formulas.
The advantage of vector graphic design software like CorelDRAW is that, since the images are mathematical formulas, they can be scaled without losing quality, since they are redrawn depending on the scale. However, Photoshop offers many more manipulation options, but without the possibility of enlarging (without loss) the images.
CorelDRAW is a program used mainly by designers, while Photoshop has a greater place within photo retouching and creating photomontages.
The main CorelDRAW alternative within the Adobe package would be Illustrator, not Photoshop.
Photo-Paint
Photo-Paint is an editing program included within the CorelDRAW Graphics Suite Graphics Suite for working with images and pixel-based design. This program can be considered an alternative to Photoshop, although it is not as popular or as complete as Adobe software.
The best feature of this program is the great balance between speed, versatility and number of options, functions and tools so that any designer can unleash their imagination and shape their thoughts and ideas.
Font Manager
Typographic fonts are one of the pillars of any graphic design. For this reason, CorelDRAW has included this font management and exploration tool within its suite. Thanks to this tool we will be able to search for any font to use it in our projects.
PowerTRACE
This tool is one of the fundamental pillars of the CorelDRAW suite. Although bitmap images are not normally compatible with vector images, thanks to this program we will be able to convert bitmap images to vectors using the advanced Artificial Intelligence of this company.
Capture
This program is only available for Windows, and allows us to easily take screenshots of our desktop. This program allows us to easily capture program windows and menus, as well as allowing us to easily create animations.
AfterShot
Finally, already focused a bit on photographers, we find AfterShot. This program is also part of this suite of design programs and is designed to allow users to edit photos in RAW format.
Download graphic design program
The entire CorelDRAW Graphics Suite can be downloaded from its website . The company offers us a 15-day trial version of its suite of programs so that we can test it and familiarize ourselves with everything it offers us.
However, to use it beyond its trial period we will have to pay a license. This license can be obtained in two different ways. The first is by subscription, having to pay 350 euros a year to be able to use all these programs unlimited. And the second is to opt for a one-time payment of 719 euros to be able to use the programs of CorelDRAW Graphics Suite for an unlimited time.
Of course it is not a cheap suite at all, but taking into account the programs it offers us, it comes out considerably cheaper by subscription than its rival, Adobe Creative Cloud.
Requirements to use CorelDRAW Graphics Suite
CorelDRAW's graphic design programs use a large amount of memory and resources to carry out their calculations. And if we go into AI topics , it is necessary to have a mid-high range computer to be able to use these functions without problems.
Therefore, before purchasing any license, we must ensure that we meet the following requirements in order to use this suite:
Operating system: Windows 7, 8.1 or 10. It works in 32 and 64 bits, although 64 bits is recommended.
Processor: Intel Core i3 / 5/7/9 or AMD Ryzen 3/5/7/9 / Threadripper, EPYC.
OpenCL 1.2 compatible graphics card.
4 GB of RAM.
4 GB of hard disk space.
Screen with 1280 x 720 resolution.
Microsoft .NET Framework 4.7.2.
Internet connection.
From there, everything that we have in our PC will be welcome and will allow us to take better advantage of the tools and functions of this suite.