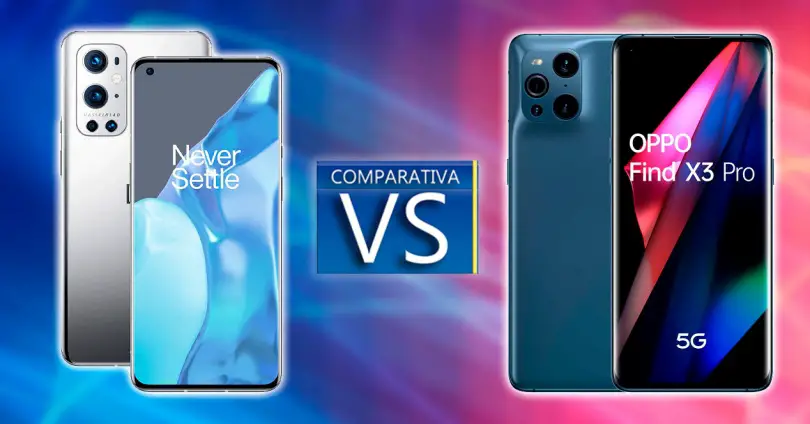 Among the most relevant smartphones presented this year, we come across the OnePlus 9 Pro and the OPPO Find X3 Pro , two high-performance terminals that share many characteristics but some important points make them different. The decision of a smartphone with this high level is not easy at all and to make your purchase successful, we give you the keys to know.
The aesthetic aspect that we can observe on the outside allows us to see clear differences, each one showing a unique style that has nothing to do with the other except that they resort to the camera hole in the upper left corner, but from behind. The changes are evident with a different construction and also very different camera models where OPPO has integrated a camera with a peculiar design.


Construction and screens that you do not want others
We have already seen that in terms of design the change is evident, but this is also noticeable with the device in hand due to the materials used, the OnePlus 9 Pro is based on aluminum alloy and glass, which are materials Very complete, but the OPPO Find X3 Pro for its part opts for ceramic and glass, which are premium materials that offer a touch and sensations that make it different from other mobiles. In both cases with IP68 protection against water and dust.
The first similarity is seen in the screens where they share Amoled technology with 6.7 inches , they also coincide in the maximum refresh rate of 120 Hz and also in a touch response rate of 240 Hz. Also in both we have HDR10 +, Corning Gorilla Glass 5 and a curved glass with 3.5D technology.
Power to give and give
The chip with which the OnePlus 9 Pro and the OPPO Find X3 Pro move has another match, with the Snapdragon 888 as the flag . Also sharing the Adreno 660 GPU, UFS 3.1 storage and LPDDR 5 RAM. But the difference is in the options since the OnePlus model comes in versions of 8 GB + 128 GB, while the more powerful OPPO Find X3 offers us an option of 12 GB of RAM and 256 GB of memory. In none of the cases expandable via MicroSD.
Which quad camera is better?
In terms of cameras we have two exponents with great possibilities, where OnePlus has taken an important step forward with the collaboration with the Hasselblad firm that allows it to obtain improved results and where OPPO continues to show that in terms of cameras it is a benchmark. The main lens of both terminals thinks about getting the same detail with Sony lenses of 48 Mpx for OnePlus and 50 Mpx for OPPO.
Continuing with the rear cameras we come across the 50 Mpx wide angle where they share a Sony IMX766 sensor that will offer great results. Third, the telephoto lens is 8 Mpx in the OnePlus with capacities that come to offer a 3.3x optical zoom, on the other hand the OPPO model has 13 Mpx that in this case offers a 5x hybrid zoom to look at more. far. Finally, the fourth lens is intended to improve the portrait, with 2 Mpx and 5 Mpx respectively for OnePlus and OPPO.
We do not forget the selfie camera, in which the 16Mpx of the OnePlus 9 Pro is an aspect to highlight but OPPO passes them far above with the results offered by the 32 Mpx of its camera. As for the video on these smartphones, we came across Optical Image Stabilization (OIS) in both models to achieve film results and the following possibilities:
OnePlus 9 Pro:
8K at 30 fps
4K at 30/60/120 fps
1080p at 30/60 fps
Slow motion video: 480 fps
OPPO Find X3 Pro:
4K at 30/60 fps
1080p at 30/60 fps
Slow motion recording: 480 fps
Two beasts in connectivity and battery
The most important point is 5G, which is present in both models, along with Bluetooth 5.2 LE, Dual SIM technology, NFC and the GPS, A-GPS, GLONASS, Beidou and Galileo positioning systems. All this with identical batteries in OnePlus and OPPO, since the 4,500 mAh are inside both and also share a 65W fast charge. The two models with wireless charging, but only the OPPO Find X3 Pro with reverse charging.
OxygenOS 11 or ColorOS 11
With Android 11 as the operating system of the two models, the customization layer of both brands has many similarities since they come from the same business group. The speed, lightness and the resemblance to Android 11 stock are key in both models and their small additions or options will be the only ones that make the difference. The two terminals have in their software everything necessary to attract us, although it is true that OnePlus failures are more common than in ColorOS , where updates are much more polished.
Prices and purchase conclusions
Once we have reviewed everything that these two smartphones offer us, it is time to stay with one of them and for that you have to know their prices. The OnePlus 9 Pro can currently be found at 999 euros in its 8 GB + 128 GB option, while the only and most complete option from OPPO is at 1,165 euros, leaving a difference of 166 euros.
Observing the price, we could base ourselves solely on the increase in GB of RAM and memory to assess the increased cost in OPPO, but in addition to buying the OPPO option we will have more polished software, slightly higher cameras and a device that is more premium than your competitor. Both models will be a good purchase but the current price difference makes buying the OPPO Find X3 Pro the best option and we have a mobile for a long time without worrying about errors, update problems or of any kind.