More and more laptops include USB Type-C ports and due to the flexibility of this option, they do not offer some ports that can be of great help. If this is the case with your equipment, resorting to hubs is an excellent solution to, for example, have an HDMI video output at hand.
These accessories have gone from being practically in disuse to being one of the options that are most demanded and bought by those who have computers that are as we have mentioned before (and they are not few of minor importance, since manufacturers such as Huawei or Apple are a clear example of what we say). Therefore, choosing a suitable HDMI hub is important to avoid making an investment that is not worth it.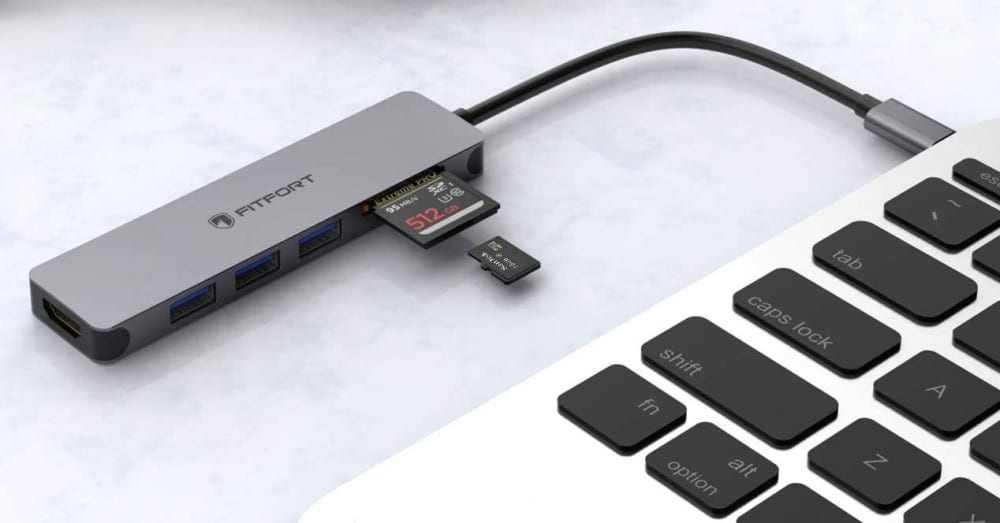 What are hubs and what are they for?
These are accessories that are used as hubs and that use one of the ports they offer, they offer more connections so they increase the possibilities that computers have. In other words, we are talking about a product that expands and, therefore, becomes a purchase option to get what is not available (for example, HDMI or Ethernet).
If it is used in laptops, it must be taken into account that energy is consumed, so the autonomy of the equipment is reduced -not significantly-, but this is something that is amortized due to the usefulness it has. Therefore, it is always a good idea to choose a model that does not have large dimensions , since in this way it can be reached in the laptop backpack in a comfortable and unrestricted way.
Things that must exist in these hubs with HDMI
Obviously, the HDMI port is essential in the models we are talking about, since in this way it is possible to connect laptops to screens such as monitors and even to current Smart TVs. Thanks to the wide possibilities that USB Type C has, the minimum that should be required is that the resolution that it supports is 1080p , but reaching 4K is not ruled out if the price is excessively high. This is essential.
Once this is present, it is also important that more connections are included to increase the usefulness of the hub in question and, by extension, the laptop to which it is connected. Some of the possibilities that are interesting to be offered in these accessories are those that we list below:
Additional USB Type-C port
Ethernet for wired Internet access
USB type A ports to ensure compatibility with accessories such as pen drives
Memory card reader
If all this is fulfilled, you will be completely sure that the purchase you make is of good quality and that you will be able to respond to all kinds of needs that you may have. That is, you buy a good hub with HDMI.
Models we recommend buying
We leave a list with models that are cheap, since none of them exceed 25 euros so they are a good solution in what has to do with the quality / price ratio. They are as follows:
Hub QGeeM
A model that is very complete and that offers a wide number of connections such as HDMI and a pair of USB type A ports to connect a large number of accessories (even old ones). The weight of this device is low, so it is quite comfortable to carry around.
FITFORT Hub
Another good purchase option that has a lot of possibilities with dimensions that are quite contained (18.19 x 10.19 x 2.69 centimeters). In this case, there are three traditional USB ports that are added and, in addition, it also has a useful memory card reader.
Hub Honmax
It is one of the models with multiple connections that is smaller, and has some details that are differential. An example is that the included HDMI is compatible with 4K and also has a VGA connection. Its compatibility is excellent, since it can be used both with computers that integrate Windows operating system and those that do the same with macOS.
RAYROW Hub
With an attractive design and a weight that is quite low, since it is only 180 grams. With a good number of options for use, such as its card reader and a USB type C that is compatible with charging the battery of the laptop with which it is used.
Hub lemorele
No compatibility issues, this is one of the hubs with HDMI that should always be taken into account. Its finish is attractive and has everything you might need to make it an excellent solution for laptops that are connected via a USB Type-C port.
USB Type-C to HDMI Direct Converters
IVANKY Adapter
A device that is highly recommended since it has an excellent quality finish and, for example, its cable offers resistance to be taken into account. With very good opinions from buyers, it offers 4K image quality support, which makes it a good buy.
QGeeM HDMI
Another purchase option that is recommended among the HDM hubs we are talking about, and that also allows us to use 4K resolution images. With full functionality in all operating systems, this is an adapter that has a very low weight since it stays at 23 grams.
CHOETECH USB C to HDMI
The name of the accessory makes its function very clear, and its full black color gives it a look that is quite striking. It has no compatibility problems and therefore its usefulness is quite great. It supports 4K image quality, so it's not out of place.
NIAGUOJI USB
Its simple appearance hides an adapter that offers excellent compatibility and that, at the same time, has full functionality and is therefore an accessory that is worth always carrying in your backpack as it does not disappoint.
DIWUER Adapter
HDMI compatibility; support with Windows and macOS; good design … it has all this little converter that is a good possibility since it has a very attractive price. Obviously, it does not lack support with 4K images, which makes it a possibility to value.