Whether you are a working translator or just starting out in the profession, surely you have heard of computer-assisted translation or CAT or CAT tools, essential kits that can help us translate faster and better, allowing us to use different formats, glossaries and translation memories so that the translations maintain their homogeneity.
Whether we are a translator, a translation agency or a company that needs a translation, it is likely that we are using some type of translation software to improve our translation workflow. To do this, we can make use of different types of CAT or TAO tools.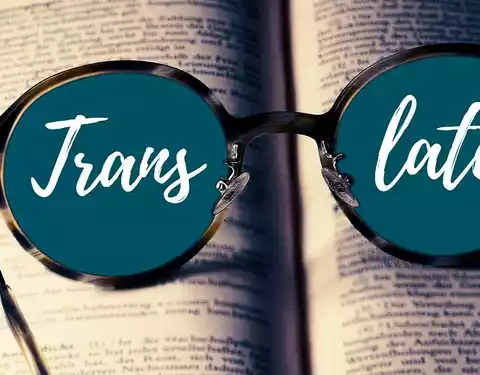 What is a translation software
Nowadays it is common to find translation software specially designed so that the entire process of translating can be faster and more efficient. In this way, with these programs we are going to be able to store and edit translations, translate projects section by section (maintaining the format), as well as add an additional layer of quality control, adding coherence, spell checking, equivalence, etc, to our translation. . These softwares are responsible for greatly simplifying the management of terminology, since it can help us create, access and use terms and translation memories while we work on our projects.
When we refer to translation programs, we are referring to CAT (Computer Assisted Translation) or TAO (Computer Assisted Translation) tools, which should not be confused with automatic translation programs such as Google Translate. Although in terms they may seem similar, CAT tools help translators to speed up the translation processes, but not perform them for them, while machine translation programs use AI to directly translate texts.
CAT tools contain four main features that make them a powerful tool:
Translation memory.
Terminology database.
Ability to work in almost any format.
bilingual format.
All CAT or CAT tools have the same purpose, which is none other than to assist and speed up the translation process . But there are different types of software that adapt to different circumstances and needs. For example, translation software tools can be downloadable desktop programs that you install on your computer or cloud-based solutions that you work on online. They can also be paid or free.
CAT programs to translate
These desktop softwares are programs that must be downloaded and installed on our computer and their large client base is translators, LSPs and agencies that require them to be able to work without an Internet connection and avoid the problems that can arise with online software such as server issues, crashes or slowdowns.
SDL Trados Studio, the most used CAT tool
Without a doubt, this is the most popular and used CAT tool among translation agencies and freelance translators. The tool is comprehensive and feature rich , allowing us to easily create, manage and edit terminology. It is a paid software with many possible types of subscription indicated according to the needs of each translator.
It has a wide range of supported file types, powerful analysis features, and the ability to integrate machine translation technology to speed up the translation process. It also has quality assurance (QA) features to help us with consistency and productivity, as well as the ability to import old translations created in Microsoft Word.
The biggest downside of Trados Studio is that many users find it too complex for most of their translation needs. This causes there to be a very steep learning curve when we start using it. Also, it only runs on Windows, is expensive, and doesn't support native collaboration. We can download a trial version from its official website.
memoQ, the alternative to Trados
We are talking about other of the most important CAT tools on the market and one of the biggest competitors of Trados, since it has similar functions and performance. It originated as a faster way to translate books in a publishing house and has gradually made its way into the more popular CAT tools. A special feature of MemoQ is its ability to accept other translation tools that make it easy for translators to work on different translation platforms.
Among its features we can highlight its wide range of compatible file types, its powerful analysis function, the possibility of integrating automatic translation technology to speed up the translation process. It also allows the creation of a terminology database in order to ensure consistency and save time with the dictionary. In addition, it allows us to see the translation in its final format while we write and has real-time quality assurance and spell checking functions to help us with consistency and productivity.
Like Trados, the main problem with memoQ is its steep learning curve that we must go through before obtaining the desired benefits. We can download a free version, which has some limitations, from its official website .
Wordfast (Classic and Pro), the simplest and easiest to use option
Wordfast Classic is especially indicated for Word users, since it is capable of working directly in Microsoft's word processor. Of course, we will need Wordfast Pro to use it independently if we want to translate other file formats. Through this program, we can store our translations in a translation memory database and retrieve that content for future projects.
Compared to other translation software, this program has a more user-friendly interface, being quicker to learn and use. It supports a wide range of file formats and Wordfast Pro can integrate with multiple machine translation engines so we can use them when there are no matches in the translation memory. Its main drawbacks is that Wordfast Classic only supports Word documents, while Wordfast Pro has limited options compared to similarly priced translation software tools.
This software has both free and premium versions and can be installed on Windows, macOS and Linux, and we can download it from the developer's website .
Déjà Vu, the option for beginners
We are talking about a complete translation CAT tool that is characterized by using a simpler design compared to other options on the market such as Trados and memoQ. This application is only available for Windows and has a wide range of supported file types and good features for scanning. It also has an option that allows you to integrate automatic translation technology in order to speed up the translation process. It allows us to easily create a terminology database through which we can make glossaries that allow us to guarantee consistency when translating and save time with the dictionary.
Among its functions, it is also worth mentioning AutoWrite , which is responsible for suggesting words from the terminological database as we write so that we can improve our speed in this way. Since its ease is one of its strong points, we can move between the project view and the document view, as well as add new files to the project we are working on. Its main disadvantage is that its technical support is below other options on the market.
Déjà Vu allows you to download a fully functional 30-day trial version of its professional version. Once this time has elapsed, we can use its free version or choose to buy its license to continue taking advantage of all its translation functions.
Transit NXT, aimed at language services
This is another CAT tool created by translators for translators. It is about using a translation memory system which is based on sentences, makes the entire context of the document available in the differential material, causing the text analysis to yield more repetitions and exact matches.
The program is capable of translating all formats and has the TermStar terminology management system. It has advanced quality checks that go much further than using a simple spell checker. Working with this application is like writing with the popular Word, since it even has all the shortcuts included in the Microsoft word processor.
Transit NXT is a CAT tool aimed at language service providers and translation agencies. It does not have a free trial version.
OmegaT, with outdated but solvent interface
We are talking about a free and cross-platform translation tool so it can be used on Windows, macOS and Linux. It is especially intended for professional translators . It is capable of working with more than 30 popular application file formats such as Microsoft Word, Excel, PowerPoint, LibreOffice, OpenOffice, plain text, HTML, XHTML, among others.
It is worth mentioning that it is an application that has a somewhat outdated interface, but that compensates with some basic translation requirements that are applied in a better way than any other free tool, which means that it is able to compete directly with other payment options. such as SDL Trados or memoQ. The software has the core features of any CAT tool, including fuzzy matches, match propagation, multi-file projects, translation memories, glossaries, and more.
We can download the latest version of OmegaT from its website.
CafeTran Espresso, versatile and focused on beginners
It is a TAO tool, compatible with the main platforms on the market such as Windows, macOS and Linux. It has an approach for beginners who require the versatility to be able to switch from one device to another. Various productivity enhancements such as MT integration, smart auto-complete, and one-click placement of suggested texts, along with a customizable interface, make it stand apart from others.
CafeTran supports all major file formats, including InDesign files and files needed for software localization projects. It has some limitations in the size of the TM and the dictionaries, but it is not too worrying, especially if we are beginners. Among its features, there is the possibility of integrating a built-in web browser to search for terms in various online providers, it has the possibility of using a server and collaborating with other people, and it has many easy-to-understand icons that add color to the interface. .
Of course, it is worth noting that CafeTran is a fairly heavy software, so it is possible that it reduces the performance of our PC during use, especially if it is not too powerful. We can download it for free from its official website.
Redokun, allows intelligent revision of translations
We are talking about a CAT tool that is characterized by being easy to use, so it hardly requires a little practice for us to learn to master it. With this software we will be able to organize and manage the files of our projects using folders that we can store in cloud storage systems such as Google Drive. The application allows us to make revisions intelligently so that we can make fast and last minute changes to the original document.
The program also has collaboration, import and export functions, making it perfect for being able to pre-translate documents that are based on various databases. While initially known for its InDesign translation features, the application has now expanded its support for Microsoft Office documents and other file formats.
If we want to try Redokun, we can download a 14-day trial version from its website.
Swordfish, free and open source
It is a free and open source CAT tool for personal use, especially suitable for creating documents and localizing software, especially aimed at professional and freelance translators. It offers maximum flexibility for the latter as it has compatibility with exchange files from other popular CAT tools such as SDL Trados. It does this by matching new content with old content using both the translation memory and termbases. In addition, it integrates external machine translation engines such as DeepL, Azure, Google Cloud, MyMemory and Yandex Translate.
We can download Swordfish for free from its website.
MetaTexis for Word, what they use Word for
This is a suitable application for the translation of documents, especially indicated for translators and small teams that work mainly with Microsoft Word . We are talking about a powerful and professional tool with many functions and options that we will not find in other CAT tools. The program runs in Microsoft Word, which means all its features will be available from within Word for you to use, giving you easy access to translation memories, glossaries, machine translators, and other external resources within Word. In this way, we will not have to learn a completely new program, but only new functions within a powerful and familiar environment. The application has free software updates and supports Word documents generated in SDL Trados.
We can download MetaTexis for Word from the developer's website.
Cloud based translation software
Cloud-based translation tools (or web applications) are programs that are accessed and used online through our web browser. These platforms are becoming more and more common in all industries in the world of translation.
Memsource, simple and intuitive online editor
This tool has a web-based and a desktop-based translation editor. Its online editor is simple and intuitive and has most of the functions of a CAT tool. It supports a wide range of file types and has the ability to create terminology databases and integrate machine translation.
This CAT tool is designed with businesses and language service providers in mind. It allows project managers to better organize and control linguists. However, it may lack some features and can be a bit slow when working on large projects.
Memsource has a free personal edition that has a simultaneous translation limit of two files, which can be enough if we have a light workload.
Wordbee, professional CAT tool
We are talking about a support platform for translators, agencies or translation companies of various file formats. It is capable of combining the functionality of a professional CAT tool and the management of translation projects in a single workspace. Through it, it is possible to use translation memories and terminology databases to speed up the translation and ensure the consistent use of terminology.
The platform focuses on collaboration and works well at the project management level, but it lacks some of the more advanced features and speed is its main problem. It also has spell checkers available for almost all languages as a plugin for our browser.
If we want to try Wordbee, you can use a 15-day trial version that we can access from its website.
XTM Cloud, intuitive translation solution
It is a translation tool that is characterized by being intuitive, web-based, and that has all the necessary functions to help us carry out translations . Using it allows us to automate the localization process, translate and review in context, and achieve transparency in localization projects.
This translation management program and includes features such as collaboration, CRM, for software, for websites, machine translation, marketing management, project tracking, quality control, translation analysis, translator database, version control and workflow management.
We can use XTM Cloud for free for 30 days through its trial version available on its website.
Lokalise, ideal for collaboration within a workspace
We are talking about a web-based CAT tool and translation management system especially aimed at marketing teams and translators. It has been specially designed so that we can collaborate with our team within a single workspace. We can add and assign tasks, keeping track of the process and enjoying a smooth localization workflow from where we can know who and does what and when.
It has control of the version of the document in which we are working through the fork, which allows us to work with different iterations of the same file, to later combine them when we have finished. In addition, it has bidirectional plugins for Adobe XD, Stetck and Figma.
We can test Lokalise by accessing and registering on their website .
Transifex, complete web application
It is a translation management system web platform and CAT tool especially suitable for the localization of assets in websites, applications and software, especially focused to be used by Startups and Global Companies. The platform provides advanced settings for more complex and highly automated workflows as an additional post-translation review step. It also offers the possibility that other translators can overwrite the documents with Edit Lock and it also has a community translation where a group of translators suggests and votes on the best translations.
In order to try Transifex without obligation, we can access its 15-day trial by accessing its official website.
What is the best CAT tool?
When choosing which is the best CAT or CAT tool that we can choose, the first thing that we must assess is whether we prefer to use software that can be installed on our computer or opt for a web application that can only be accessed from our web browser.
We can also take advantage of the trial versions or free versions of each application to test its content and check if it really fits what we are looking for and need.
Among the available options, SDL Trados Studio is the most popular and used program in the translation world. By having several subscription plans, we can use the one that best suits our needs.