One of the most important peripherals for our computer today is the webcam. An element that is incorporated by default in portable devices and that can also be connected externally through a USB port. This peripheral can be very useful beyond taking a selfie or recording our video calls. Using the appropriate program we can give them different uses.
On the Internet we can find different programs that will allow us to give different uses to our webcam, standing out in certain parameters, either due to its interface, ease of use or the diversity of tools it incorporates. That is why it is possible that we can find the necessary program for each type of user.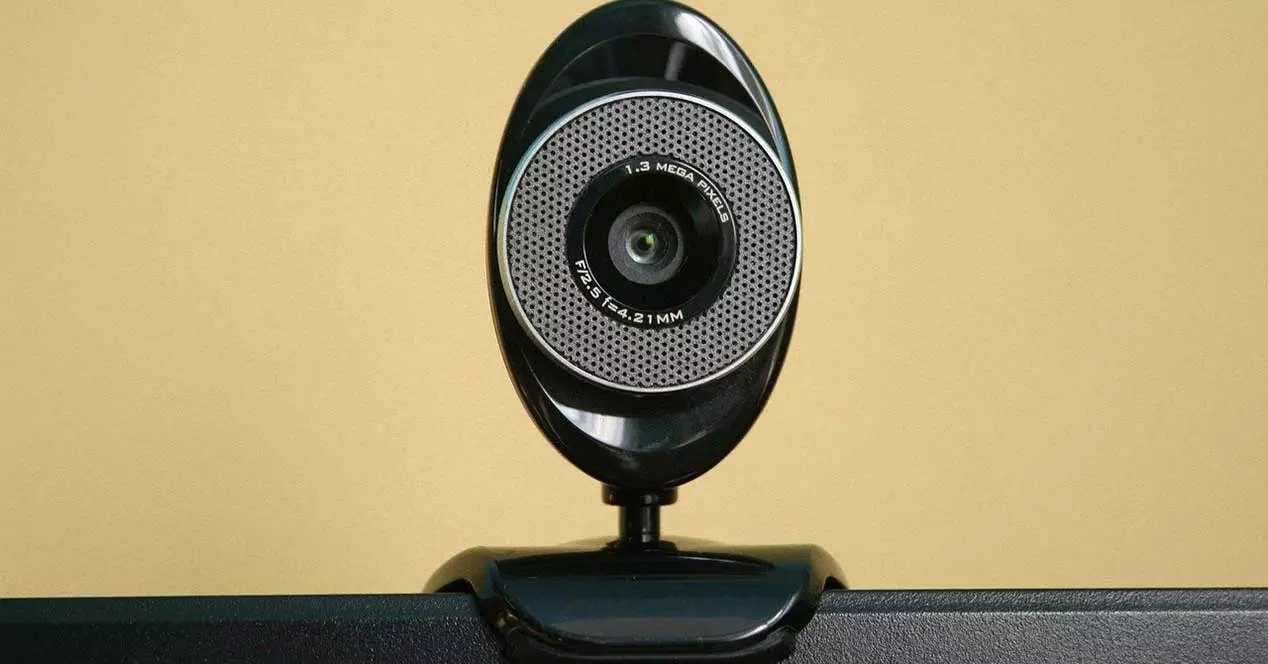 Use that we can give to the PC webcam
In general, the webcam on our computer will serve us mainly to make video calls both with friends or for work issues or to record videos. In order to provide this tool with more functionality, we can find programs that will allow us to provide them with elements and effects, such as the possibility of recording, editing and having our personalized videos for, for example, uploading them to social networks.
Another possibility is to turn our webcam into a security element. Since it is possible to use it as a video surveillance camera or as facial recognition to log into Windows. It is very useful to monitor the room where a child sleeps, the garage or other rooms in the house, since we can always access the live images through our own browser
Applications to provide tools and effects to the webcam
Next, we will see different programs with which we will be able to provide functionalities to the webcam of our computer, add effects, filters or edit images.
Logitech Capture, provides your webcam with different functionalities
The famous manufacturer of webcams also has a software with different functionalities for our webcam. With this program we can easily record, edit and personalize our videos , as well as apply filters, transitions and borders so that we can personalize our content. A very interesting function is the possibility of recording videos in vertical format, so that they are optimized so that we can see them in full screen on a mobile device.
With Logitech Capture we can create and save up to 6 configuration profiles, it facilitates the use of two webcams at the same time, as well as working with a light or dark background for a more creative look. In addition, it has controls such as the color intensity key to be able to eliminate backgrounds giving a more elegant and sophisticated appearance.
We can download Logitech Capture for free from their website.
ManyCam, virtual camera and video editing
We are talking about a virtual camera and video editing application for live broadcasts, with which you can offer professional videos on any broadcast platform. It has a large number of presets, filters, and beautification effects such as emoticons, face masks, transitions, and artistic backgrounds. It has full integration with YouTube, Picture in Picture (PiP), as well as the possibility of recording at different resolutions such as 4K, HD and FullHD up to 60 FPS.
The program has compatibility with popular formats such as MKV, FLV, MP4, among others. It also offers the ability to change the bit rate of the audio, between 96 and 192 kbps and apply noise suppression function. Given its extensive set of tools, it is ideal for live broadcasts, recording a computer screen, or creating tutorials.
ManyCam has a free version, which does not include a watermark, and that we can download from this link to its main website . It also has payment functions to be able to get the most out of the application with a starting price of 39 euros per year or 79 euros for life.
SparkoCam, apply effects to recordings and video calls
This is a video effects and webcam software with which to transmit and apply effects on the camera during chats and video recordings. With it we will be able to improve the transmissions through the webcam by adding effects and graphics and using it simultaneously with several applications such as Zoom and Skype. It has the ability to change the background of broadcasts in real time, as well as add AR effects such as glasses, masks or hats. In addition to its ease of inserting videos of animated objects or we can even create our own by importing PNG or GIF images.
SparkoCam has a free version with which to test the application, and which will insert a watermark to our final results. We can download it from the developer's own website . To use the application without limitations we must acquire its license whose price starts at $ 69.95 per year.
Programs to use the webcam as a video surveillance system
We can also use our webcam as a surveillance system with the help of these applications.
IP Camera Viewer, home security system
This interesting application has its use specially conceived as a video surveillance system with which we can monitor our home, office or any other place where we need security. It allows its use both with the webcam of our PC and with IP cameras with which to monitor and keep any place protected. It allows you to easily configure and personalize our videos , change the orientation, the frame rate and the coverage area of our IP cameras. In addition, it allows you to digitally zoom on a point, even if our camera does not have this functionality.
In addition, it allows you to capture sequences in image and video formats, such as JPEG, MJPEG, MPEG-4 and H.264 from IP cameras, search for IP cameras on the network and listen to live audio through the webcam. We can download IP Camera Viewer for free from the website created by the program .
ContaCam, performs live surveillance tasks
We are talking about a software that will allow us to carry out video surveillance with our webcam. It stands out for being fast and light so we can use it even in the most modest computers. It has live webcam support and the ability to track history, manual logs, and snapshots. In addition, it has an integrated web server that has password protection . The application even offers support for the use of cloud storage systems such as Dropbox.
The program will take care of sending us a daily notification by mail to ensure that the device works correctly. It is possible to download ContaCam for free from the ContaCam website .
iSpy, record and detect any time
One of the most popular video surveillance solutions on the Internet. It is compatible with all types of devices such as IP cameras and USB cameras, with no limit on the number of devices to add. It will allow us to record in MP4, VP8 / 9, GPU and Raw and includes a wide range of motion detectors, including artificial intelligence integration to minimize false alerts. It has different types of alerts, whether by email, SMS, push notifications to mobile devices, desktop alerts, etc.
In addition, the application allows you to listen and monitor remote microphones live over the network, as well as upload videos directly to YouTube, Google Drive and Dropbox. We can download iSpy for free from this link to the developers' website.
Softwares to use the webcam as facial recognition
We can also find different software to use the webcam as facial recognition to access our PC without using it without having to use the username and password.
True Key, log in safely without using passwords
We are talking about a powerful and versatile tool, developed by McAfee that will allow us to use our webcam as facial recognition to log in without entering a password. It has two-factor authentication for greater security, being possible to add more protection factors or just use one on the devices we trust. It also has the ability to use it as a password manager to quickly access any website.
True Key has a free and multiplatform version that works as a complement for Chrome and that we can download the True Key tool from its website.
Rohos Face Logon, login with multi-user support
We are facing a tool that will help us to log in with the help of any basic webcam compatible with Windows through facial recognition . The login process is done automatically once the application has recognized our face. It will also allow us to combine facial recognition and a UBS memory to log in. In addition, it has multi-user support so it will be possible to register several user faces and use them in any account.
Although the appearance of the application seems quite old and simple, it is equipped with a power saving function that ensures that the webcam is only turned on for the authentication procedure. We can download a 15-day trial version of Rohos Face Logon from here. Its purchase price is 10.89 euros.