The screenshots are very useful when we want to capture some kind of error, an image or a particular configuration or helping others to do something. Screenshots are saved as images on the computer waiting to be treated or shared with others. And although Windows has always allowed us to do this, it is possible to expedite this process greatly if we use the appropriate applications for this task.
To make screenshots in Windows, the classic way has always been to use the Print Screen key on our keyboard and paste the captured image into an application like Paint. Then we cut it and save the result. This method is impractical, not very intuitive and very slow. And although there are some tricks, such as the keyboard shortcut Win + Impr Pant that saves a screenshot of the full screen, it is still not the most comfortable if we usually make many screenshots.
Today there are a large number of programs designed to help us make screenshots more quickly and, incidentally, be able to crop or edit them in real time without having to deal with them later in a program such as Paint or Photoshop. GIMP can take screenshots , for example, to edit them directly in your editor.
And in addition, there are many other applications to make screenshots in Windows 10.
Snip & Sketch, the tool included by default in Windows 10
Windows comes by default with a tool called  "Snip & Sketch" in Windows 10. This tool allows us to make and edit screenshots more easily than with the classic Windows method.
With this tool we can select a new screen cutout (both the full screen and a part of it), and even program it to take the capture after 3 seconds or 10 seconds. Within the main interface of this tool we will be able to see our capture and edit it directly from it. It also has a new keyboard shortcut, Windows + Shift + S, which allows us to make screenshots without having to open this application.
A necessary tool for users who often make screenshots often, but can be improved in many ways. Luckily, there are other more complete third-party applications to make and edit screenshots in Windows 10. But if we do not want to depend on other applications and only make sporadic captures, this application will help us.
---
ShareX is one of the best applications we can find to make screenshots. This application is completely free and open source for all users, and has a large number of tools and functions to facilitate the capture of screenshots.
For example, we can take screenshots of the full screen, of a part that we choose or of an automatically detected window. We also have a large number of editing tools that allow us, for example, to draw, edit or pixelate a certain part of the image. All this before saving the capture.
In addition, this application allows us to even record on video (or in GIF) a part of our screen very easily. It has a large number of configuration options and several functions that allow us to upload the captures to the cloud, to a server or to social networks automatically.
We can download ShareX from the following link .
---
PicPick, an alternative full of functions with an intuitive editor
Another alternative to easily take screenshots in Windows 10 is PicPick. The purpose of this application is also to allow us to make screenshots easily in Windows, but it also has an excellent image editor very similar (in appearance only) to Paint that will allow us to do everything with our captures.
In addition to having this excellent editor, PicPick is also fully customizable, it has a large number of accessories and tools and functions that allow us to optimize our captures to upload them to the cloud or share them on social networks.
We can download PicPick for free from the following link .
---
Greenshot, an alternative with OCR
If what we usually do is capture the screen on web pages or in documents, we need a tool that has a powerful character recognition engine, or OCR. Greenshot is an application that allows us to easily take screenshots of both the full screen and a window or region. It is also able to capture a web page by scrolling automatically.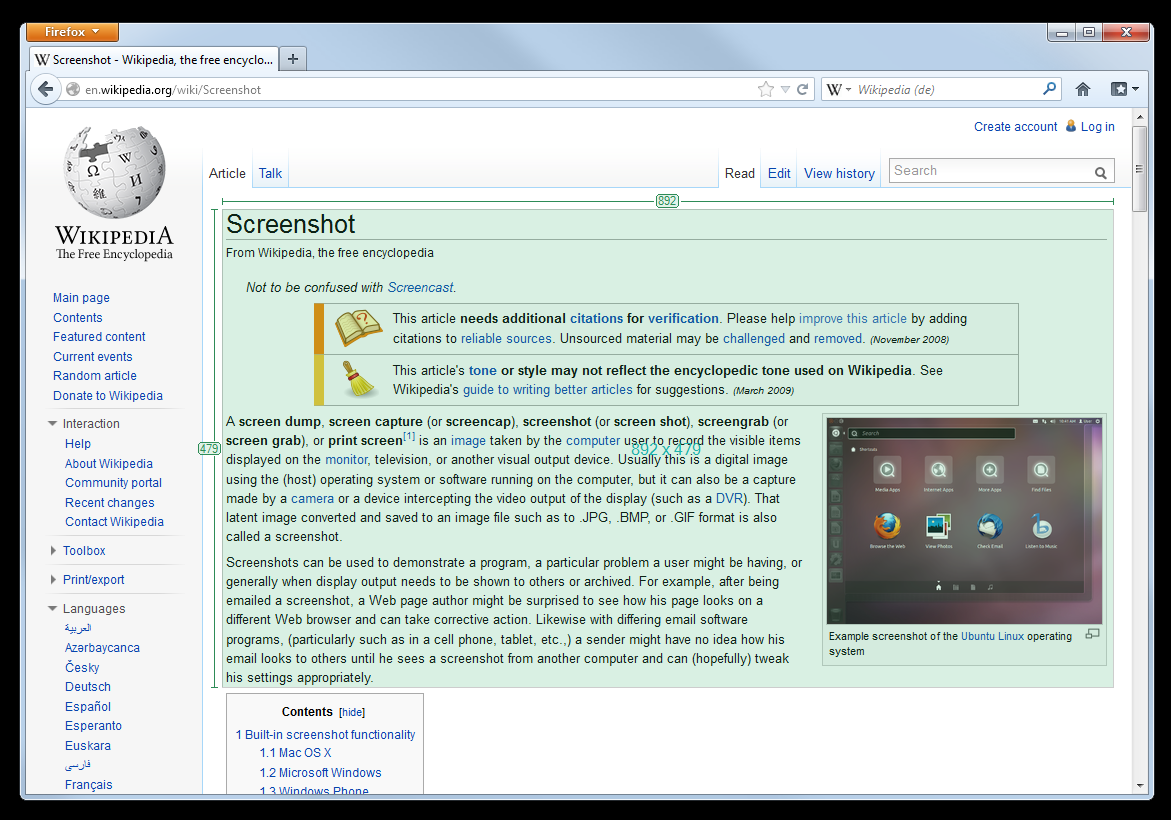 It also has an annotation system and a simple editor to make changes to the captures. But without a doubt its strong point is the OCR recognition engine. This allows you to identify the characters of a capture and pass from image to text what we just captured.
Greenshot is a free and open source application for Windows users that we can download from the following link . MacOS users can download it from the App Store, paying $ 1.99.
---
LightShot, the lightweight and customizable alternative
If we are looking for something light, fast, simple and customizable, then we should try LightShot. This application is free and available for Windows and macOS users, in addition to having extensions for the main browsers.
This application allows us to make screenshots very quickly and very easily. It also has a powerful image editor and features to upload and share our captures with the cloud.
We can download LightShot for free from the following link .
---
Snagit, the most used option to make screenshots in the professional field
Users who want a fast, simple, complete and professional editor should definitely try Snagit. This is one of the most complete and professional applications to make screenshots, edit them and share them on social networks.


In addition to allowing us to create screenshots and edit them, one of the most important pillars of this application is the creation of video. We can record our screen easily, in addition to adding annotations in real time (or post-production) and editing other content.
We can download a trial version, or buy the license, of Snagit from the following link .