One accessory that is not given due attention when it comes to having a perfectly equipped home office is the power strips . Many use a basic model, and this can compromise the integrity of computers and other devices that can be quite delicate and expensive. We show what one of these products must offer so that you are sure of its functionality .
---
---
The most serious problem that can occur is that there is a moment of overvoltage and, if you do not have any of the power strips that offer protection against this, the voltage spike can reach the computer or the console and, then, it is possible the power supply or motherboard of the device in question is damaged, which may render it unusable. Therefore, we are not talking about something less precisely.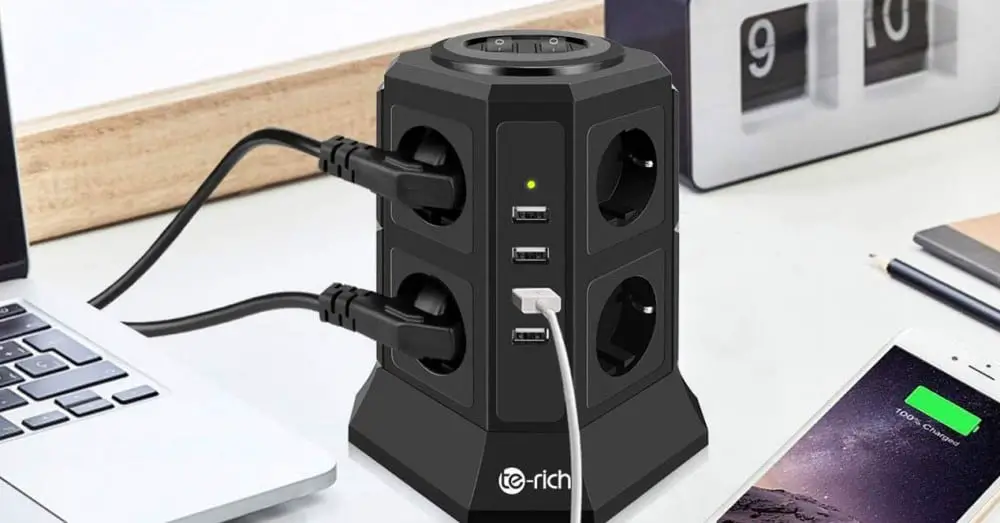 So that this is not something especially problematic, there are different models on the market that allow you to be fully protected and, in many cases, fit like a glove in the offices that you have at home. In addition, the prices of quality models are not exorbitant, so the investment is not especially high … which is obviously good news.
The basics of this type of power strip
The first thing to check is that the type of socket used by the device is compatible in Spain, which are specifically the F-type plugs. Once this is clear, the next step is that the number of these is at least four , since if they are less it is completely certain that in a short time they will need more and, therefore, there will be a small problem that will be most uncomfortable since you will have to connect and disconnect the accessories used.
Another thing that must not be missing in the power strips for it to be a good solution, is that it includes on and off switches . In this way, if you will not use the connected deterrents for a time, it is possible to use this element and thus confirm that there will be no problem of tension or consumption. At least there must be a general one, but, if this is not the case, what the product should have is one for each intake so that the management is much more precise. The case is that this should never be missing.
It is not a bad idea to also check that there are USB ports so that, in this way, equipment such as smartphones or tablets can be directly connected (the number does not need to be spatially numerous, but the usefulness of this inclusion is beyond doubt). Another of the things that is essential is that the cable length of any of the power strips that are purchased is quite long, being a measure that we believe adequate of a minimum of two meters (in this way, you can be very sure that it can always be placed in the place chosen for the accessory we are talking about).
Protection, key in these devices
The overvoltage itself is the basic one that the product should offer and, ideally, it should be included for the greatest number of ports and connections on the strip. For optimal operation, it is recommended that a control chip be integrated that is in charge of detecting that everything is working correctly, and that, if necessary, it cuts the power supply. Besides, having a fire retardant construction is also of great help and increases safety.
In what has to do with the dimensions and materials of manufacture. In the first of the things, everything depends on the place where you plan to place the strips that you buy (there are some that can be placed on the desk and others that go on the floor). Regarding manufacturing, the usual use is PVC since they provide resistance and a good finish.
Purchase options we recommend
Next, we leave a list that different models that comply with the aforementioned and that, in addition, have an attractive price since none of them exceeds 50 euros . All options are for sale on Amazon.
APC Surge Arrest Essential
There are five connections that this model offers, which is one that is usually placed under the desk due to its elongated shape. It includes protection against surges, so the security it includes is high, and it also doesn't lack an ignition switch. A nice touch is its excellent response time: less than a millisecond.
Te-Rich Vertical Strip
A model that is designed to be placed on the desk and, therefore, that you have comfortable access to the eight plugs it includes. In addition, it is one of the models that has USB ports, specifically leather, so it is possible to recharge mobile devices without problems. Includes overvoltage and overheat protection.
POWERADD Power strip
This is a complete model, since it includes a large number of use options because it has different types of access for the plugs and, in addition, five USB (one of them supports Quick Charge technology). It is designed to be placed on the ground and since it cannot be otherwise, it has an ignition switch.
Brennenstuhl Premium
Without a doubt this is one of the power strips that offers the best security, since it allows to protect anything that is plugged in from surges and even from indirect rays. They are nothing less than feel the accessories that can be connected at the same time, and it has a useful type 10A fuse that can be changed in case of breakage.
ç
ORICO Strip
Of the models that offer more power both in traditional plugs, it reaches 4000W, as well as in the five USB ports it includes (the sum in this case reaches 40W). With high protection so that tension is not a problem, the dimensions it has and occupies on the ground are as follows: 39 x 16.6 x 5.2 centimeters.
BESTEK Vertical Strip
It is one of the most striking power strips of all the ones we have chosen, as it even has some information LEDs in which it is possible to see if the protection against surges is active. The number of ports it has is eight, a good brand, and it does not lack six USB. Its total power is 3600W.
BEVA Strip
One of the best things that this model offers is that it is one of those that has a design contained in dimensions but that is not especially ugly. With six current and four USB ports that self-manage on the output power to be used, it offers protection against overload and also short-circuit.
Salicru REGLETA SPS
The price of this accessory makes it an attractive purchase option (and it is not lacking in good ratings from buyers). There are five ports that it includes, all of them protected against power failures, and it also doesn't lack an ignition switch. It has protection against manipulation by children.
HOVNEE Vertical Strip
This device has a design that is quite simple, but the truth is that it is compliant. The stability it offers in use is high, and it does not lack eight outlets and four USB with are compatible with fast charging. The maximum output power it offers is 2500W and it has enough protection to avoid problems.
SAFEMORE Vertical Strip
One of the most complete strips of all that we have chosen since, to give an example, there are eleven power outlets that it includes and two USB. It includes individualized switches and has details as interesting as being fire retardant. Its power is 2500W and its energy efficiency is A ++.
---
---