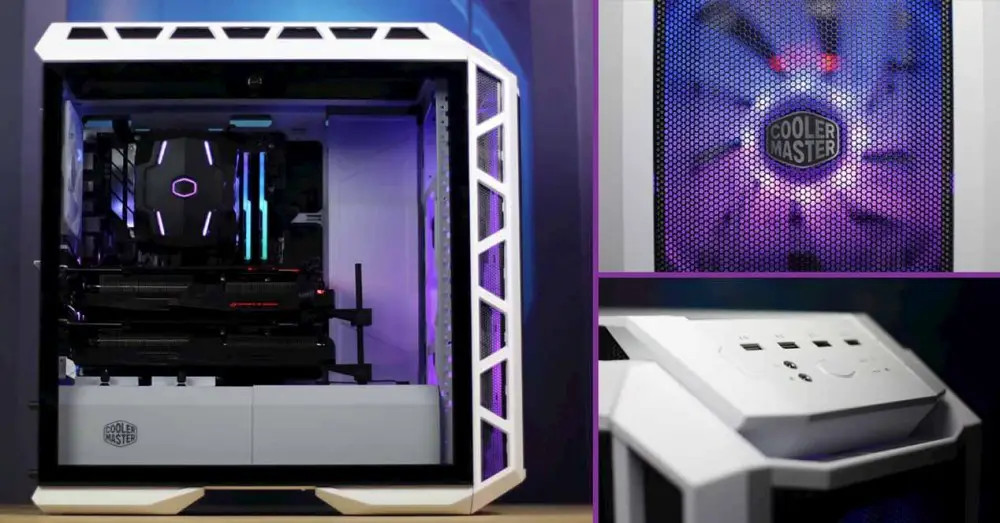 When it comes to creating optimal airflow in your PC with as little noise as possible, there is nothing better than using large fans . And, within the PC industry, the largest fans that we can find (at least in standard cases and not specific models) are those of 200 mm, so in this article we have compiled those that, in our opinion, are the best. 200mm fan cases on the market that you can buy.
Many times we have insisted on the importance of having a good air flow in the box, since the thermal performance of the entire system depends largely on it, not to mention its loudness. For this reason, the choice of the PC case is not something trivial and many factors must be taken into account beyond the fact that the hardware that we intend to install inside "fits", and without a doubt one of the most important factors is precisely the cooling capacity it provides us.
Why choose a case with 200mm fans?
As a general rule, the fans that are most used in PCs have diameters of 120 and 140 mm, since due to their size they are the most comfortable to use and install. However, when it comes to fans, size greatly influences both their performance when it comes to moving the air and the noise they emit, since the smaller the fan, the faster it will have to rotate to be able to move the air and , with it, more noise will emit.
On the contrary, a larger fan does not need to rotate as quickly to move the same amount of air (or if it rotated just as fast it would move much more flow) and therefore it is usually much quieter, although it is true that This type of fan has the disadvantage that it consumes more energy since the blade part has more weight and, therefore, requires a more powerful rotor.
Choosing a box with 200 mm fans has many advantages, and the main ones are as you will already suppose a better air flow and a lower noise level. The greater air flow is thus doubly, first because these fans are capable of moving a large flow of air at low revolutions per minute, and second because, as they are so large, the interior surface that they cool is much greater than with smaller fans. . Of course, when turning slower they emit considerably less noise and, in fact, they would normally be absolutely silent if it weren't for the fact that you can hear the air they move.
Therefore, choosing a box that has 200 mm fans will almost always be a success if what you are looking for is the best thermal performance / noise ratio, since as we have explained this type of fans moves a lot of air flow emitting very little noise, as long as they are well designed, of course.
Best cases with 200mm fans
Next we are going to list those that in our point of view we consider to be the best boxes with 200 mm fans that you can buy today. We have arranged the list in order from the one that seems the best to the one that seems the worst, but in any case they will all be good choices and we are going to tell you what their pros and cons are in each of them.
Cooler Master MasterCase H500P Mesh
We consider that, of the cases with 200mm fans currently on the market, this is the best of all. Heir to the famous HAF (High Air Flow) family by Cooler Master, this case has two huge 200mm ARGB fans installed in the front behind a grill to promote good cooling, and this is a determining point that differentiates this case from the disaster caused by the first version of the H500P, which had acrylic plastic on the front.
Leaving that aside, it is a box that will allow you to install practically any hardware since it supports heatsinks up to 190 mm high, fonts of any size and graphics of practically any size (it also includes a bracket to install them vertically if you want). Of course, it is a box that will not disappoint you and that deserves every penny you invest in it, since you also have the usual quality and experience of this manufacturer.
Nox Hummer Nova
We have been talking about the manufacturer Nox for a long time and how it has gone from being a "cheap" manufacturer to creating products that compete in quality with the most renowned brands, since they have improved a lot in recent times. This Hummer Nova is proof of this, and although we can consider it a fairly inexpensive box, it has space to install almost any hardware we want and includes two ARGB fans on the front as well as a side with tempered glass that will allow us to see all the internal hardware. .
This case supports ATX and lower form factor motherboards, CPU coolers up to 165mm high, graphics up to 38cm long, and power supplies of any size.
Cooler Master MasterCase H500M ARGB
As you will already suppose from the name, this box is a variant of the H500P Mesh that shares many of its characteristics but has a different aesthetic. It incorporates two 200 mm fans on the front with configurable ARGB lighting and stands out for the inclusion of four tempered glass panels that will allow you to see absolutely everything you have inside.
Like the H500P Mesh, it is compatible with E-ATX motherboards and below, CPU coolers up to 190mm in height, and graphics and fonts of any size (including bracket to install the GPU vertically if desired, although an adapter is required PCIe for it as it is not included).
GameMax Black Hole
This is a box from a somewhat unknown manufacturer, but it has very good reviews and that is why we have decided to include it in this list of the best. It has two 200mm ARGB fans on the front, has a 3mm thick tempered glass side and is capable of accommodating liquid cooling systems with radiators up to 360mm on the front or 280mm on the roof. .
It is compatible with motherboards of size ATX or smaller, CPU coolers of 165mm in height, power supplies of any size and graphics cards up to 400mm in length without problems.
Nfortec Sygnus
Cheap doesn't mean bad, and this box from Nfortex is proof of that. With two 200 mm diameter RGB full-color fans on the front, it has excellent cooling (although it lacks a rear fan and it should be added), and with its tempered glass side you can see all the hardware inside.
It is compatible with ATX and lower format motherboards, supports CPU coolers up to 160mm in height, power supplies of any size, and graphics cards up to 320mm in length.
Mars Gaming MC9W
We came to the end with the cheapest 200mm fan case on the list; It is from a "cheap" brand and you can imagine that we cannot expect much from it, but it still incorporates two ARGB 200 fans on the front to keep the internal hardware at a good temperature and it is more than enough to accommodate a PC decent gaming as it supports ATX and lower boards, CPU coolers up to 162mm in height, and graphics cards up to 335mm in length.