Many users enjoy mechanical keyboards on a daily basis and, therefore, want to continue using this type of keyboard with their Apple computer. For this reason, in this post we have made a compilation with the best mechanical keyboards that you can find and that are compatible with Mac. Do not miss them
What does a mechanical keyboard provide?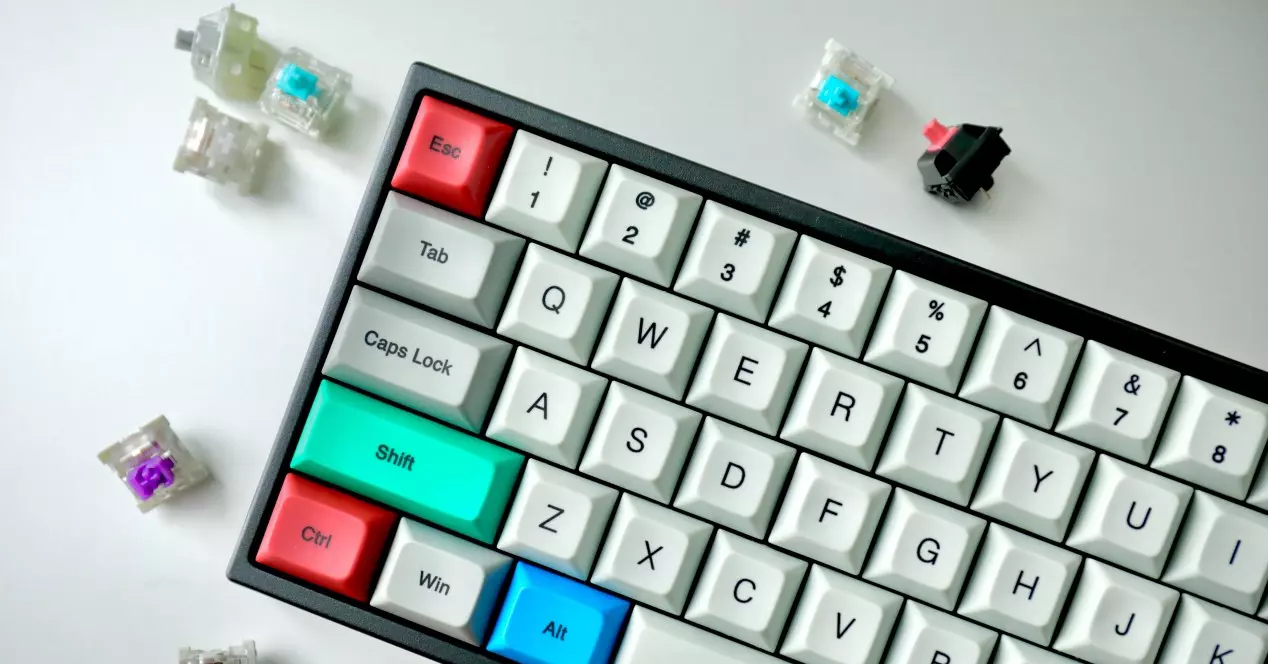 Despite the fact that every day there are more types of keyboards that use different technologies in the keys, without going any further, Apple has gone through several phases until reaching the scissor mechanism that it currently has and that seems to have hit the key, never better That said, for most users. Many people still prefer to use a traditional, or not so traditional, mechanical keyboard with their Mac. The reasons may be various, but here are the most common ones.
Comfort is a key factor, especially for people who spend hours and hours typing on a keyboard. Many users have already become accustomed to using a mechanical keyboard and that is why they prefer this type of keyboard to another.
One factor that more and more people are opting for a mechanical keyboard is customization . There are numerous alternatives with different designs and colors, and also, if this were not enough, many of these keyboards can be made piece by piece, so in these cases the customization is total.
Spinning with the possibility of assembling the keyboard piece by piece, the repair of keys is another very important factor, since the process is really simple to carry out, something that does not happen with other types of keyboard.
One of the factors that encourage many users to use this type of keyboard is the typing speed , since many people who use mechanical keyboards express the great speed at which they allow you to type.
Inexpensive mechanical keyboards
Once you know what are some of the reasons why users choose to use a mechanical keyboard, let's go with the compilation. In this case, we start with different alternatives that have an economic price, designed for all users who do not intend to spend too much money, but who do want to enjoy the experience of using a mechanical keyboard.
TECKNET Spanish Mechanical Gaming Keyboard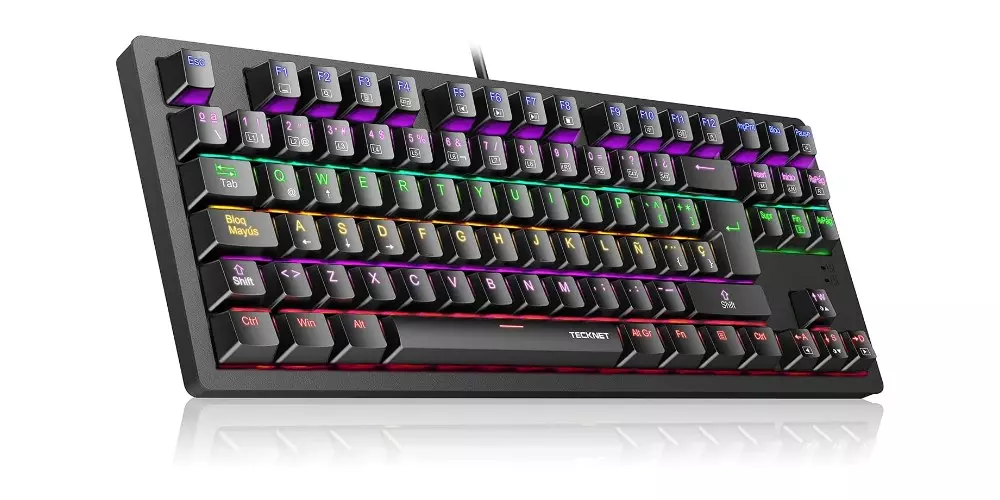 One of the points that you have to take into account when buying a mechanical keyboard is the language in which the keyboard itself is. In this case, the keyboard is in Spanish . As you can see, the aesthetics attracts attention as soon as you see it, with the keys in black and different colors that come out from under the keys to give that gaming touch that attracts users so much.
The pressure of the trigger is 60 cN , making the mechanical keys provide a linear and fast response that resists up to 50 million pressures. They are accurate both for users who want to use it to play games, and for those who are going to use it to write. It has 9 different lighting modes that provide a totally personalized and different experience.
KLIM Lightning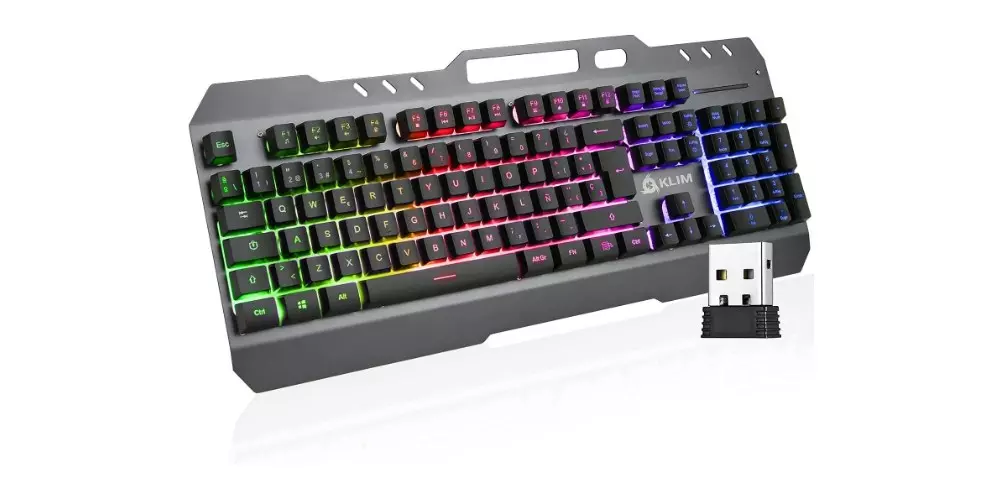 Without a doubt, what is most striking about this keyboard is its appearance. Not only does it now have illuminated keys, but the metal base gives it a completely distinctive and personal aesthetic. It has a USB receiver to connect to your Mac and thus be able to use this keyboard whenever you want, it uses Plug & Play 2.4 GHz technology to have an ideal response time for all users.
In addition, this keyboard provides you with up to 5 years of guarantee , although it is very resistant thanks to the metal structure and robust construction, you will always have the peace of mind of a great guarantee. It has a rainbow lighting effect that looks great on any outfit and certainly adds a fun touch to any workplace.
Havit Mechanical keyboard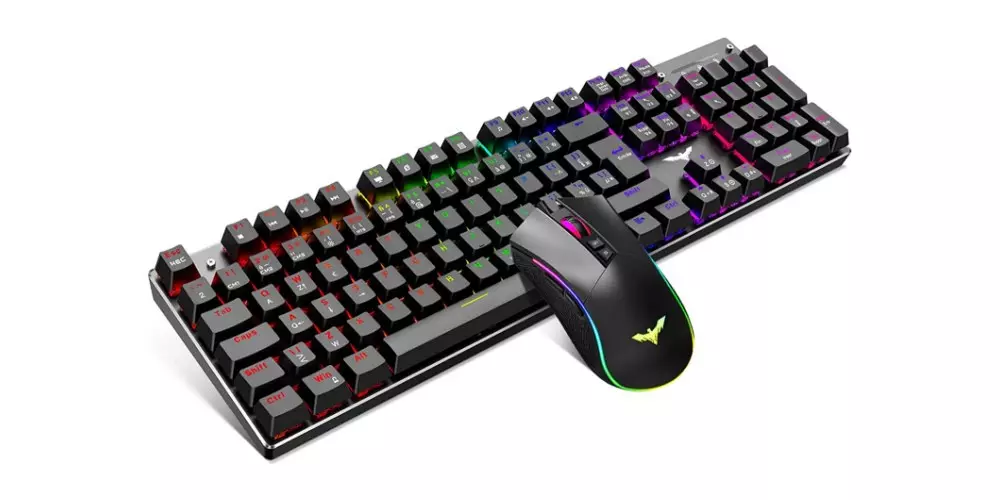 This Havit brand keyboard has a look that mixes the traditional , with a structure that all users can recognize, and the modern , with the backlighting in different colors. Thanks to this design it is able to provide tactile feedback with precise and responsive key commands, which are ideal for both gaming and typing.
At no time will you have the ghost effect thanks to the complete key rollover that it has. As for lighting, it has up to 21 modes of different LED light effects that are preset and that you can choose whenever you want. What if you are going to be able to modify to your liking is both the brightness and the speed of change of light.
ZIENSTAR Mechanical keyboard in Spanish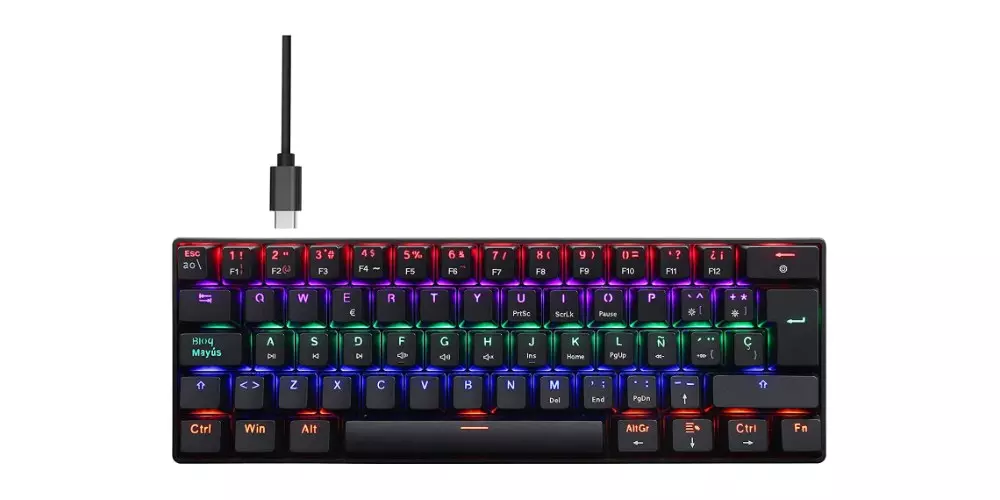 If what you are looking for is a mechanical keyboard that is as close as possible aesthetically to the most modern keyboards , without a doubt this option provided by the Zienstar brand you have to take into account. With small dimensions , something that is not usual in this type of keyboard, black keys and lighting in different colors, this keyboard will be able to satisfy the needs of the vast majority of users.
You have to know that it is not 100% mechanical , it reaches 60%, which is more than enough to give you all the benefits of using a mechanical keyboard with your Mac. Of course, it does not have wireless technology so you will have to connect it through the USB-C cable that also comes with the device, whose keys have an optimized keystroke that offers a route with just a press.
Logitech G213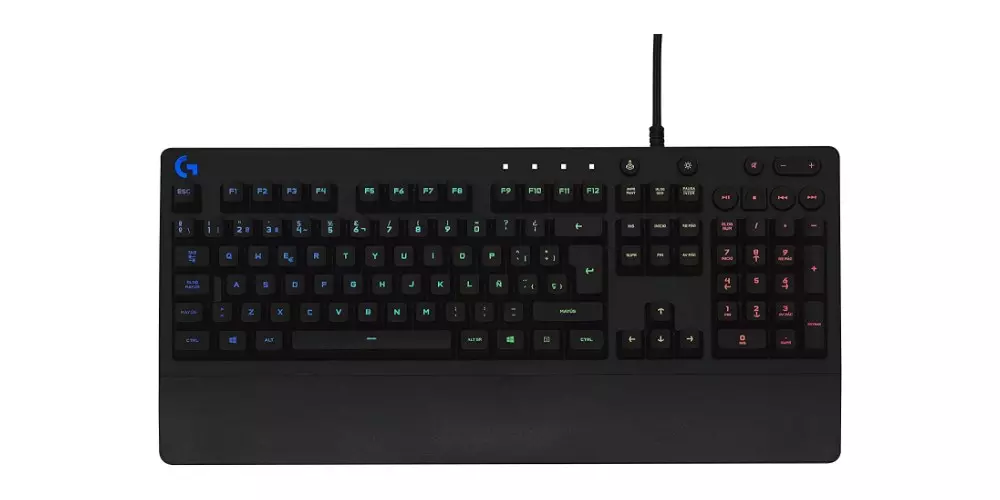 Obviously the Logitech brand had to make an appearance in a compilation like where users look for keyboards for Apple devices. In this case, this Logitech G213 is a semi-mechanical keyboard that is capable of offering all the benefits that users are looking for when using a mechanical keyboard.
It is thought and designed for a gaming audience , however, it is fully usable for all users who want to use it to write or simply to use it with their Mac. It is not a wireless keyboard , so you will have to connect it to your computer via the USB port. It has keys to use the multimedia controls such as play, pause, mute the music or videos that you may be playing on your computer.
DREVO Calibur V2
After talking so far about keyboards in which black was the protagonist, the DREVO brand provides this alternative for all those who want something clearer, since the predominant color of this keyboard is white , which is mixed in a way almost unbeatable with the different colors you can configure this mechanical keyboard with. Of course, if you prefer it in black, you also have the option of buying it in this color.
As you can see, this alternative does not have a numeric keypad , since it has been designed both for users who want to use it mainly to play games, and for people who want to use it most of the time to type. It has an RGB backlight with 16 million color options , so you can surely find the one you like the most to fully customize it to your liking.
Raise the bar with these higher priced keyboards
The market for mechanical keyboards is very broad and there are both inexpensive alternatives such as those we have shown you so far, as well as others in which you will have to invest more money to enjoy a more careful experience and product. We will talk about them below.
Razer Pro Type Wireless Professional Keyboard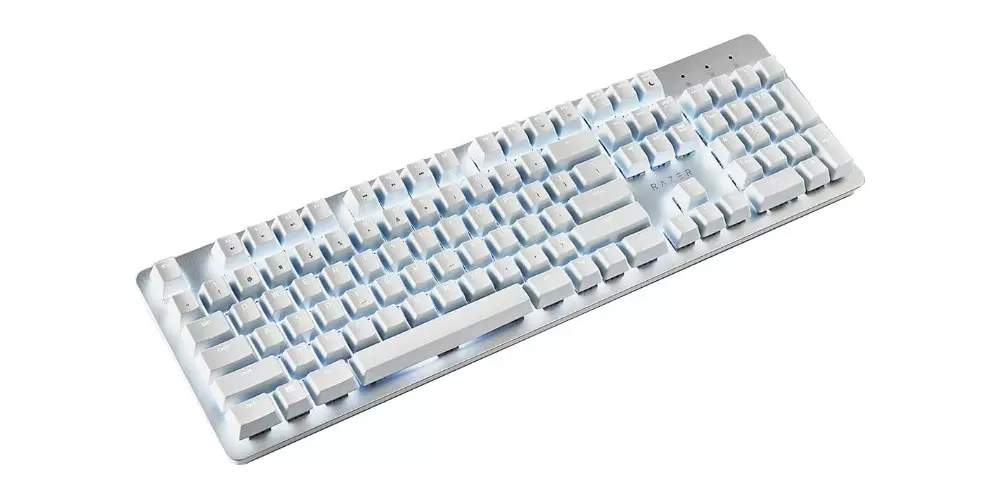 The Razer company is one of the most prestigious in the world of keyboards , and a good example of this is this fantastic wireless professional keyboard. Unlike most of the options that we have proposed so far, this one is totally designed for productivity tasks. It is totally wireless and, in addition, you can connect it with up to 4 devices at the same time to be able to alternate its use with all of them.
It has mechanical switches that will provide you with a sensitive and tactile typing experience, with keys that require less pressure when pressed and produce less noise. Its design is totally ergonomic with a really soft-touch finish that creates a padded sensation. The keys are fully programmable, with all the advantages and customization options that this entails.
Keychron K2 wireless mechanical keyboard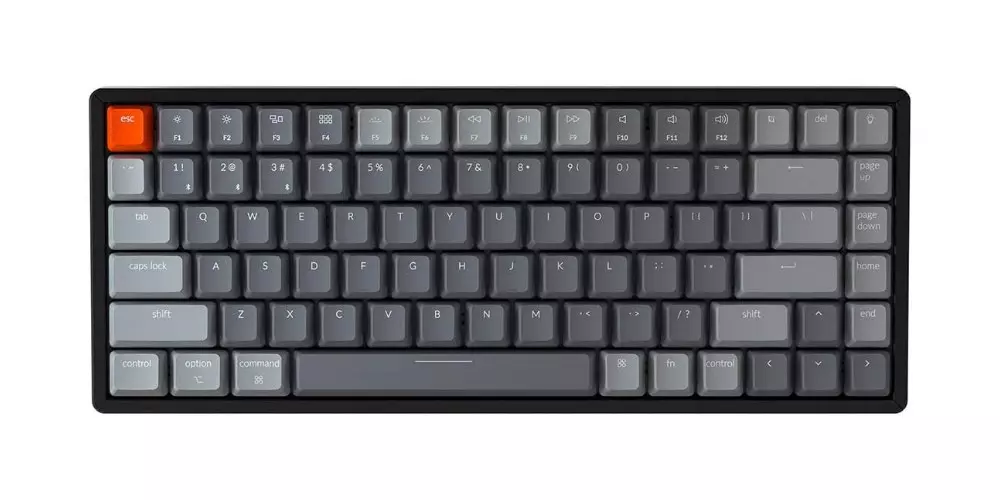 We continue with another wireless mechanical keyboard, in this case with a darker aesthetic, but really elegant that mixes black colors with different shades of gray and an orange key that gives it a modern touch. Of course, you have to bear in mind that in this case it is not a keyboard adapted to Spanish .
In terms of connectivity, you can have it connected with up to 3 devices at the same time to alternate its use with each of them through Bluetooth 5.1 technology. In addition, this keyboard has been specially designed for Mac users, in fact it has all the function keys characteristic of Apple computers .
Logitech G915 LIGHTSPEED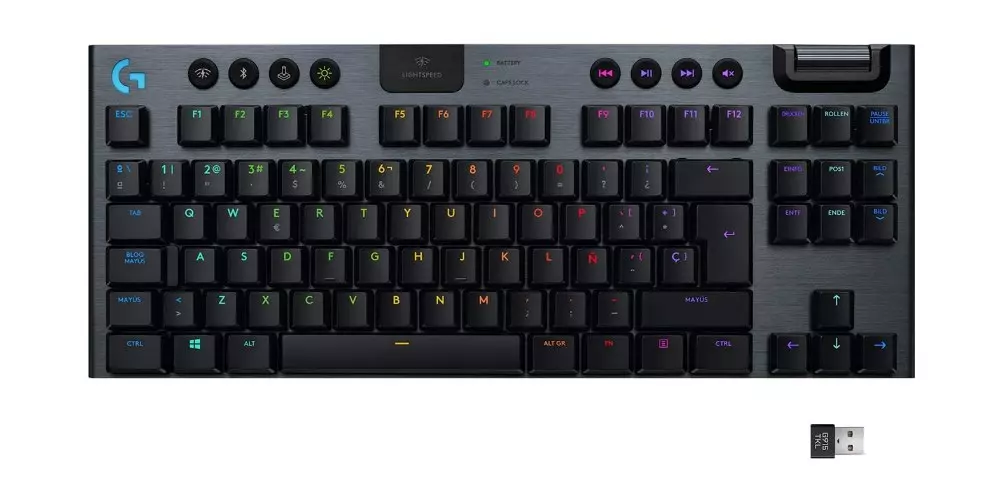 Alternatives designed for gaming are back, although fully usable by all users who want a keyboard to be able to write comfortably for hours. In this case it is again Logitech, with its Logitech G915 Lightspeed who provides an option of excellent quality .
Lightspeed technology provides a wireless solution for keyboard operation with performance that offers a response speed of 1ms. With this keyboard you can forget about cables and achieve a totally uncluttered aesthetic. The battery lasts for up to 40 hours of use on a single charge. In addition, as you have seen, it does not have a numeric keypad .
Razer Huntsman V2
We go with the last keyboard of this compilation and again it comes from the hand of Razer. In this case, it is a mechanical keyboard designed for the gaming public, hence many of the professional features it has. Optical click sound switches provide ultra-fast actuation with crisp, tactile feedback, also aiming to provide a satisfying sounding and fast typing experience.
The keys on this keyboard are double injection PBT keys for a robust and textured finish. Thanks to the molding process that each key has taken, these are stiffer and more durable than traditional keys, making them not wear out or finish with the glossy finish. It also has a multifunction digital dial and 4 multimedia keys for a much more practical and personalized control.
Which is better?
Whenever we make this type of compilation, from the ITIGIC writing team we want to tell you which options have caught our attention the most. However, you have to know that this is a totally personal opinion and that it is marked by a series of needs that may or may not coincide with yours, so our choice does not have to coincide with the one that best suits your needs. .
Focusing on the economic keyboard section, the one we liked the most is the one offered by the Zienstar brand for its minimalist and elegant aesthetic. On the other hand, entering the higher priced options, without a doubt the keyboard that we liked the most has been the Keychron K2 since it is fully adapted to Mac users even though it is not initially adapted to Spanish.