One of the most efficient charging systems in the Apple ecosystem right now is undoubtedly MagSafe. It is an evolution of the induction charging system, but the only problem is that to make use of it it is necessary to have a compatible charger. In this article we show you all the chargers that are compatible with MagSafe for your iPhone.
What should you keep in mind with these chargers
When buying a MagSafe charger it may seem that they are all the same. But the truth is that different details must be taken into account to get the best possible product, with the aim that in the future you will not end up regretting it. Specifically, the most outstanding points are the following:
Design: many different charging bases can be found on the market in terms of their design. Some of them are designed to be able to have the iPhone vertically and others horizontally. It is important to know which system best suits you in order to make the right purchase that suits your situations.
Charging power: each charger has a different charging power. You can find models that start from 7.5W to 15W, which is the maximum power. Depending on your needs or if you want it to charge much faster, it is advisable to have the maximum power that your iPhone can support with this charging system.
Base reliability: it must be borne in mind that when talking about MagSafe technology, the mobile stays 'floating' while charging. That is why you always have to have a reliable charger. By this we mean that the magnet system is well designed and has the strength to keep the iPhone in the position you want.
Price: it is undoubtedly one of the most important sections to take into account when making a purchase. There is a wide variety of prices when it comes to charging bases of this style. From the most prestigious brands that are really expensive to others that are cheaper. It is important to look for all the options that exist to suit your pocket.
Horizontal table loaders
If you are a person who normally uses the iPhone while charging, these chargers are ideal. Although they are designed to put the mobile horizontally on a surface to be coupled by magnetism, you can take the iPhone and continue using it.
Apple Official
When Apple launched the first devices with this type of charging system, it also launched a compatible dock. This can be purchased on Amazon or in the company's official store and offers the best performance in terms of cargo. It is really simple in terms of design since it is a white circle that can be placed on the table to recharge it in a comfortable way in any situation.
It is specially designed for compatible iPhones, ensuring the best possible hold. The magnets it contains have 100% recycled rare earths to help reduce the carbon footprint. It offers a maximum charging power of 7.5W, being more optimal than the traditional charging system as it is perfectly coupled to all the coils that the iPhone has.
Kdely
MagSafe charger with fast charge which materializes in a charge of up to 15W provided you have the right adapter. It is important to note that any device compatible with Qi wireless charging can be placed on top but the MagSafe system only applies with compatible devices. It is only compatible with covers adapted to this technology, leaving aside those that are magnetic.
In regards to design, it is quite similar to Apple's official option. A simple white circle that can be placed on top of a surface but can also be held in hand. This is thanks to the fact that it adapts perfectly through the magnets to be able to use it in a comfortable way at any given moment without having to disconnect it from the base.
Apple MagSafe Dual Charger
If you are looking for a charger that you can take wherever you want, this is the option you should buy without a doubt. It allows you to recharge your iPhone and Apple Watch together wherever you are. At any time it can be folded and carried in a backpack with the corresponding cable to connect it wherever you are, and all this without taking up too much space in your personal luggage.
Despite being so small, it works as if it were a larger charging base that we have discussed previously. Although it is true that it has a somewhat high price to be a product designed by the company itself, it may be worth it. If you are used to traveling a lot and do not want to charge via cable, this is the best option you can have right now.
Charging bases to have your iPhone vertically
Do you want to always have the iPhone screen in view while charging? With this type of bases with a vertical design you can do it comfortably, being the most typical when it comes to wireless charging bases. Here we show you the most recommended ones.
Belkin
Belkin is a brand that has a strong reputation behind it when it comes to iPhone chargers. It is a company that has received certification from Apple, something that guarantees its confidence in the construction and the security systems that they include. This particular base is quite simple and is dual, so you can charge the iPhone and the Apple Watch simultaneously.
Regarding the charging system, the iPhone can receive a charging power of 15W. In this case you can choose on Amazon's own website if you want to have the adapter included to be able to power both devices when they are at par. Thanks to MagSafe, although it seems that the device is floating, you can always change the orientation to portrait or landscape depending on what you are going to view.
WAITIEE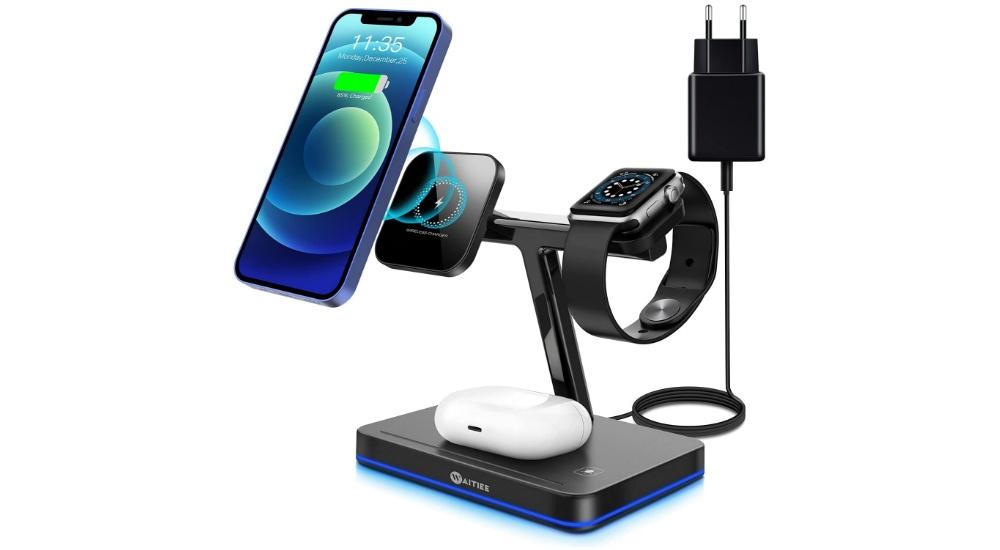 3-in-1 charging base to simultaneously recharge different devices. Specifically, you can recharge the iPhone, Apple Watch and AirPods. The really important thing is that the space dedicated to the iPhone is compatible with MagSafe, being able to support it, remaining perfectly docked to start recharging. This makes it extremely efficient, achieving a charging power of 7.5W.
In order to have a charging efficiency that allows you to have the device recharged in a few hours, it is necessary to have the appropriate power adapter. This base has an LED indicator that varies in color depending on the state of charge you have. In short, the design of the entire device provides you with higher productivity and better charging efficiency.
LC.imeeke
This charging base stands out for being extremely complete. It acts like a lamp by having a light system on the back that is activated like a button. It is basically intended to be used on the table next to the bed. The iPhone, Apple Watch and AirPods can be recharged simultaneously. But it does not stop here since on the back there are some USB ports to be able to have power outputs for other devices.
The charging base integrates an automatic control system. This eliminates the risks of radiation or overheating that are associated with wireless charging. It features typical overvoltage protection, temperature control, or foreign body detection. The iPhone can always be rotated on the base itself to be able to watch videos or make FaceTime calls.
Recharge your iPhone in the car with MagSafe
While driving it is quite common to go with the navigator open to be able to consult the different directions to get to the destination. In these situations it is advisable to carry it in a suitable base and recharge the device and it is possible with one of these that we show you below.
ESR
This MagSafe charger is compatible with fast charging, also integrating a heat dissipation system. This is really important since normally when the iPhone is placed on this base it uses browsers and this increases the heat it dissipates. In this way, with a dissipation system, it is possible to increase the useful life of the device. It integrates a powerful magnetic lock that prevents the iPhone from falling, although it is recommended to always have a MagSafe case on.
The base gives you total freedom of position with the iPhone since it can be placed vertically or horizontally and even in an intermediate degree. The arm that connects to the vents gives the necessary stability so that the entire base does not move or wobble. The only requirement they impose is to have a cigarette lighter charger that has a power of 18W to be able to enjoy the fast charge that we have previously discussed.
Bluebee
2-in-1 charger that will allow you to cover all the possibilities when it comes to car support. It can be used on the dashboard with a clamping system, but you can always remove one of the pieces to use it in the vents. It also offers a lot of flexibility by having a 360 degree swivel joint to have it in the desired position. It is perfectly designed with a closed magnetic field so that it does not affect connectivity but always guaranteeing maximum load capacity.
It integrates different charging powers: 5, 7.5, 10 and 15W. It will automatically adapt to each of these powers depending on the charger you have connected to the lighter. Obviously, if you want to achieve the maximum possible power, it is advisable to use a Qualcomm Quick charger. Obviously, it has the necessary protections to avoid overcurrent and also overheating that could compromise the security of the iPhone and also yours.
Weamo
With a very simple design this MagSafe charger offers quick and easy charging. The magnetic system that it integrates is tested to be able to give the best charging system and above all that it fits perfectly to the iPhone. The clamping system is stable and adjustable, being able to rotate between vertical and horizontal mode or in any of the remaining angles. Although they remember that magnetic covers should not be used and are compatible with this type of technology.
It offers a fast charging system at 7.5W, although it wants a suitable charging adapter to do it at the maximum possible speed. It has all the necessary protection systems to avoid overheating. In addition, being very simple and occupying only the loading surface, the rest of the device is free. This makes it possible to release the generated heat in a more efficient way.
TiTok
This charger is specially designed for iPhones with MagSafe. It is really simple and remains floating in the air being able to be flexible with the position. It can be placed vertically or horizontally in a comfortable way so that it can adapt to what you are viewing. It has a charging power of 15W although you should always use a suitable adapter for it.
As it is floating in the air, it can be placed in a totally free position. It is important to bear in mind that the support system must be compatible with the ventilation slits since in some cars it is not possible to install it correctly. In the pack itself when you buy it you get a cable that has a power input via USB-A or USB-C.
Which ones do we recommend?
There are many options that we have discussed in this article and they are very varied. Of these, without a doubt, we must stay with the WAITIEE base in the first place because of how complete it is and the price it has. It has different connections for all your ecosystem devices connected on the same base, but obviously maintaining MagSafe technology for the iPhone with the possibility of turning it at any time to view the contents.
And if you travel a lot by car and need to constantly charge your iPhone, we definitely recommend the BlueBee brand. It is an extremely versatile base as it can be placed on the dashboard itself and also on the vents. All this with a simple disassembly so that it adapts to the needs you have at a specific time. To this is added that it has a good heat dissipation system and does not have an excessively high price.