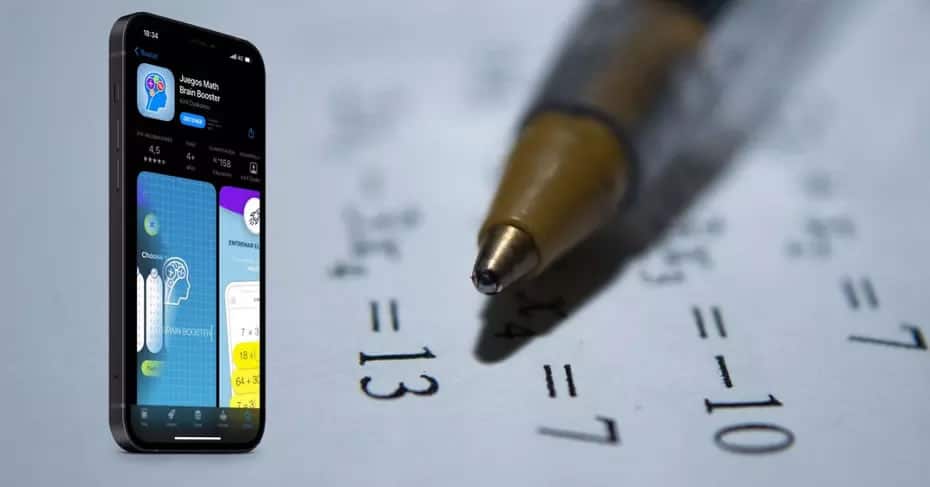 Mathematics is a fundamental aspect of everyday life, and both having good knowledge and being able to apply it quickly will solve many problems, especially much faster. That is why we bring you a compilation of 10 games for iPhone with which to learn mathematics in addition to being easy, it will be very fun.
Games for beginner kids
Kids Math Lite
With this fantastic game you will be able to use your iPhone so that your children enter the wonderful world of mathematics, helping them to practice and improve their elementary mathematical skills. This game has 28 mathematical problems with which the little ones can add, subtract, make comparisons, and develop their logical thinking. They are very simple games, suitable for very young children who are beginning to develop their mathematical skills.
Math Club – Educational Games
With Math Club learning math will be fun and easy. It will help you master all arithmetic operations through interactive learning games. From the basics to some more complex operations, all for young children to help them develop their math skills. This app has a proven learning methodology and more than 3000 exercises.
Focused on primary school boys and girls
Pure Math, practice and improve your math skills
With this application children can practice and improve their math skills. It does not matter if it is about addition, subtraction, multiplication or division, since they will have many hours of practice available since also, the questions are always random. It has levels for all ages, therefore, although we focus it on elementary school girls and boys, it can also be used by their parents or older siblings.
Math Learner: Easy Math
With this application, boys and girls will have a great time while learning and developing their math skills. They will have to solve the levels and learn the basis for a solid understanding of mathematics. This app is based on a proven Japanese methodology, so the results are guaranteed.
Match Champions
Match Champions is an application that encourages learning and practicing computing. It has four different games and allows children, and even adults, to practice math in a fun and highly motivating way.
For high school students
2 Player Math Games
This application is one of the most fun and educational games that you can find in the App Store. It has a split screen interface so that this game can be enjoyed in company and two of you develop your knowledge and mathematical skills, but beware, your reflexes also play a very important role when it comes to beating your opponent in the games. fantastic games based on mathematical games that this application proposes.
King of Math 2
With this application you will take a trip through the wonderful world of mathematics. You will start in the field and set off on a journey full of challenging questions, puzzles and math problems that you will have to solve if you want to reach the end. You will be able to unlock new worlds and character levels throughout the journey and advance all the way to the throne to become the king or queen of mathematics.
iMathematics
This app will be your person math teacher. Thousands of students use this app every day since it is the only one that includes everything you need to successfully pass your exams. With this app you can learn quickly with more than 70 topics that have simple and clear explanations, you can also easily repeat formulas, theorems, definitions and properties thanks to effective synthesis. Of course, they have exercises with which you can practice your math skills.
Mathematical games for an advanced level
Math Brain Booster Games
If you want to increase the productivity of your mind, this is your game. With this application you will be able to improve your attention, reaction and speed of mind thanks to solving simple tasks with a time limit. This works as follows, when a person solves simple arithmetic exercises, in the cerebral cortex areas are used that are responsible for memory, attention and logical thinking, therefore, the more exercises you do, the more you will develop your mind and mathematical skills .
CalQ – Train the brain and math
It is the most challenging and addictive board game on the App Store. The goal is to solve as many target numbers as possible, you just need to combine as many cells as possible to solve the target number. The more cells you combine, the more points you can get.