It has been more than a time since we witnessed the arrival of the last Huawei smartphone to have each and every one of Google's apps. However, not only good phones from the Chinese firm appeared in 2020, they are these services from the American company.
More than anything, because it is also possible, today, to find some of the best Huawei mobile phones that maintain GMS (Google Services). Therefore, it is time to see which are the best options, and not only for its "top" quality, but also economically.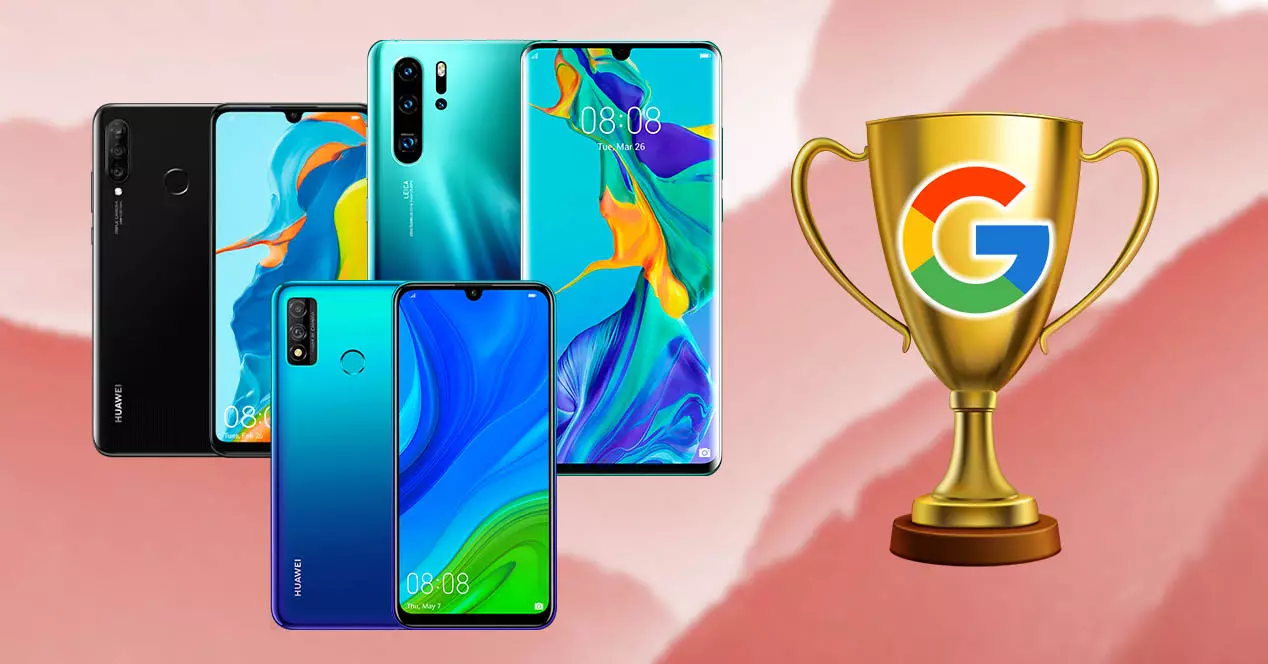 Choose a Huawei mobile with Google Apps
Today we will not only have among us the latest phones of the firm to land on the smartphone market with all GMS services, before the United States veto was imposed, but also mobile phones that came out before, but which, currently, they may still be a good bet for many users. Especially, although everything will depend on whether you are looking for a more or less modern Huawei mobile with Google Apps . However, these will be the options that you should evaluate.
This high-end Huawei smartphone landed in Spain in order to improve each of the features offered by its previous flagship, the Huawei P30 Pro. For this reason, its specifications are identical to the model we have mentioned. Of course, it came with new finishes and colors along with software updated to the latest EMUI 10.1 version and with the full GMS for mobile phones. Although, nowadays, it can already be updated to EMUI 11 .
The Lite New Edition model of the Huawei P30
In this case, Huawei repeats once again the formula of relaunching one of its products that has worked well for them, although this time we do not find so many aesthetic similarities. On this occasion, the RAM goes up to 6 GB, the internal memory goes to 256 GB and the front camera goes from 24 to 32 megapixels. Besides that it is one of the most affordable options and that the best specifications can offer us in 2021. Of course, it will be difficult to find, since it is one of the most desired by users .
The Pro version of the Huawei P30
Another option will be to get directly with the Huawei P30 Pro, which is usually more available for purchase, and also usually has a more "affordable" price if we take into account that it is one of the latest high-end Huawei with Google Apps. This phone is from 2019, but today it is still an interesting option both for its benefits. In addition, of this smartphone we can highlight both its design and its screen, among many other aspects, such as the versatility of its cameras or its autonomy .
The P Smart 2020 like … And a lot
In this case, we are looking at a smartphone launched in 2020, becoming one of the latest models that Huawei launched in the cheapest range for its users, as it had a price of 199 euros. We are talking about the P Smart 2020, a renewed edition of one of its best-selling mobile devices. In addition, not only will we have 100% GMS , but it also came with small improvements such as its 6.21-inch FHD + panel or its double rear camera. But, despite the fact that more than a year has passed, we still find it at a price that is usually around 200 euros.
What is the best option in 2021?
Being some of the latest Huawei models with GMS , they are always the most loved by loyal fans in having all the apps of the American developer. However, it will be difficult to get them at a profitable price. For this reason, it will always be necessary to assess whether it is still worth paying more for any of these smartphones or opting for one of the mobile devices that Huawei has been taking out without the services of the American company.
However, if money is no problem and you want all the Google applications, the Huawei P30 Pro New Edition will be your best option. On the other hand, the cheapest model that you will find with all the services will be the P Smart 2020.