The App Store, in addition to having a huge number of useful applications for many uses, is also a really good place to find a way to learn other languages. And it is that in addition to learning it can be done while having a fun time playing on iPhone, something that the little ones always value. That is why we bring this compilation of games with which the smallest and the oldest can learn English while playing.
Learning by playing for the little ones
The best way to learn a language, and almost anything, is by having a fun time and this is even more accentuated in the little ones, who also have the easiest ability to do so when it comes to learning a language. If you add to this that they will have a fun time, success is practically guaranteed and they will learn English while having a great time playing.
Lingokids – English For Kids
It is the playlearning application that teaches the little ones practical skills by practicing really entertaining games. It is designed for children between 2 and 8 years old to be able to practice more than 3,000 words in English and learn about 60 different topics while practicing the English alphabet, listening to audiobooks or singing songs that will help them learn and improve their level of English .
One of the points in favor of Lingokids is that it has no ads and is 100% safe for children to use, so you will not have to worry about them while they play with the device. At all times they will be guided by their furry friends, among them Lisa and Billy, so at no time will they be alone in this adventure of learning English while having a great time.
Buddy.ai: English for kids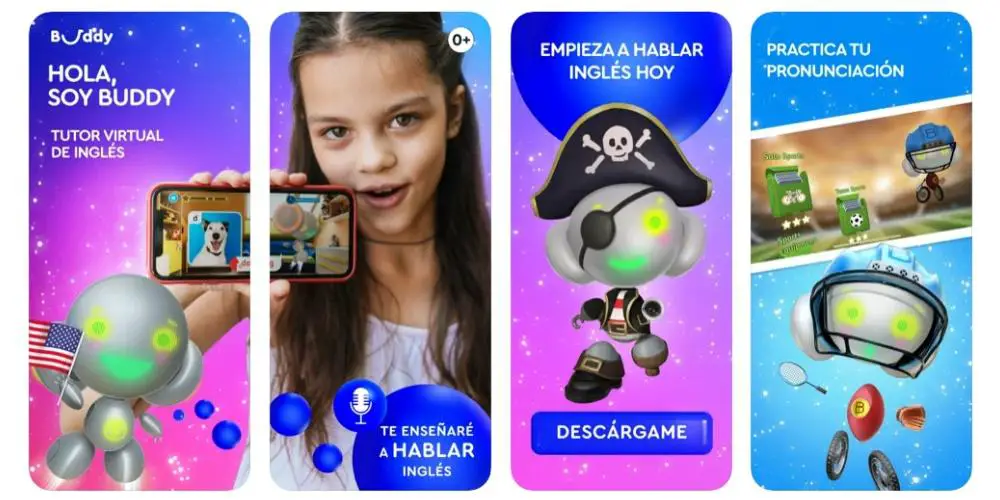 Buddy is the famous AI friendly robot that, activated by voice, will be in charge of teaching English to the little ones in the house through a real spoken practice. It is the leading application for learning English for children in more than 10 different countries, including Germany and Russia, in fact, it has a rating of 4.85 stars after being valued by more than 30,000 students.
This app has been nominated as the best educational experience at the 2019 Voice Summit and winner of the Global Edtech Startup Innovation 2020 in London. Its operation is based on real conversations using the voice and vocabulary practice, with which children learn and use the most important words in English.
EWA Kids: English for Children
This application is an interactive platform that has been designed for children between the ages of 5 and 12 to learn English and has been made by the team that created EWA: Learn Languages. It has hundreds of children's books that have been adapted for translation with just one click.
It also has conversation courses with the characters of your favorite cartoons and more than a thousand cards with new words will help your child reach their first levels of English, all in less than a month. It is undoubtedly an innovative learning experience that helps children learn through gamification, accompanied by clear and entertaining audios to learn pronunciation, colorful illustrations and great ease of use.
Learn English For Toddlers
Learning English for Kids has been awarded as one of the App We Love, in the App Store, and also within Best Apps and Games for Children, it is even the most downloaded application for preschool-age children to learn English, so that we are talking about one of the best options that you can find in the Apple application store for the little ones to learn English in a fun way.
It has more than 100 words to know, all thanks to the excellent games that reinforce your learning, accompanied by excellent graphics and, of course, constant updates of the content they offer. Many early education experts agree that learning two languages has profound beneficial effects on the brain and intelligence development in children.
Learn English for Kids 2+
If you want to give your child the best education in English and Spanish, it is best to do so through fun games that, in addition to helping him learn a new language, also make him have a fun and enjoyable time. This application provides a method of learning based on the game, so in this way, it happens in a natural way.
It is a simple and fun app that has many different animations and sounds that will be of great help for all parents, and of course, for the little ones. It has a large number of activities, games, songs and videos in English. Designed by teachers and experts in language learning.
Pili Pop English
Pili Pop English is the application that will help your child to acquire a bilingual level by practicing their oral skills every day. She has been the winner of the Parents´ Choice Awards. It is an innovative adventure to learn English that is aimed at children between the ages of 5 and 10 and has been designed by language experts.
The benefits that this application will give your child will be the possibility of practicing their English daily in a fun and enjoyable way, they will improve their pronunciation thanks to the exercises and examples that the app contains, which will make them feel comfortable speaking English from an early age, in addition to being able to increase their vocabulary level.
Fun in English for adults too
In the same way that for the little ones in the house, learning by playing is a fantastic way to be able to start and develop their skills in a new language, for the older ones the same thing happens. Nobody likes to sit in front of sheets and sheets to study, the best way to learn is always by playing, since in addition to increasing your skills with English you also have an entertaining time, therefore, these applications that we expose you below, they will come great for it.
Word Collect: Word Games
Word Collect is the best puzzle game you can find on the App Store. It is capable of relaxing you, making you have a fun time, and above all, it will help you improve your level of English with a huge amount of vocabulary that you will introduce thanks to this fantastic puzzle game.
It has more than 2500 levels in which you can show your level of English and of course, increase it since the difficulty of it increases as you increase the levels. It has daily bonus coins, as well as a daily challenge that you will have to do if you want to win the corresponding prize.
Crossword Friends
If you want to be able to learn English easily by solving word puzzles, this is without a doubt the application you were looking for. With Friends of the crossword you can play crossword puzzles with your friends and thus learn new words in English in the best possible way, playing. In addition, as it is a cross-game with several players, it gives you the possibility of being able to compete, in a healthy way, with your friends.
You can solve the puzzles in different ways, on the one hand you have the possibility to play with a friend, you just have to send him the link and start the game. On the other hand, you can play with a random player, and finally you can also enjoy the recreational mode, in which the levels increase as you overcome games.
Alphabet soup in English
In the English alphabet soup you will have to find the English words surrounded and cross them out, that is, the traditional alphabet soup game, but in this case in English, in this way, you can while you have a fun time playing on your iPhone, learn and increase your vocabulary in English.
It has 4 levels of difficulty, easy, intermediate, difficult and very difficult, which makes this game a real challenge since it also has a large number of hidden words waiting to be discovered. The fact of also competing against time will make you put all your senses in solving each of the alphabet soup that this game presents to you.
Syllable Word Search
This app was awarded the Academics award in 2015 for the Choice Award – Smart Media. In it you will be able to enjoy the adventures of Spike, the space explorer who has traveled through thousands of adventures and who wants you to share some of them with him through this fantastic game.
Spike brings you the adventures that he has lived on some of the planets he has visited so that you can enjoy it and overcome the 27 missions that you will have to complete using different skills, proven that you can complete them all.