The security is one of the most important sections and have more consideration when working with our teams, whether mobile or desktop. That is why having good antivirus software is essential for most users.
Initially and since its inception, the most used operating system on desktop computers, Windows 10, already has its own solution of this type. That is why many users choose to use Windows Defender on this system, leaving third-party solutions aside. But with everything and with it, there are still many who continue to opt for security companies that have been with us for many years, both in Windows 10 and in previous versions of the system.
These are firms that as a rule present us with a series of solutions that are basically responsible for protecting our computers. And since we use the Internet almost continuously, the dangers that lurk from this, are increasing. Therefore, as we have said on many occasions in the past, having a good antivirus is essential in most cases. These are programs that have become increasingly powerful over time. In fact, they try to go one step ahead of the attackers themselves and their malicious codes.
Of course, they don't always get it, but the truth is that as a rule these programs provide us with great protection. It is precisely in all this that we want to focus on these same lines. Therefore, if you are one of those who work in several teams on a daily basis, or worry about the security of your data, we will give you a good solution. We tell you this because in these lines we are going to talk about a series of portable antivirus that you can carry at any time on any USB key.
Portable antivirus to always carry on
This will help us analyze any equipment on which we have to work, before starting to work with our documents and data. In addition, as it does not require installation in the operating system itself, its commissioning will be much faster. In this way, we recommend you take a look at all the proposals that we are going to offer you here. This way you will have the opportunity to choose the alternative that interests you most and use it as a method of protection.
Norton Power Eraser
Let's start with one of the most renowned companies in this field such as Norton. Firm that has been with us for many years and offers us a portable security system to protect our data. This is Norton Power Eraser, an antivirus that presents a simple and affordable user interface with several types of analysis. It has a multiple boot check function and rootkit analysis. In addition, by clicking on "Advanced Analysis", we find several options in this regard to choose the one that interests us most. If you want to try it, you can download it from this link .
---
ClamWin
This is another interesting proposal of this type that takes a good amount of years between us and that offers us a portable version through the PortableApps platform. If you want to try it you can do it by downloading the commented application and selecting this antivirus, something that you achieve from here . To say that we propose a somewhat minimalist user interface with some customization options through "Tools".
Also, we will not have to select the unit that we want to analyze for malware, and click on the "Scan" button located at the bottom of the main screen. It also allows us to be constantly updated regarding the latest types of malware.
---
Kaspersky Virus Removal Tool
And we will continue with another firm that has been working for a long time in everything related to the security of our equipment such as Kaspersky. Specifically this is a portable version that you can download from this link that is characterized by its simplicity of use. It is much more limited than the installable version of the antivirus, since it only offers us an analysis button with few customization options.
---
Emsisoft Emergency Kit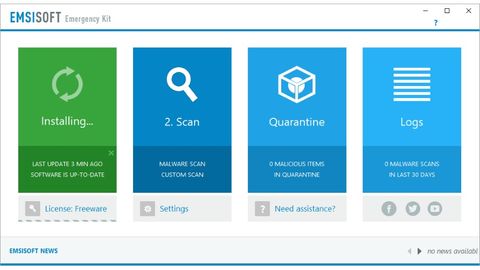 In this case we talk about another powerful proposal of this kind that will be of great help when it comes to keeping our equipment safe. Here we are going to find a somewhat more complete user interface with additional functions. It allows us, in addition to performing the analysis as such, to keep certain files and folders in quarantine for a better management of the possible dangers. It is worth mentioning that if you want to try it, you can download it from this link .
---
Hitmanpro
Perhaps the proposal we are talking about here is not as well-known as others that we have proposed before. With everything and with it, it also offers us a portable antivirus that we can carry at all times in our USB key. In fact, it is a powerful proposal that presents a large number of functions and customizable features. It also allows us to start with the boot of the computer, so we will have to leave the USB connected, or customize the depth of the analysis.
At the same time, it provides us with a history of past analysis and is compatible with all current types of malware, all to make protection more effective. In case you want to try it, you can do it from this link that we offer.
---
Spybot – Search & Destroy Portable
On the other hand, we will now talk about one of those portable security proposals that also takes a good amount of time between us. Due to this, over the years it has improved offering its many users' greater functionality. To test it you can do it from this link and thus access the protection functions offered to us.
Once in execution, the portable antivirus shows us a series of options for both analysis and immunization of computer components. The truth is that its use will be extremely simple, since at first it is enough that we click on "Scan System" from the USB memory itself. It also offers an update button to be up-to-date directly regarding the latest malicious codes.
---
Protect your devices with these portable antivirus applications
COMODO Hijack Cleaner
This is another portable antivirus that you can carry on any USB key to analyze those computers on which we will work. We also have a version for 32-bit architectures, and another for 64-bit ones. Therefore the first thing we do is choose the one that is compatible with the PC, something that we can download from this link .
Once the version is selected, a compressed file that houses the portable antivirus is downloaded. We can already see the simple user interface that presents us, and we will have the possibility to customize the elements that we want to analyze by simply marking them or not in this one. It is worth mentioning that this proposal is somewhat different from the rest of the antivirus exposed, since it focuses on the browsers and Internet applications that we have installed.
---
McAfee Stinger
And of course, in this section focused on everything related to security, one of the most representative companies in the sector could not be missing. This is none other than McAfee, a firm that most of you already know. Well, in addition to its conventional and installable antivirus solutions, it also offers a portable proposal, McAfee Stinger.
This is a security software that you can download from this link and that offers us an intuitive user interface. In fact, we found only one "Scan" analysis button, in which we clicked to start the analysis as such. At the same time, we can create a personalized blacklist, or indicate to the software the components of the system that we want to analyze. Among these are the Windows registry, boot sectors, rootkits, etc.
---
HiJackThis Fork
The portability market offers us a good amount of options in many sectors. In this, as we are seeing at the moment, everything related to security is included. Therefore, another of these proposals focused on antivirus is HiJackThis Fork , an alternative of this type that you can download from this link . This proposal offers a direct analysis function from its simple user interface through the "Do a system scan only" button. At the same time, it will allow us to make backup copies of our data in order to protect them and analyze both the system registry and the files stored on the device itself.
---
NoBot Portable
In this case we will talk about another proposal, specifically NoBot Portable, another antivirus that does not need installation and that we can carry in any USB memory. It has been created to detect all types of malware that could compromise our data on the Windows computer. Once we have started it, the first thing the program asks us to do is update it in order to detect the most modern malicious codes.
From there, in the tab called Scan we find three modes of analysis, all depending on the depth to which we want to enter, as well as the time we have. It also has a quarantine section and several options that we can customize. All this you can try from this link that offers us in download file .
---
Combofix
Before we start talking about this proposal, we will tell you that although it has been updated recently, the Combofix antivirus is only valid for computers with Windows 7 and earlier. In regard to the rest of its functions, say that it is also a portable solution to protect our equipment. It has been designed to detect all types of malicious codes directly from a USB key, a proposal that you can download from this link .
Thus, thanks to all these programs that we have shown you in these lines, you can protect your desktops in the best way. In fact, being portable and carrying them on a USB key, for example, we can run them on any computer on which we have to work, all with the greatest security.