Firefox has become one of the preferred alternatives for users to browse the Internet instead of Chrome, which despite being the most used option worldwide, is not to the liking of many people since its speed and privacy are questioned. That is why, in the case of using Firefox to be informed of the news in the world, we can choose to install extensions or add-ons that will help us organize all our pages of interest.
One of the main uses we make of our web browser is to stay informed of everything that happens both around us and in the world, since we can access news that appears within minutes of any event, so we can always be informed up to the minute.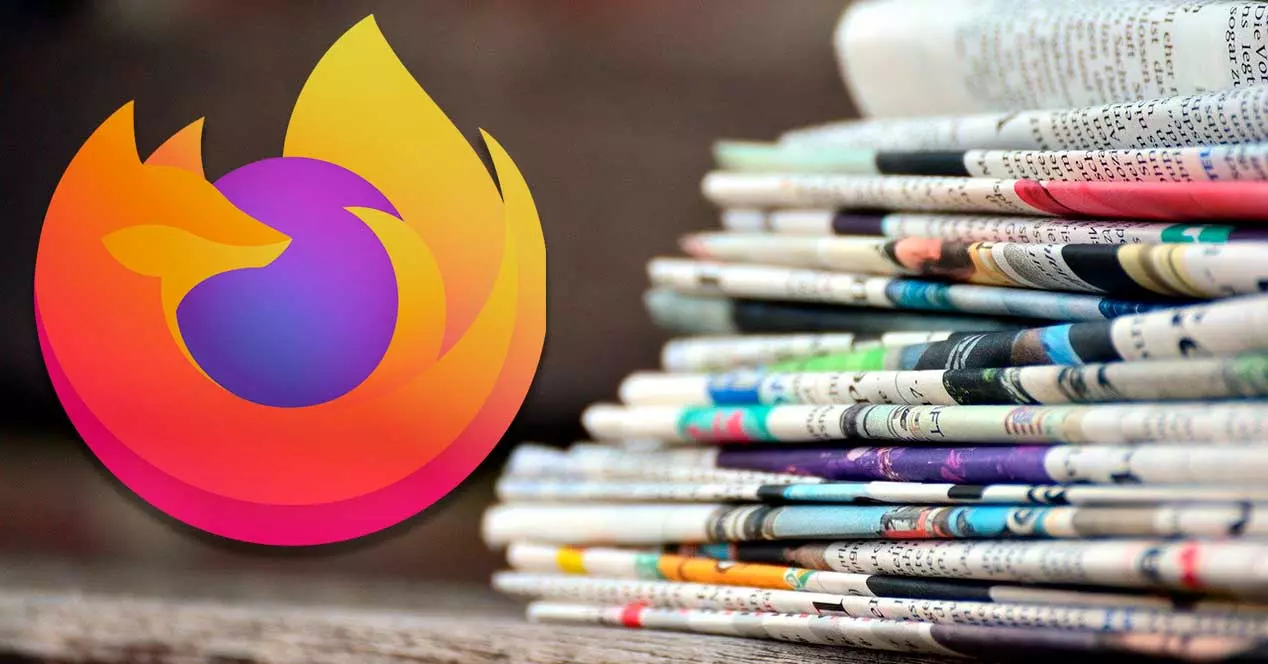 However, we may not have time to manually visit the different types of news websites and blogs. That is why an easy way to do this is to bring them together in a news manager from where you can access all the content from different media in a single panel. This is something that we can do with different extensions that we have available for the Mozilla browser.
Always stay informed with these extensions
Next, we are going to show you some of the best add-ons that we can find available for Mozilla Firefox with which you can always be informed.
Feedbro, ideal for organizing all the news in a folder
If in doubt, this is one of the most popular extensions to be well informed in Firefox. We are talking about an independent and complete source reader (RSS, Atom, RDF) with which we will be able to keep abreast of current affairs without having to waste time visiting dozens of websites, blogs, news sites and social networks every day. since we can do all this using this plugin.
It has multiple viewing modes (article view, full view, headline view, newspaper view, magazine view, etc). It also has a built-in rules engine that will allow us to define rules for filtering, border highlighting, auto-marking, tagging, hiding and highlighting articles with regular expressions. In addition, it has IFTTT support, which allows us to receive notifications by email and SMS, as well as workflow automation.
If we want to be aware of all the news, we can install Feedbro in our Firefox browser from the Mozilla Store .
Feedly Notifier, keep your Feedly subscriptions updated
It is an RSS manager that will be in charge of keeping our Feedly subscriptions updated, so that we can have organized and read the news of all the channels that interest us and to which we are subscribed. It is a convenient way to view all our news subscriptions from the same window without having to go to each website one by one.
The extension provides us with a count of all the news that we have not yet read , preview of the article in a pop-up window and the ability to establish categories for the news. It also has compatibility with HTTPS and allows us to indicate which news we have already read and which we want to save for later reading. In addition, it has notifications on the desktop every time there is a new update available.
Bring all your news feeds together in a single extension by downloading Feedly Notifier .
Developer: Oleg Shevchenko
Smart RSS Reader, your news always updated instantly
This extension is a News Manager that will allow us to follow the new publications that appear on our favorite websites (RSS and Atom) in a view of three panels through which they provide us with a fast loading of new articles, as well as organize our sources in folders. It has a user interface with a clean and easy to use design, which consumes few system resources. It also has a preferences page where you can control its appearance and behavior.
From its central panel we will have two or three lines to check if the article interests us, and while we browse the headlines in the central panel a right panel automatically opens where we can read more about its content. All this from the extension and without having to access each of the news websites. Perhaps what we can miss is a "Mark all as read" button from the main window without requiring confirmation from the user.
We can download the latest version of the Smart RSS Reader extension from the Firefox Add-ons store.
Livemarks, add a bookmarks folder with our channels
This Firefox add-on provides us with bookmark folders for different RSS feeds , which are updated automatically and regularly, detecting the availability of RSS/Atom feeds on web pages. It has support to detect read and unread articles so that we can always know those that we have left to read. We can also import and export sources as OPML file, an easy way to add new content. In addition, it allows us to preview the feed to see if its content interests us without having to open it.
If we are interested in Livemarks we can install it from the Firefox add-ons page .
Developer: Tim Nguyen Tom Schuster
NewsGuard, find out which news is reliable and which is not
We are talking about a well-known plugin, although a little different from what has been seen so far, although equally useful. This extension is responsible for using journalism to fight the spread of unreliable news . By classifying news with red/green labels, they are in charge of helping users to know and detect which news websites they can trust because they transmit verified and true information or which ones to distrust because they knowingly advertise falsehoods, which allows readers have a better context about the information we read on the Internet.
News Guard displays your trust score for over 4,000 news and information sites from countries including the United States, Germany, Italy, the United Kingdom, and France , as well as who is behind each site, how it's funded, and whether you can trust him. Unfortunately, at the moment it is not available for news pages from Spain, so it will only be very useful if we usually read news from international media.
We can download and install News Guard from the Mozilla Store.
Which news extension for Firefox to choose?
As we have seen, we have different extensions available to access and organize all our favorite news websites in our Firefox browser and always be well informed without having to access each web page individually. When choosing one, it is always advisable to try them to see which of them best suits what we are looking for. Since they are all free and can be installed and uninstalled quickly, it is worth investing a little in finding the desired option, since it will save us a lot of time later when it comes to viewing all the content.
Likewise, within the options that we present to you, if we had to choose one of the main ways, it would be Feedbro , since it is a very powerful extension with which we can organize our favorite news web pages or even our social networks to be able to access from a single menu. In addition, with the inclusion of rules, everything can be configured and customized to our liking. With it we will see how with a small investment of time in its configuration it affects us in a wide speed when it comes to having access to all the information that interests us.