Currently, both customization and functionality have become two essential sections for our software. And it is that we not only want it to be useful and practical, but also to have a pleasant appearance, that matches the aesthetics of our computer and our tastes. For this reason, Microsoft allows you to customize the operating system, as well as your Edge browser with different themes with which to improve its design.
And it is that aesthetics is an important section when working with the PC that can even lead us to be more productive, so we should not leave it aside at any time. Not only is the customization of Windows important, but they also reach the web browsers that we use so much throughout the day, so its appearance can be important for us to feel comfortable while using it.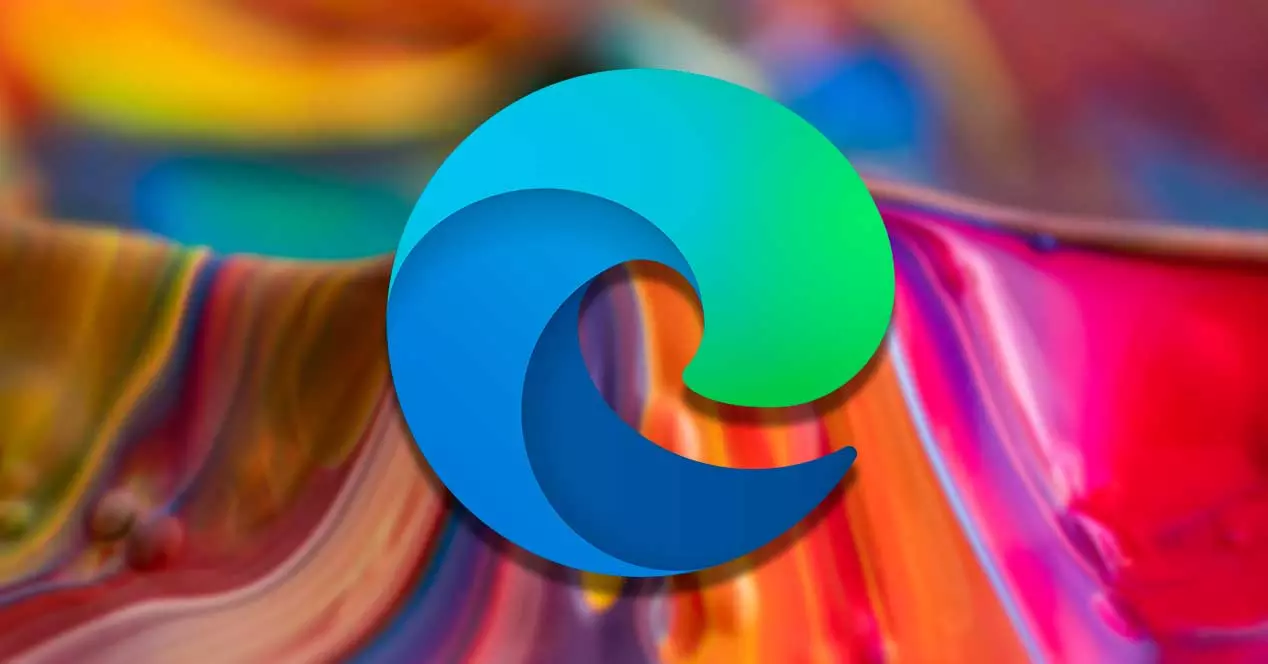 Change a theme in Microsoft Edge
Microsoft allows us to change the appearance of your Edge browser through its theme system. To do this, we must click on the icon with three points in the upper right part of the browser and click on Settings. In the new window that appears, in the left column, click on the Appearance section.
On the right side we have different ways to change the appearance of the browser through a light and dark tone or choose one of the elements in the Theme section, where we find different colors to add it to the Edge interface. Simply click on each one to change the color and check how it looks.
At the bottom we find the Discover more themes button, which will open your theme store in a new tab, where you can find custom themes. We can use themes that change the look and feel of the browser and new tab page to create beautiful and engaging visual experiences. We simply have to click on the Get button next to the desired theme and then confirm by clicking on Add theme .
Edge Store Themes
As we have mentioned, Microsoft has its own theme store to be able to customize Edge to our liking. These can be downloaded for free, so we are going to see some of the best options that we have available.
Halo
If we are passionate about video games and more specifically about Microsoft consoles, surely this title has become one of our favorites. And if so, nothing better than opting for a theme that features the actual Halo from the game and blends seamlessly with dark and light blues throughout the rest of the browser. This theme changes the appearance of our browser and new tab page to create a beautiful and immersive visual experience inspired by this fascinating game. It is one of those themes that cannot be missing in our browser if we are fans of the saga. Download the Halo theme from the Microsoft website.
Wandering Fields
This theme allows us to bring the eye-catching art of Microsoft 365 to Microsoft Edge with this exclusive theme. With it, we will be able to change the appearance of our browser and new tab page with a beautiful and immersive visual experience. We can also apply different themes to each profile to make it easier for you to separate whether it's for home, school or work. This theme changes your browser background into a landscape of rolling hills and grassy roads. The theme colors themselves blend perfectly with this image and work well alongside the rest of the Microsoft Edge design. Download this background for free .
The mist
If we like Microsoft themes based on video games, The Mist may be perfect for us, since it is based on the Sea of Thieves game. It is a game of pirates and navigation and as such it presents us with the theme of drawing a pirate ship in the water with powerful rays of light that illuminate it from behind, with a subtle presence of fog. With this theme we will change the appearance of the browser and the new tab window. Therefore, it is an ideal theme for both game fans and pirate movie lovers, which could look wonderful in our browser. Download The Mist background for Edge for free.
Microsoft Flight Simulator–Ocean Flight
As we can imagine, many of the topics that we can find in the Microsoft store are related to video games. For lovers of airplanes and flight simulators, nothing better than a theme based on the popular video game Flight Simulator Ocean Flight. As in the case of The Mist, it is an excellent background because it subtly refers to the original idea, so it can be valid both for fans of airplanes in general and the game itself in particular. Download this theme from the Edge plugins website .
Install these themes from the Chrome Web Store
Since Edge is a Chromium-based browser, it offers us the possibility of using both Chrome extensions and themes, which we can install from its own store. That is why if it seems to us that the themes that we find in the Microsoft store are not enough or there is little variety, we can always opt for one from the Google store.
Night Time In New York City
This spectacular theme is inspired by the night of the magical city of New York, becoming one of the best dark themes that we can find and that combines perfectly with the night mode of our operating system. Without a doubt, it is a discreet theme as well as elegant, with its black and white tones together with the approach that the photo has that gives the sensation that we are observing it through a window.
kate spade
We find a very colorful theme that presents us with an original design by Kate Spade, whose creations are inspired by everyday life. It is responsible for transmitting a touch of elegance and exuberance, giving the browser style and vitality. And it is that both sophistication and ingenuity are key in the Kate Spade stamp, whose creations incorporate a touch of style and vitality. Undoubtedly a theme that gives more life to our browser, with colored stripes that provide elegance that will surely be to the liking of many users.
Colors
If we want to give our Edge browser a touch of color, this theme can become one of our favorites. In it we check how it is a painting with touches of color that is shown on the upper part. It doesn't change the appearance of the settings or other pages, but it looks great with the transparent tabs where the background splatters show through. With it we will obtain a minimalist appearance and it is suitable for desktops with a screen resolution of up to 2560 x 1600 pixels.
Coral Reef
If we are nature lovers and enjoy them as part of our desktop wallpaper, this theme for Edge will surely not go unnoticed. With Coral Reef we will get a coral view of the ocean on our Home tab. It is an image capable of relaxing our mind and our eyes. If, in addition, they are fans of Pixar cartoon movies, surely the image will be familiar to us, since it is inspired by the Finding Nemo movie.
black green shards
If we like the combination of colors like black and green, this theme will surely attract our attention and Black green shards is a perfect theme for us. It has an attractive and unique design that will surely make us fall in love. It has a 3D texture in black and the edges are bright green. Both the text and other small details will be in green if we use this theme. Also, when we are in a tab, the rounded corners will be shown so that we can differentiate them from the rest that will be shown in the form of a rectangle.