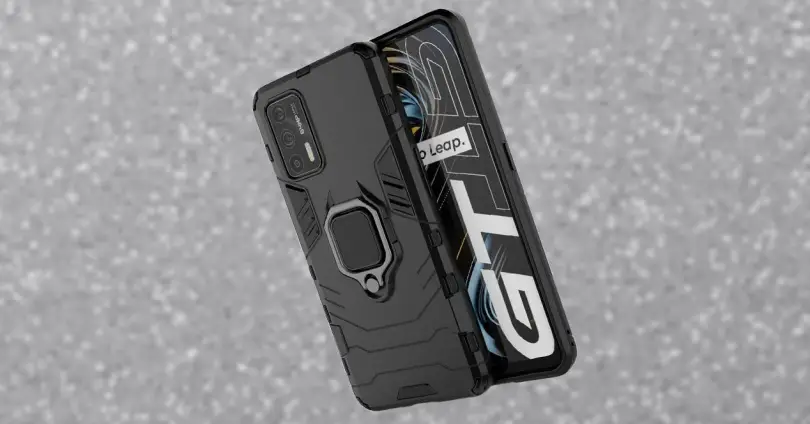 There is no doubt that Realme has become one of the brands with a more loyal community in the current terminal market. In addition, the manufacturer wanted to make the dreams of its fans come true by giving them one of its main requests: to bring the spectacular Realme GT. For this reason, if you are going to get it, it is time to find the best covers to protect it from bumps and scratches.
And although it has just landed in Spain, luckily, it was previously launched in the Asian market. So, fortunately, we find a wide variety of cases with which we can provide greater protection to our new Realme mobile device . In addition, we are facing one of the models of the most top Asian manufacturer of the moment. We will even explain how to choose protection based on how you use your smartphone.
How to choose a case
Before choosing a cover for our new terminal for the simple fact that we think it has a beautiful design, we must take into account another series of fundamental aspects. The first of them will be how we use our mobile on a daily basis. More than anything because this factor will be key to knowing what type of protection we will need. Therefore, we will have to assess the needs that the housing we choose can cover.
In the event that you are one of those people who drops the terminal more than once, the ideal will be to have a protection capable of protecting your smartphone from all kinds of blows, so it should be as resistant as possible. On the other hand, if what you are looking for is a greater grip, the one that will suit you best will be a rugged one.
On the contrary, if you want to show off the original look of your smartphone, the ideal protection will be a transparent and silicone one. But, in general, you should look for some cases with any of the following characteristics or elements to ensure better protection for your mobile device:
Reinforced corners.
Military protection.
A rugged design to prevent slipping.
With a thickness that exceeds both the screen and the camera.
TPU silicone.
Sleek, rugged casings for the GT
This type of protection is one of the most popular, as it has become one of the most used options by users to protect their phone as much as possible. Even these are characterized by having a much thicker design than usual and can be found with more elegant aspects to give the Realme GT another touch. In addition, they have greater coverage both on the back of the case and on the edges. These feature highly absorbent materials, which can prevent damage from almost any fall.
Magnetic ring protector
The first example that we can buy to release our Realme is this ALAMO casing that comes with a ring to improve the grip. In addition to that we will have a protection that will fully ensure each of the elements of the smartphone, since it has a totally robust structure. And not only this, but we can acquire it in up to three different colors: gray, red and black.
Although it has a degree of support and strength against falls and scratches, another of the most notable aspects is found in its ring, since it comes with a magnetic area so that we can place our terminal without it falling on the dashboard of the car.
Rugged and semi-transparent
This cover is similar to the previous option that we have presented. However, with this alternative we will not completely cover the beautiful design of this high-end model of the Asian brand. Basically, because we are dealing with a semi-transparent from the manufacturer TingYR . So not only will we have the great benefits that the previous case offered us, but we will also be able to continue keeping the original appearance of our mobile device more or less in view of everyone. In addition, in the following offer it can be purchased in up to three different colors: blue, purple and gray.
Pack of three cases for the GT
Now we are going with an alternative with which we will not only have good protection for any smartphone, but are designed with a carbon fiber texture that makes any mobile device much more attractive. In addition, you can clearly see how they have a very elegant and well polished aesthetic. Among its materials we also find a soft silicone, providing a higher percentage of resistance against shocks and possible scratches. And if we take advantage of the following offer, we will get three covers in three different colors: black, blue and brown.
Cover the Realme with silicone sleeves
Silicone ones are always the first thing that everyone thinks of for their phone. In addition, with them we will not only have an acceptable protection that better adapts to the size and shape of our phone, but they are also lighter and cheaper than other types. They also allow us to show off the design of our phone in the case that they are transparent.
2 in 1 protection
The first option that we can opt for is this protection from the Tasch brand that will ensure both its protection and the fact of being able to show its true design. So it will be the ideal for those who want to show their smartphone to the whole world. This 2-in-1 protection, we will not only be able to protect the back, but also the front of the mobile with a tempered glass. Among its materials we find that it is designed with soft silicone TPU . And if we take advantage of this offer we will also get an extra tempered glass protection for the rear camera of the phone.
Gradient cover
This semitransparent option of the Jeelar brand will not only offer us maximum protection , but we will also have a plus to safeguard the Realme GT against those common falls in which the phones fall on one of its four corner corners, being able to get dented in many cases or splitting the mobile panel itself. In addition, in the following offer, if you click, you can see that it has a color gradient that will vary, since we can get it in six different finishes. Therefore, each one will choose the option that best suits their needs.
Pack of two transparent cases
In this case we have a pack, which offers us no less than two silicone covers at the price of one. Therefore, we will always have a replacement on hand in the event that we lose it, become damaged or wear out over time and use. With them, we will have the Realme GT fully protected. So we enjoy protection that better adapts to the size and shape of our phone, and best of all, they are usually lighter and allow us to show off the design of the smartphone itself.

Book covers for the Realme
Let's go with the so-called book type, those that had a significant success for a long time, since they were preferred by a part of users who did not want to have a screen saver. Furthermore, these are characterized by two key aspects. The first is that we can carry both bank cards and tickets . And the second is that they have a protection for the phone that also safeguards it from possible accidental blows.
Leather
The first one that we find of this style is the classic leather one made with high quality PU, in this case black, and which inside has a card holder on the left side to carry our bank cards. Likewise, we have a wallet just behind this part, so that we can keep them safely. And on the right side, is where we can fit the phone into a silicone one.
Embossed book
There are other designs for this type of case with a more creative look. Like this one in blue, which is also available in other colors, also in a PU leather finish. So it also offers us the same functionality as the previous one, with a card holder and a wallet, as well as a protection inside for the phone itself. Additionally, two tempered glass protectors are included for the Realme's panel.
With an extra wallet
Finally, we find another of the book type, but this time we can have an extra wallet on the outside of it, as can be seen in the image. In addition, it is made of TPU and PU leather. It can even be purchased in two different colors: blue and black. And another of the advantages that it gives us is that inside, we will continue to have both a wallet to store coins and our cards.