One of the most common problems that we can find in Windows 10 occurs during its startup. These problems can arise for a number of reasons, from a corrupt byte on our disk, a faulty boot controller, to a missing registry key. In the event that a problem has occurred with the startup or during the execution of the operating system, we can choose to solve it and repair the PC using the appropriate software.
There are situations that when we are caught by surprise makes us put our hands on our heads without knowing what has happened and how to solve it. We find one of these problems with the fact that when we start our computer we check with amazement how Windows cannot start correctly. An option for its repair is to create a bootable USB with a specialized program.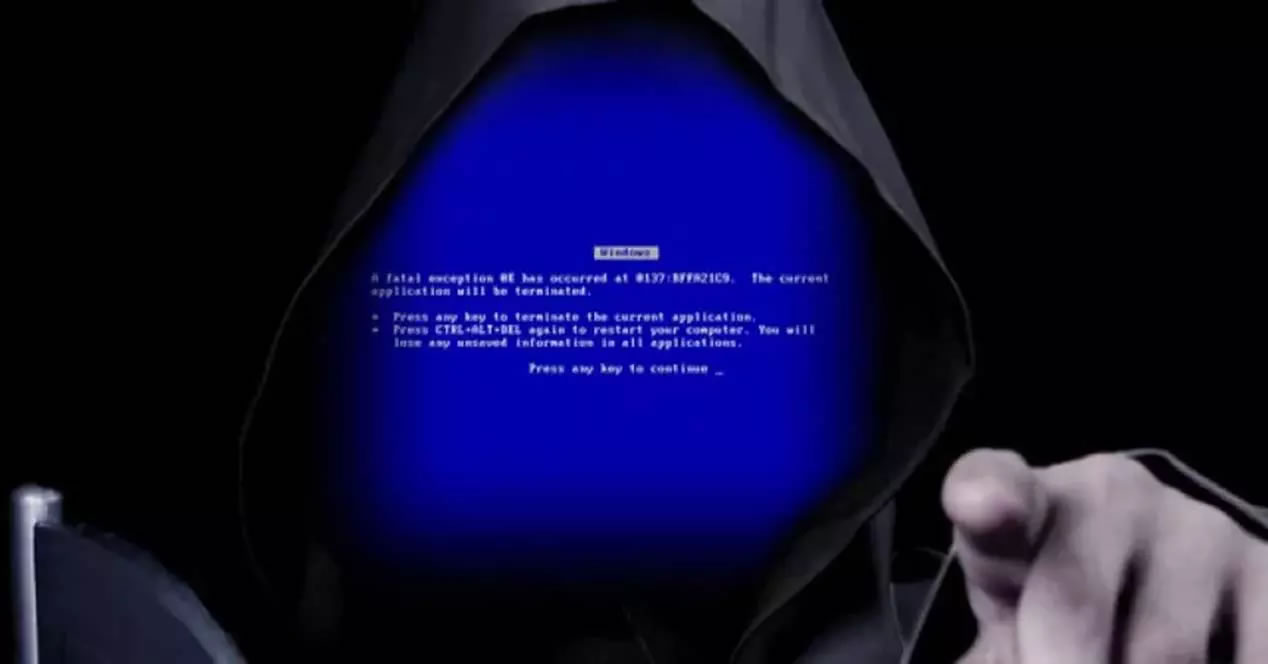 Windows startup problems and their solution through bootable ISOs
Boot problems in Windows 10 happen because the MBR (Master Boot Record) is not foolproof and can get damaged, corrupted, or just disappear. Although the Microsoft operating system has recovery options such as safe mode, this tool may not be able to solve the problem in the event of essential system files or if the structure of the hard disk is damaged. In that case we will have to resort through specialized rescue and data recovery programs.
For this we can use bootable ISOs that run from a USB drive and that have Windows PE distributions, that is, they are operating systems with a reduced version of Windows. These programs are extremely useful for repairing a broken and unstable Windows system, so it is highly recommended to have one installed on a USB stick if necessary.
In the event that we cannot start Windows or we have any internal problems, these disks have several diagnostic and repair tools that allow fixing an MBR, recovering passwords, detecting and cleaning a rootkit, etc. Next, we are going to show you which are the best rescue discs, with which to solve any startup problem in Windows 10.
Programs to create a bootable USB to repair the PC
SystemRescueCD, emergency operating system
In this case we are talking about an emergency operating system that has been expressly designed to run on our computer from the RAM memory from a CD, DVD or, as we are interested in in this case, from a USB memory, such as a pendrive or disk external.
Main features
This software can repair and recover any PC with boot problems. We will have tools for in case of hard disk failure, also to analyze disks and recover deleted partition tables, or to backup (and restore) partition tables. We will have images for both 32-bit and 64-bit systems. We can download this program from the following link .
Advantages and disadvantages of SystemRescueCD
One of the advantages of using specialized distributions such as SystemRescueCd is the size of the download image, ideal to carry it on a USB memory, regardless of its size. On the other hand, we must indicate as a disadvantage that if we are users with little computer knowledge we must use this program with extreme caution, since we can touch functions without knowing, and get our system to stop working.
Ultimate Boot CD, ideal to repair Windows
This software is a bootable ISO image that contains a wide variety of tools with which to create a bootable disc on a CD, DVD or USB drive in order to solve any problem that may have caused Windows not to boot correctly.
What features do we find
This BartPE-based software is used to repair, restore, and diagnose various Windows startup problems. Once we run the program recorded on a boot drive, we can perform hardware tests, analyze hard drives, pass the antivirus and even access web browsers, among other functions. This software is completely free that we can download from its website .
Disadvantages and advantages of Ultimate Boot CD
Among the advantages of using Ultimate Boot CD is that we are facing a program with a set of utilities that will help us to solve any problem with Windows startup. As a drawback to say that it is aimed at advanced users, its use is not recommended for users without previous knowledge and computer professionals.
USBCD4WIN, use it to recover the boot in Windows
This time we find a Windows boot recovery software that contains a set of tools with which to diagnose and restore any problem on our PC, both hardware and software.
What to highlight of this software
This tool is based on Bart's PE to create a Windows pre-installation CD from where you can solve network support problems, the ability to modify NTFS volumes, recover deleted files, create new NTFS volumes, scan viruses, search for viruses, etc. If we want to use USBCD4WIN we can download it for free from this link .
Points for and against USBCD4WIN
When using this program, we find the main point in favor of its set of tools with which to solve any Windows startup problem. As a negative point that we are going to find is that we will need prior knowledge for this. Also, the creation of the ISO is quite slow and can take up to 20 minutes.
Hiren's BootCD PE, with indispensable tools to repair Windows
With this software based on Windows 10 PE x64 and by installing it on a bootable USB, we will have various tools with which to solve the startup problems of our Windows 10 computer.
Features to be highlighted
With this program, we will have a backup tool, cleaners, antivirus, device driver tools, file system tools, MBR , registry, recovery, testing tools, among many others. Hiren's BootCD PE is made up entirely of free tools and can be downloaded from here .
Disadvantages and positives of Hiren's BootCD PE
The main drawbacks that we can have when using this software is that it is quite slow when loading some applications, in addition to not automatically detecting USB devices.
Sergei Strelec's WinPE for Windows, to maintain and repair the PC
It is a Windows 10 boot disk, with which we can create a bootable DVD or USB to carry out maintenance work on our PC and repair Windows .
Main features
It includes software for partitions, backups, restoration, diagnostics, data recovery, Windows installation, among others. It is very complete, not in vain the ISO occupies a total of 3.4 GB. All the programs it collects are free so we can use them freely. We can download Sergei Strelec's WinPE for Windows from this link .
Advantages and disadvantages of Sergei Strelec's WinPE
Undoubtedly, the strong point of this suite is its complete set of applications that will help us with any problem with Windows startup. This, in turn, may be your main problem that we may have when using this suite. Well, the amount of software that it incorporates is so great that it can overwhelm us. This can cause us not to know well what program to use for a specific problem.
Bootice, software to rebuild the MBR in Windows
With this tool we can repair, backup and rebuild the Windows 10 MBR and the boot record partition of local and USB storage drives.
Features to be highlighted
It has support for seven types of MBR, it is capable of editing IMG and IMA images, it has a Grub4Docs and BCD editor, as well as setting parameters on the command line. This makes it an interesting tool to repair Windows. We can download Bootice for free from here.
Bootice's strengths and weaknesses
Its main advantage is that it is a powerful and well-designed disk utility, and should not be missing in case of problems with Windows startup. On the other hand, it is an application intended for professional users so it can be dangerous in inexperienced hands. In addition, it does not have documentation and its translation is not good at all.
Boot Repair Disk, create a rescue disk for the PC
This tool allows us to create a rescue disk that we can use in case we cannot start Windows . With it we can diagnose the boot process and help us find a solution.
Outstanding features
The application is only available in ISO format with which to create a bootable CD or bootable USB drive. With this application we can analyze the configuration of the PC and its startup process and carry out some recommended repairs in case of finding a problem. Plus, it includes a worst-case OS uninstall tool. You can download Boot Repair Disk from this link .
Advantages and disadvantages of Boot Repair Disk
It is primarily aimed at correcting boot problems, including corrupted partitions and corrupted MBR. It is a program to use as a last resort in case nothing else works and we cannot start our computer. It is not suitable for inexperienced users.
System Rescue Toolkit, with tools to repair the PC
It is a complete rescue system. It incorporates a complete toolkit to perform analysis and repair of the system, combining the functionality of the Live CD with the functionalities of Windows.
Features that we find
To use it we must burn an ISO image on an optical disc or use it to create a bootable USB drive . It has a direct autorun tool for damaged Windows computers, as well as Gunumeric , a boot repair tool. We can download System Rescue Toolkit for free from its website.
Pros and Cons of System Rescue Toolkit
It has the collection of tools that are included, part of them that are part of the Live CD, so they have a direct automatic execution on damaged Windows computers . As a negative point, it should be noted that the application has been designed to bail out professional IT support technicians, so its use is discouraged for inexperienced users.