Taking pictures with the iPhone is something we all do almost every day. It is a fundamental part of any type of mobile and this makes having a good photo and video manager important as an alternative to Photos. In the App Store we can find many services to store and manage them correctly. In this article we show you the best options.
What to look for in photo storages
When it comes to applications whose mission is to store your photos and track them, the most important thing is security . Always choose a service that has a suitable encryption system to be able to store all these multimedia files. And as we have commented on many occasions, especially when hiring a cloud service, you have to always try to pay for it. This is due to a system of logic, since when you pay for a service, you get an economic return from this fee and not from your own data . This is why if you want to be totally calm it is better to make a payment for this storage.
Beyond privacy, the functions offered by the application itself are important. We are referring above all to the general organization of all photographs through the criteria that you establish yourself. The timeline, date, or location enter here. In addition, some can make use of artificial intelligence to be able to carry out a more exhaustive tracking of all the photographs you are looking for. This is something that is beginning to be implemented in most applications but it is not something universal and it is undoubtedly very useful to be able to access all the photographs with a simple search.
Cloud services to store them
One of the safest places to store all your photos is undoubtedly the clouds. This is really important especially to be able to consult this content from any device safely and make it last forever. Here we show you those applications that will allow you to store intelligently.
Google Photos
This is the specialized service of Google to be able to store all the photos in Google Drive. In addition, there is no type of limit to be able to upload all the multimedia content that is stored on the device. The only thing to keep in mind is that the original quality of the photos must always be maintained in order to have this unlimited storage. If you want to take other actions with regard to quality, you should choose to make a monthly payment to increase storage.
The treatment of the photographs is done in an intelligent way, always having them stored in the cloud and preventing them from being stored on the device itself. In addition, they can be recognized through artificial intelligence to quickly search for them and even automatically generate memories. If you take a trip to a specific place, you will be able to see how all the photographs are grouped together in a single album without having to do anything.
OneDrive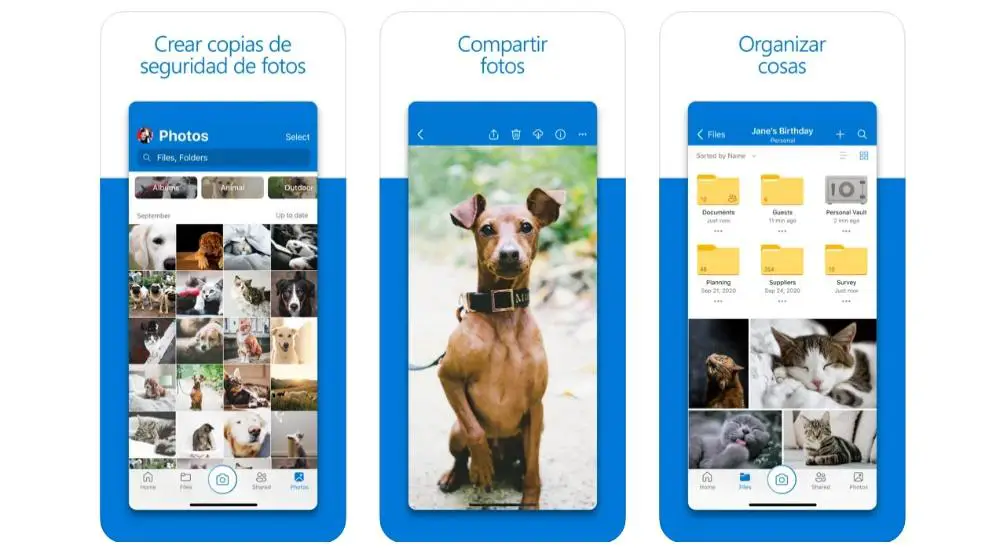 OneDrive is the cloud service offered by Microsoft that allows you to make different backup copies of your photos automatically. The application you install will detect all the multimedia files you have stored. At the moment it will make a backup that will be repeated periodically and in the background. This allows any new photos that are included to go into the backup automatically without your intervention.
The only problem you have is the available storage. It is quite limited since the base only has 5 GB that can only be expanded through a subscription to the company's office suite. Beyond this, there is a really complete and intuitive application, being able to query all this data on other devices. No type of platform or operating system is excluded as OneDrive is available on all devices.
Dropbox
Dropbox is one of the most used cloud services worldwide, being a multiplatform application and with access through the web version. When you log in, it will ask for access to the entire photo library that you have on your devices. This will automatically upload the photos and videos from the gallery to the cloud storage for quick sharing. All this process is done in the background so that you do not find out and it is always done through a stable connection.
As soon as you register, you can have access to a 2000 GB space, although it is not permanent. It can be useful to see how the application works in general and how all your photos can be managed. Once the testing process is over, you will have to pay a monthly or annual subscription in order to have access to much more storage. From here you can start enjoying Dropbox and the security it offers for all your content.
MEGA
This cloud service is known to everyone due to its importance in the network. It has one of the best security systems to have end-to-end encryption. Like the rest of the applications, it is capable of tracking all the photographs on the iPhone or iPad to be able to upload them in the background. In this way you will not find out when a new photograph is uploaded, ensuring that you always have the updated online backup.
The problem here is how the storage could not be otherwise. With the base plan that is offered to users, many photos can be uploaded at standard quality, but when you want to upload video is when you need to have an extra space. This is achieved through different monthly or annual subscription plans offered by MEGA. The positive is that it is a multiplatform system to be used on any device.
Photo management apps
Beyond cloud services you can also find some applications that try to manage all the photos you have on the roll. Here are the most important ones from the App Store.
Slidebox
Application that will allow you to manage all your photos in a comfortable and intelligent way. All travel memories, events, ideas, notes will be perfectly organized in different albums without you doing anything extra. Through different gestures you can delete the photos you do not want, classify them, compare them or set them as favorites.
Slidebox is capable of interacting directly with the native Photos application, so any changes you make will be reflected instantly in iCloud and in your photo library. It is not limited only to conventional photographs, but also opts for synchronization with GIFs. Although, if you want to enjoy all the features in an unlimited way, you have to pay a monthly or annual subscription that includes more than 10,000 photographs.
HashPhotos
Forget swiping and swiping through your photos in the native photo app thanks to HashPhotos. It is specially designed so that you can use it comfortably with a fairly clean and clear design. That is why if you are a big fan of photography, this is the application you should have installed on your iPhone or iPad. With the app you can tag all the photos, place them on a map or create a timeline among many other interesting functions.
It is not just limited to creating your memories but you can customize the entire user interface to suit your needs. In this way you can increase, change the size or style of the thumbnail, badges, additional information or group them. All this is had with excellent security thanks to the photo or video vault in case you want to have some intimate photos out of the sight of other people.
Photo Manager Pro 6
Provides a complete solution for all your media files on iPhone and iPad. Organize the photos and videos that you have stored in different folders and subfolders. In order to keep all this information safe, you can always set a password that only you know. To all photos and videos you can add a description as well as a star rating transferring from here to any other site such as a cloud service.
You will have the possibility of ordering the photographs by dates, names or types, being able to reorder them easily simply by dragging all the elements. This drag system can also be achieved to be able to copy photos between applications if you are using it on an iPad. Through the search engine you will be able to find the photographs you need with the name, the date or the type of file it is.
MyPics
With this application you can create and organize albums and choose your preferred design being able to add photos and videos to it. As an album cover, you can put your favorite image and choose your preferred design from the 45 different themes that are available. You will choose the organization of the photographs yourself, being able to set by date to clearly see what you did at a specific time in the past.
When importing all the photos from your device, the original data will also be imported without making any kind of modification, these being the Exif data. In this way the timestamp or geolocation will always be preserved to be able to share it through iTunes with your PC. The app has been exclusively designed to extract all the memories you have stored even if it does not work excessively well or is not connected to the internet.
Which application is the most recommended
There are many applications that we have discussed in this article and you have surely been overwhelmed, and that is why we recommend some in particular. In the case of cloud services, the best without a doubt is Google Photos. The main reasons are the practically unlimited storage as well as the artificial intelligence that is applied. The applications are organized perfectly and you can have access to memories created automatically by the service itself. In addition, access is universal
In the case of organization applications that manage photos without uploading them to cloud services, we have to recommend Photo Manager Pro 6 for its overall design as well as for the organization system. We believe that the possibility of having folders and subfolders is quite successful also taking into account the organization system as if they were files. In addition, it can be organized at any time depending on your particular needs.