ASUS has just introduced its first router with the new Wi-Fi 7 standard, a new standard that promises to revolutionize Wi-Fi connectivity as we know it today. Thanks to this new standard, we will be able to greatly exceed the symmetrical 1Gbps speeds that we have with fiber operators; in fact, we could reach up to 25Gbps by adding the speeds of the different frequency bands. Do you want to know all the features of the new ASUS ROG Rapture GT-BE98? Do not miss everything it has, because it will be available this year.
Main features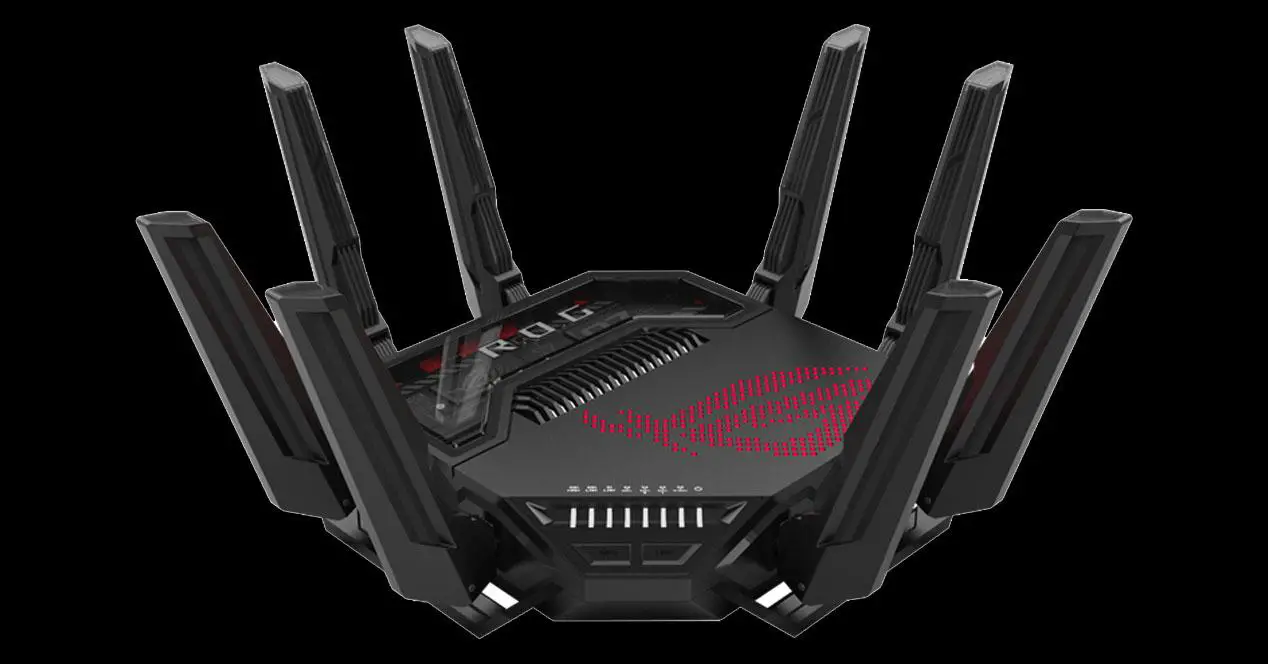 The ASUS ROG Rapture GT-BE98 router is the first gaming router to incorporate four frequency bands and the world's Wi-Fi 7 standard . This new router allows you to configure channels of up to 320MHz channel width in the new 6GHz band , perfect for achieving a speed of up to 160% higher than the Wi-Fi 6E standard that we all know. This new standard does not use the typical 1024QAM modulation, but instead uses 4096 QAM , so it can pack more data into the same transmission, which translates to higher wireless speeds when we are close to the wireless router.
This new router incorporates two very important features of Wi-Fi 7, which will allow us to have the best user experience and also the best possible speed:
Multi-Link Operation : allows data to be simultaneously transmitted through different frequency bands and channels, to increase performance in the end device. It also allows us to reduce connection latency and improve reliability.
Multi-RU Puncturing : This technology allows us to segment the channel width into smaller units, with the aim of eliminating possible interference, which allows us to use the available bandwidth in a much more efficient way.
This new wireless router allows us to have a wireless speed, combining the four frequency bands, up to 25Gbps or 25,000Mbps . Currently with the Wi-Fi 6E standard "only" we could reach up to theoretical 16Gbps combining all frequency bands, so the improvement is quite significant. Of course, this model has a technology called ASUS RangeBoost Plus that improves signal range and general coverage in our house. Finally, this new router has ASUS AiMesh to form a complete WiFi Mesh network in our home, it will be compatible with previous standards such as Wi-Fi 6E or the Wi-Fi 6 standard, so if you have old ASUS equipment you can use them without problems.
The ASUS ROG Rapture GT-BE98 router incorporates a total of 3 10Gbps ports . We have one 10Gbps WAN/LAN port, and the other two 10G ports are available for LAN only. Thanks to this fast wired connectivity, we will be able to get the most out of the WiFi wireless network.
This new equipment incorporates acceleration for games as it is a router from the ROG range, we will have the usual "accelerations" through the Ethernet ports, with adaptive QoS and also prioritization by device based on the MAC address, as usual . We assume that the firmware will be the Asuswrt ROG with the same configuration options as always and also the same services, of course, it will be based on the 388 platform that already incorporates support for VPN WireGuard, the new Fusion VPN to configure the VPN client and much more.