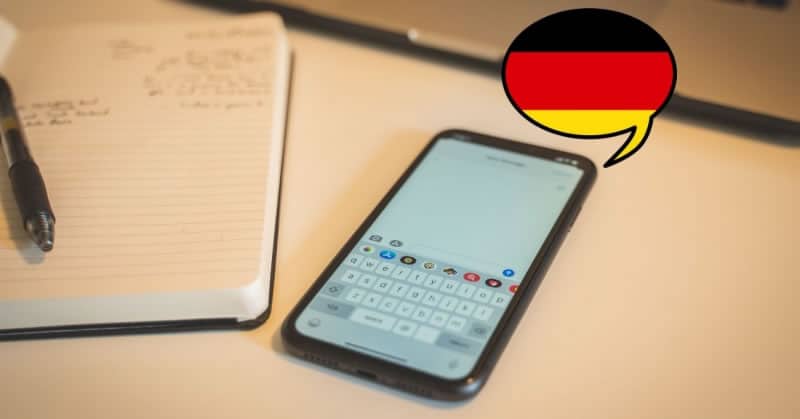 Learning a new language is always a challenge for anyone, and for this there are numerous ways to make this challenge more accessible and even simpler, and one of them is to make daily use of the iPhone and the applications available in the App Store that you they help and push to be learning that new language every day. In this case, we are going to show you ten applications that will help you learn German from your iPhone.
Drops
We begin this compilation of applications by showing you one of the most famous that we find in the App Store to learn any language, in this case, German. Drops gives you the possibility to learn up to 41 languages through very fun games, you will only need 5 minutes a day to add words to your vocabulary in the most fun way possible. This application is based on visual learning since each word has a spectacular illustration so that learning is almost effortless. However, to be able to use this app you will have to go to the cashier, since it is a subscription service, which you can pay monthly or annually.
Duolingo
This application is in the number 2 position in the ranking in the Education category, which already shows the great value that Duolingo can bring you in your struggle to learn German. Again, like Drops, this application seeks to make you learn a new language in the most fun way possible, seeking to change the way people learn languages, in fact, The Wall Street Journal stated the following about Duolingo, "Without the slightest doubt, the best application to learn languages ", to which TIME Magazine also added, which said" Duolingo has the secret of the future of education ".
Like Drops, Duolingo is also a subscription service, and in this case, you will only be able to subscribe on a monthly basis, that is, you will have to pay every month if you want to use the app.
Busuu: Learn Languages
In this case we are talking, again, about one of the most famous apps that we find in the App Store to help you learn up to 12 different languages. From Busuu they promise to say goodbye to your stress for organizing yourself since they themselves organize your learning schedules based on their study plan, you will only have to tell them when you want to study and for how long. In addition, Busuu allows you to learn any language regardless of the level at which you are.
The city of words
Learning anything is always more fun if the process is done playing, and this application is exactly what it tries to make you learn German. The city of words is an online game for students of German with level A1. It's free and mixes elements of the classic search game with multi-player options.
Mosalingua, learn German, English, French …
Mosalingua comes to be your personal trainer that you can carry in your pocket, but beware, a personal trainer that will guide you to learn any language, in this case, German. It is a method designed by polyglots and teachers to help you learn words, expressions and vocabulary anywhere, anytime. As usual, this type of application has a subscription, which in this case can be monthly or yearly.
Rosetta Stone Learn Languages
Awarded with the Plation 2019 Award for the best teaching application at the Best Mobile App Awards, also chosen by the PCMag magazine editor and, in 2019, also awarded the Tabby Award. This application allows you to improve your pronunciation thanks to TrueAccent, the best speech recognition technology in the world, learn with the Rosetta Stone immersion method and perfect your language skills without needing an internet connection.
You can try the app for 3 days if you need to subscribe, and once the trial period is over, if you want to continue using the app you will have to choose between two types of subscriptions, the first, 3 months, or the second, 12 months .
Babbel – Learn Languages
The effectiveness of this application for learning languages is proven by a study carried out at Yale University, in fact, they ensure that 100% of the participants improved their oral expression in just 3 months. Babbel's teaching team designs each course taking into account your mother tongue, in addition, the first class of each course is free, so you can see if this application and method is for you or not before going through the checkout. They have up to 4 different subscriptions, 1 month, 3 months, 6 months or a year
DW Learn German
With this application you will have advanced programs for any level that have a wide variety of interactive exercises that will allow you to learn and train your vocabulary, grammar and even geography. All this starting from your current level, since you will have to take an aptitude test.
Learn German DeutschAkademie
With this application you can practice your grammar skills in German with multiple choice questions as it has more than 22,000 German grammar exercises, which are structured according to the European framework of reference for languages. You have to bear in mind that in order to use this app you must have a basic knowledge of German to be able to practice with the proposed exercises.
Memrise: Learn Languages
Up to 42 million people use or have used this application to learn a new language since you will do it through native speakers who will help you with your purpose of learning German. It also has games that you can practice to improve your listening comprehension and pronunciation. Of course, in order to access all the courses and modes, a subscription is necessary.