If you are thinking of getting pregnant or are already in full pregnancy, it is important to have as much information as possible about everything that is happening in your body. That is why there are applications to be able to carry out all this management of changes that are taking place. One of them is Pregnancy + and in this article we will tell you all the details about it.
Pregnancy + is not a medical app
It should be noted that this is not a medical application that can diagnose problems during a pregnancy. It is simply an application that will help you to manage all the data that can be recorded during the gestational state, such as the size of the fetus or all the appointments that are had. To this is also added great information from all the states that are given in this period of 9 months.
Find out about everything you need for your future baby
This application acts as a diary of the entire pregnancy that you are suffering during the 9 months of duration. You will be able to record all the relevant data as well as inform yourself of everything that is happening inside your body. When making the initial configuration you must enter different data such as your age, the sex of the fetus as well as the possibility of calculating the date of delivery based on your last menstruation.
With all these data, it will offer you the necessary information on the fetus depending on the week you are in. To this are also added a series of tips that you must take into account for this entire process, both you and your partner. In the section called 'weekly' you can view the length in centimeters and the weight in grams of the fetus itself. In addition, it is also accompanied by different images that have been taken in a general way from different fetuses. In order to have the best resemblance to your own fetus, you can download the set of images depending on the skin color it may have. In this way you will be able to visualize how it will be growing accompanied by a wide text that explains what is developing, such as the brain, the head or the birth of the eyes.
But model and real ultrasounds also have a space in this application. They are found in the 'images' section and can be easily consulted for the weeks. Ultrasounds and even scans are clearly visible. In this way you will know exactly the growth stage and even compare it with the ultrasound that you have been able to perform yourself. To this is also added a size section so that you can know in a comparative way how big your future baby is. For example, at 7 weeks the application reports that the fetus is the size of a gummy bear, although you can also choose the comparison with fruits or animals.
Finally, so that you take into account everything you have to do, a calendar is included. In this you will be able to visualize the time frames in which you will have to do the first ultrasound, the antibody test or the folic acid intake. In this way you will not have to miss absolutely anything of the most important events that you have to take into account.
Control of your medical appointments and physical data
In addition to having information about your future baby, you must also take care of yourself in the best possible way through this application. This is in the 'I' section that you will find at the bottom. In this you will be able to record your weight throughout the entire pregnancy to have an exhaustive control that you can teach the doctors who will be monitoring you in order to be clear about all the steps you must continue taking. You can also add photographs of your belly as the months go by, being able to compare it with a model image of how it grows and the position that the fetus will have.
To all this is added an appointment management system so that you have written down in the application everything you must do in your pregnancy monitoring. You can choose the day of the appointment, as well as the professional you will go to, such as the gynecologist, the sonographer or the dietician among many others. Once you finish the consultation you will be able to write down the blood pressure or the pulsations that your fetus has to carry out the follow-up yourself.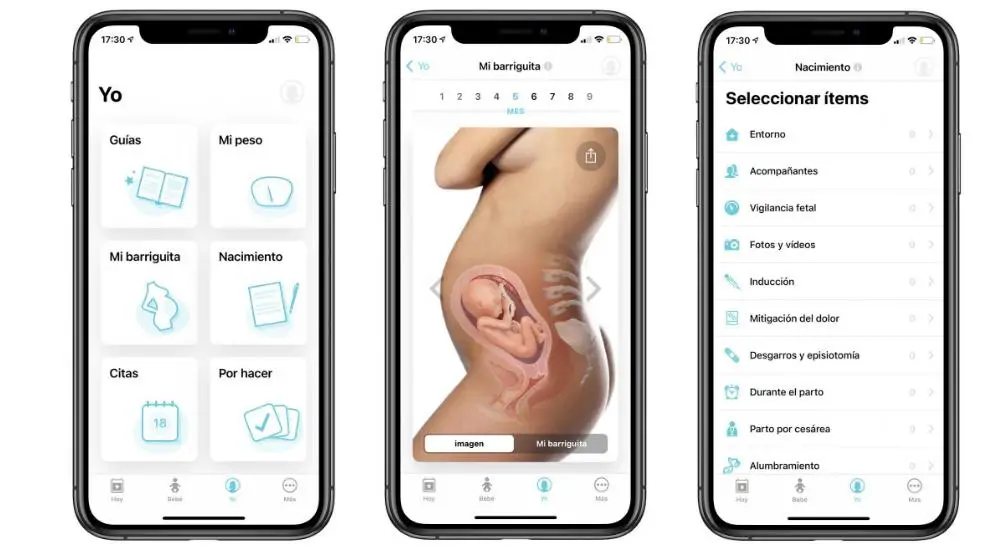 Finally, a list of tasks to be taken into account is included in order to have everything planned. For example, you can choose the week of your baby's birth to be able to prepare all the details. Enter here if you want to preserve the umbilical cord, if you want to have some type of anesthetic in labor or take analgesics. All this will put you in all the scenarios that may arise so that you are fully prepared since at the moment of truth it can be difficult to make a decision.
Kick and Contraction Counter
As the fetus grows, the kicks will begin to occur. This is moving and this causes you to feel them within you. Sometimes it can happen that you move around a lot for a long time or just be quite calm. Be that as it may, in the application you will be able to count all the kicks when it begins to occur to visualize the time frame that will last.
The same can also be applied to contractions that occur when it is time to give birth. It is essential to have to count all the contractions that occur since it is really important to be able to determine when the delivery is going to proceed and medical assistance should be sought. But in order not to have to be counting the minutes that pass between contraction and contraction, you will have this counter to be able to have all the information clearly.
Diet and exercise, a fundamental part of pregnancy
In the end this application is a great repository of information that has been created by a great community. Body worship should always be important during pregnancy and that is why diet and exercise are vital. That is why here you will find all the exercises that you can end up doing depending on the week you are in as well as the foods you should eat and which ones you should not. For example, something that is already quite common is that ceffeine and alcohol are totally discouraged and here you can find all these tips.