The Apple Watch Series 6 has arrived on the market to replace its younger brother, the Series 5. But the big question right now on the minds of many is… are there many differences between the two models? In this article we confront both Apple Watch to see how they differ and how they are technically similar.
Technical differences
These two Apple Watch models are more similar than we think, especially technically. In terms of design, you have exactly the same screen size as well as identical dimensions for both models if you put one next to the other. In this sense, there has not been any significant change even in the weight of the team, which remains at 39.8 or 47.8 gamos. It was logical to think that it could have been reduced by eliminating the hardware necessary to perform Foce Touch in the Series 6 but the increase in battery has ended up making up for it. In the following table you can see in a much more exact way how both teams differ technically: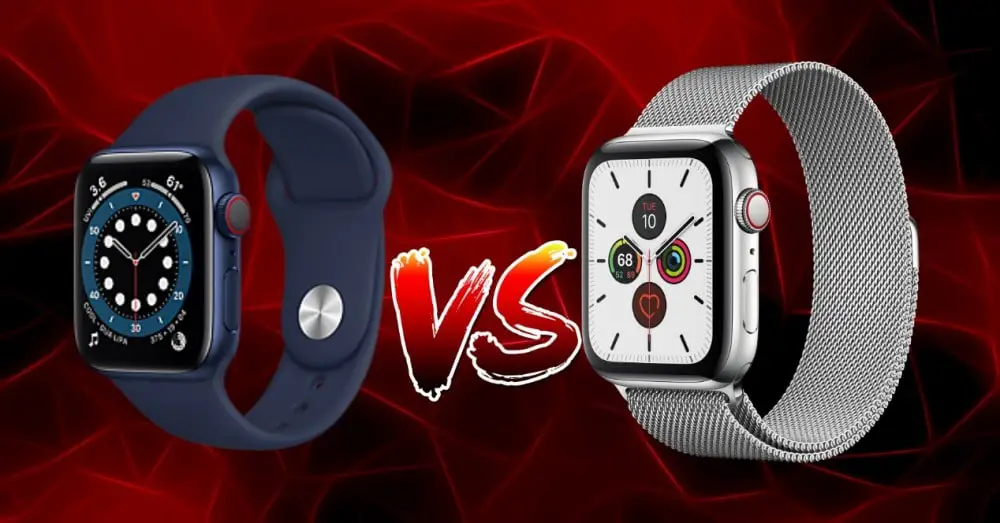 Apple Watch Series 6
Apple Watch Series 5
Processor
S6 chip
S5 chip
screen
1.57 / 1.78 inch OLED (40 / 44mm)
1.57 / 1.78 inch OLED (40 / 44mm)
RAM
1 GB
1 GB
Storage
32 GB
32 GB
Dimensions
40 x 34 x 10.7 mm (40 mm model).
44 x 38 x 10.7 mm (44 mm model).
40 x 34 x 10.7 mm (40 mm model).
44 x 38 x 10.7 mm (44 mm model).
Weight
39.8 grams (40 mm model).
47.8 grams (44 mm model).
39.8 grams (40 mm model).
47.8 grams (44 mm model).
Resistors
Water at a depth of 50 meters.
Water at a depth of 50 meters.
Connectivity
GPS or GPS + LTE
GPS or GPS + LTE
Price
From 429 euros
From 449 euros.
Sensors: main difference
Beyond the design or the dimensions that have been maintained in a conservative way, there are significant differences when it comes to sensors. The Apple Watch Series 6 has finally included the sensors necessary to perform a blood oxygen saturation measurement. This has been achieved by varying the design of the sensors on the back of the watch. The Series 5 included a single central LED surrounded by an electrode to allow electrocardiograms to be performed. Now Apple has integrated into the latest generation of watch four LED sensors that are capable of projecting light to the blood vessels, and the photodiodes measure the amount of reflected light by calibrating this color to determine the oxygen level in the blood. This is a vital technology for many users with lung ailments. Low oxygen saturation can be an indication that something is not working well in the body. Nighttime measurement can be vital in determining whether a user is apnea.
As we say, this is a technology that is not present in any other Apple Watch and that has been released in this generation. Similarly, in this sense, there are still similarities with the Series 5, such as the possibility of performing electrocardiograms thanks to the electrodes that it includes on the back and in the digital crown or making a simple measurement of the heart rate. Fall detection and ambient noise measurement is obviously built into this new generation as well.
20% more powerful processor
For several generations the Apple Watch has improved substantially in terms of processor. The Series 5 was stuck in this aspect by including the same as the previous generation, but now in the Series 6 they have decided to reinforce this aspect. With the new S6 chip that is integrated, Apple promises a performance improvement of 20% over the Series 5. This is quite important to be able to offer greater fluidity in the software as well as an efficient opening of the applications.
Screen now much brighter
One of the big problems with the Apple Watch Series 5 and the newly implemented Always on display technology was brightness. Many users complained that the screen did not display well while idle in bright environments. This has been totally solved in this new Apple Watch Series 6 by integrating a 20% brighter screen. In this way, using always on display will not be a problem when you are on the street in broad daylight, since you can also view all the information that is being displayed.
Apple Watch includes more battery
Historically, Apple smartwatches have shone by not having a very good autonomy that lasted several days in a row. This is something that Apple tries to solve in a certain way with this new Series 6. As seen in the disassembly of the watches, a larger battery has been included that provides more autonomy to the equipment as well as a much more efficient charge . With the native sleep monitoring option added starting with watchOS 7, users are forced to charge the watch before going to bed, which may take too long. This is why the load is now 20% faster, reaching 0 to 80% in just one hour. This makes the watch fully prepared to be used for a whole day without any type of charging problem. In addition, at night it has been noted that it is much more efficient, consuming in many cases only 10% of its battery, something that significantly improves the consumption obtained with previous generations.
Is the Apple Watch Series 6 cheaper?
Something that can be seen when buying the new Apple Watch Series 6 is that it has dropped in price in Spain by 20 euros, from the € 449 of the Series 5 to the current € 429. The truth is that this is not the case, since the official price has remained completely stable in the US but in Spain we have observed a decrease as a result of the currency exchange. Now the euro has a higher value than the dollar and this has caused that by making the conversion a 20 euros lower price has been obtained, but in reality the price is the same officially. It should also be noted that this watch does not come with a charger built into the box. If you do not have a charger to connect to a wall socket, you should get one in the Apple Store that can end up costing those € 20 that differentiate the price of both models.
Conclusion
As you can see, the differences between the two devices are very subtle. The inclusion of the new oxygen saturation measurement with the improvement of its sensors stands out above all. This is not something that can end up justifying an update from Series 5, especially if it is a young user without any type of pulmonary pathology that does not require saturation control. Obviously we are talking about the best watch that currently exists but the Series 5 is still up to the task so it does not fully deserve to make a leap between these two generations due to the economic expense that it can entail in exchange for practically nothing.