The date is getting closer and very possibly on the 23rd of this month, which is when COMPUTEX 2022 opens, we will see some data, or perhaps all. In any case, the AMD Zen 4 processors are already being seen on several sites, where the latest reveals something really interesting: AMD has caught up with Intel and manages to overcome the 5 GHz barrier with its Ryzen 7000 processors.
It has been in Phoronix Test Suite where it has been possible to see the first engineering sample of a Zen 4 processor with really interesting data, where it seems that the mid-range of CPUs is going to give a lot to talk about at the end of this summer. What has AMD achieved?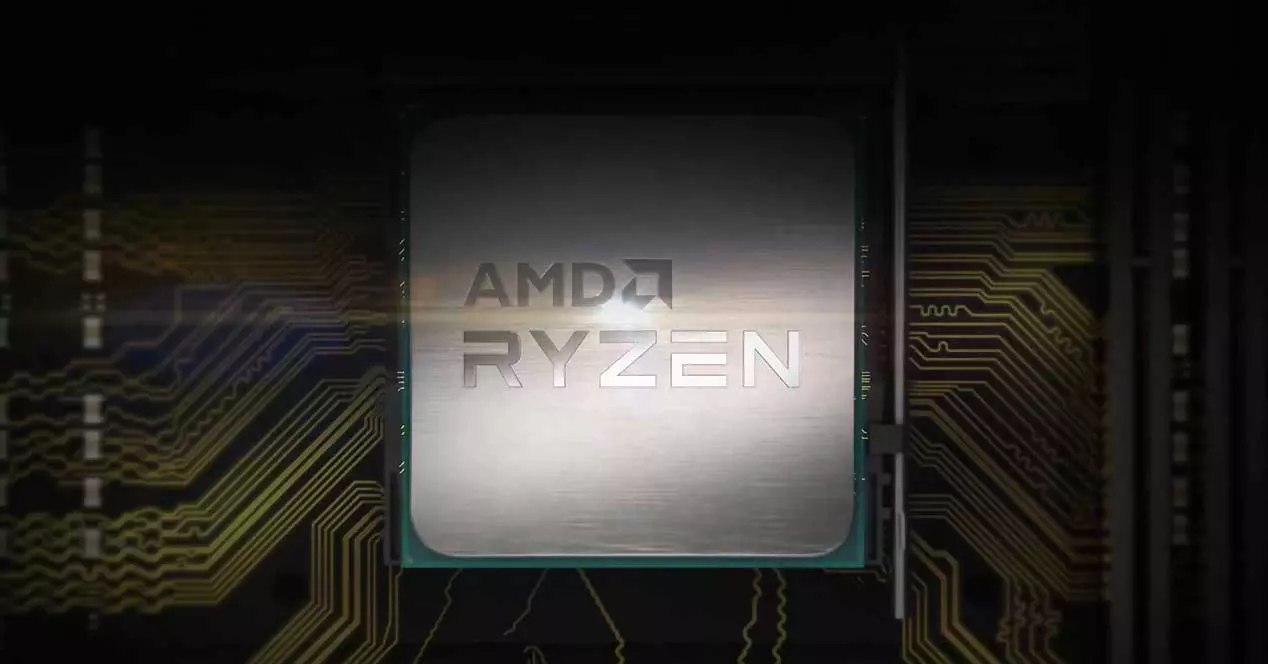 A substantial speed increase: Zen 4 will exceed 5 GHz
Well, what we can see and that has already passed the tests of the suite is a processor that is labeled with an OPN 100-000000666, which may sound familiar to us because it is the same processor that was seen at the time in the leak of the month from January. This time there is more interesting data, since this processor with Raphael microarchitecture consists of 8 cores and 16 threads at a maximum frequency of 5.21 GHz .
This would mean that AMD has taken on Intel and increased the frequency of its mid-range by more than 500 MHz in a single generation, vastly surpassing the psychological barrier of 5 GHz that no Zen 3 processor had achieved out of the box, not even close. long as the specs say yes.
The AM5 platform where this processor will be placed is referred to as Splinter-RPL , while the chipset is referenced as AMD Device 14d8 , which would be the new X670 in principle. There is more interesting data really, since the audio codec is mistakenly recognized as Rembrandt Radeon HD Audio, and this is linked to its integrated graphics card, which seems to be quite controversial.
A graphics card that will not be built for gaming
Or at least that is what is stipulated. The iGPU is listed as AMD GFX1036 with 512 MB of VRAM at an alleged frequency of 2 GHz Boost and 1 GHz base . Well, according to the latest rumors, this is another software detection error.
It must be remembered that Zen 4 and specifically Raphael will be the first high-performance desktop architectures and microarchitectures with iGPU as such in the purest Intel style. But there will be a subtle difference that would change everything, and that is that AMD does not seek the same goal as Intel with its iGPU, that is, it does not seek to give gamers a gaming graphics card.
The reason this is detected as GFX1036 is because it belongs to the GFX1030 family and branch, all based on RDNA 2 like the Steam Deck iGPU under Van Gogh, but unlike all of them this GFX1036 is not a graphics card integrated to play, but it has another much more basic use: simply being a tool to give video to the PC or be used to decode videos or audio.
This is important, because it creates a new segment in PC where there may be users who do not want to use a GPU and only need an iGPU to work, one that offers them video on their monitor and nothing else, with the power to work and decode video and audio codecs, which would mean a minimum consumption associated with that of the CPU cores and a much smaller space in the final encapsulation. A smart move from AMD that should also offer a lower price than its great rival.