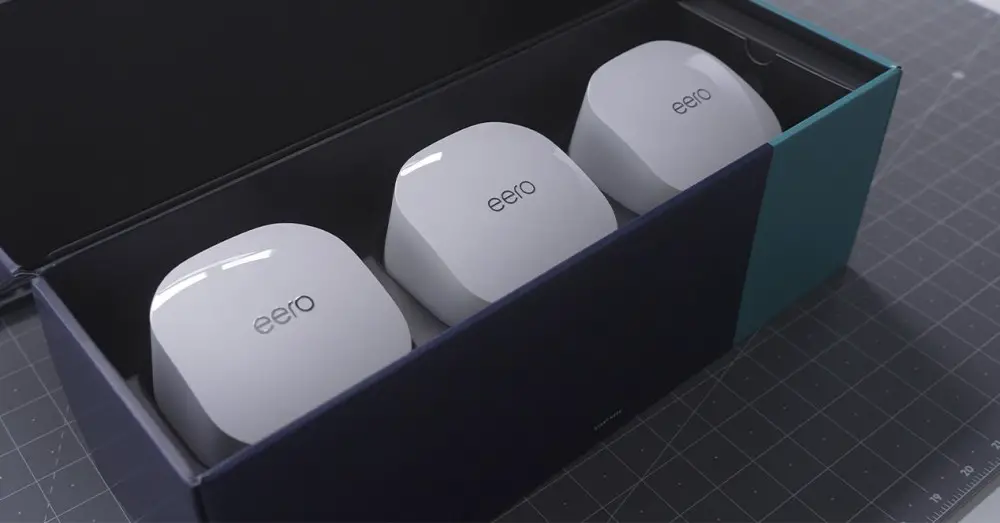 Probably if you have reached this article it is because you have some kind of problem with the WiFi signal at home . It is possible that, depending on the room you are in, the signal is weaker and it will not let you play a video, for example, or that the WiFi simply does not reach it. To solve these types of problems in the best possible way, there are WiFi mesh systems like the one I want to talk to you about today: the Eero 6 from Amazon . But of course, the benefits of the equipment go much further than avoiding possible losses in the signal, allowing us to improve the security of our network, block devices and many other interesting configurations.
WiFi mesh systems, what is it for?
The first and foremost thing you need to know is what exactly WiFi mesh means . Although you may also know them as mesh networks or WiFi network extenders, although the latter is not the best name to define them because there are teams that do it and they do not reach all the possibilities of mesh network systems.
On our website we have an article in which we thoroughly define everything you need to know about WiFi mesh. But, for all of us to understand the concept, it is a type of technology that has a router and, at least, a signal repeater. These two or more elements are capable of mutually connecting to, in this way, maintain the same network coverage between them .
In addition, they incorporate another series of advantages such as that the network access point has the same name and the same password to access it. Therefore, even if you are connected to one of the repeaters instead of the main router, the equipment with which you are connected to the network will not have to change the signal, which will reduce possible problems with this.
And, as I mentioned at the beginning of this section, many people confuse this type of equipment with normal WiFi repeaters. These devices carry the WiFi signal to points in our house where it is difficult to reach but, unlike mesh networks, each of these repeaters has its own access point. Therefore, each one will have an independent WiFi signal and its respective password. All this will also affect the security of the network at home, since more WiFi connection points mean more possible entry points against a cyber attack.
Eero 6: installation and configuration
All that said, the system I want to talk to you about today is the one I've been testing for the last 3 weeks. This is Amazon's eero 6 mesh WiFi system , which we can purchase in different packs. Specifically, I have been testing the one that comes with the main router and 2 extenders. Although we can also buy router and each extender separately, or a kit that comes with the main module and an extension module.
Something that I really liked since I started testing the eero 6 is the design. In the end, they are accessories that we are going to see every day and that we will place in different parts of our house such as the living room, our bedroom or where we really need them. The good thing about this system is that the modules are quite small in size, nothing extremely large as we saw in other WiFi mesh models years ago.
In addition, between them they are almost identical. The only visible difference being that the extenders have a single ethernet port, while the main router has two of these ports. In addition, they all have the USB-C connector to connect it to the electrical network.
And if they seem simple to you on an aesthetic level, they are easier to install and configure:
You take them out of the box and place the main module next to your phone company's router. Then, the repeater (s) should be located at the furthest points inside your house or in those rooms where the WiFi network presents stability or connection problems.

Connect the 

main module

 to one of the ethernet ports of your internet company's router.

Download the 

eero app

 to your phone. You already have a mobile with Android or iOS.

Upon entering it, it will ask you to log in. You can do it directly with your Amazon account and that you save.

Follow the steps that the app shows you. They are very simple and easy to understand.
If you have done everything that the configuration application has requested, in just 10 minutes you will have your eero 6 WiFi system activated at home. None of those complex and ultra technical adjustments that had to be made before in this type of device. And this is precisely what I want to talk about in the next section, about the possibilities that it will give both the more "normal" users and those more advanced.
What can we do with this mesh WiFi 6 system?
First let me tell you everything that we are going to be able to see and do through the eero 6 app, which is no small thing.
On the main screen we have, at a glance, the name and status of our network at the top. Then there is the section of the profiles , that is, the different users who can have access to connect to our network regularly (although later I will tell you how you can give access to guests). Thanks to the profiles we can do different things:
Identify who each device that is connected to the WiFi corresponds to.

Schedule a pause from the full connectivity of this profile to the WiFi signal.

Pause with a single click the connectivity of this, and of some or all of its computers, with a single click
As you can imagine, this option is ideal for houses where there are children who are somewhat addicted to video games and who do not respond when called. You just have to enter your profile, pause the WiFi signal of all your computers and I doubt that they take a long time to respond, although perhaps not in the best possible way.
Followed by the profiles section, we see a list of all the devices that are linked to the network. Both those who are connected at the moment and those who did it recently or, even new ones and that we still do not recognize.
And this is another aspect that I liked the most about the eero 6. The moment a new device connects to the WiFi point, it sends us a notification to the phone to let us know. From here, if we know who it is, we can give it a name, associate it with a profile of our mesh system or, if it is an intruder, we can block its access instantly.
This is all that we could do through the main tab, in addition to knowing all the information related to the connectivity of each equipment. But, through the lower bar, we can do many more things:
Activity

 : here we can see in a very graphical way the data consumption that we have made during the last week (in general or separately in each profile or by device). In addition, we will have the possibility of carrying out a data upload and download speed test.

Discover

 : in this section we can do very interesting things related to home automation. For example, we can configure our eero 6 system to interact with the Alexa assistant, or to be introduced with Apple's home automation (HomeKit) to add an extra degree of protection to these devices. Something very curious, related to the Amazon assistant, is that we can ask it to connect or disconnect any device on the network simply by saying "Alexa, pause the WiFi on Dani's iMac."
Finally, we find the "Settings" tab from which, those users who are somewhat more advanced, will be able to make certain important adjustments:
We can change the name and password of our WiFi network 6.

Access the software updates of the issuing computers.

Configure the notifications that these teams will send to our phone.

Give access to the network as a guest: let's say that we would be 

generating a "temporary" access

 (which we can turn off and on as we like) so that anyone can have WiFi access at home without having to connect to the main network.

Slightly more advanced settings: adjust the IP address, activate IPv6 for greater network security, adjust DNS, etc.

Activate the automatic band change (between 

2.4 GHz and 5 GHz

 ) if we prefer.

Restart our network to solve a problem.
Mesh WiFi system, is it worth it?
Now that you know a little more about this type of equipment and the possibilities that, in particular, the Amazon eero 6 pack gives us, you may be wondering, is it worth it? The truth is that it depends on the situation of each one.
In my particular case, it may be one of those that may have something less of interest, let me explain. I live in Madrid, in an area that is not too far from the center but I also do not live in Puerta del Sol. With this I want to tell you that in my area the network coverage is very good (and I do not suffer from saturation in my surroundings), having contracted 300 Mbps symmetric fiber. In addition, my house is not excessively large since it is about 55 square meters in area. It is true that WiFi does not reach the main room and bathroom with the same intensity as in the living room, but we can cope with it.
I have to admit that having implemented this eero 6 system, the signal is a delight in every corner. There are no dips, there are no losses, everything is going perfectly and it is very comfortable. So, in my specific case, I think that what this type of mesh WiFi contributes the most is the section on security, device control and other additional settings.
However, if you live in a large house, with several floors, there I am sure that this WiFi mesh system would gain a lot and contribute much more than to me. How far can the signal go thanks to the eero 6? Well it depends on the number of repeaters we have. With the pack that I have been testing, Amazon says that we can distribute the signal to up to 460 square meters . However, the pack with 1 extender would go up to 280 square meters . We could even continue adding more points to the network by buying them separately. It only depends on our needs.
So, if you have a problem with your home WiFi network and you want to solve it, in addition to adding certain curious and interesting features to your network, I recommend this pack, which is available for a price of 299 euros . It is worth every euro we pay for it.