I have been able to test the Amazfit T-Rex , a smartwatch that claims to offer a resistant body with a long list of military certifications that give it a rugged appearance that is quite striking at first glance. But how does it behave? I'm going to tell you about it in this analysis.
A muscleman with too many medals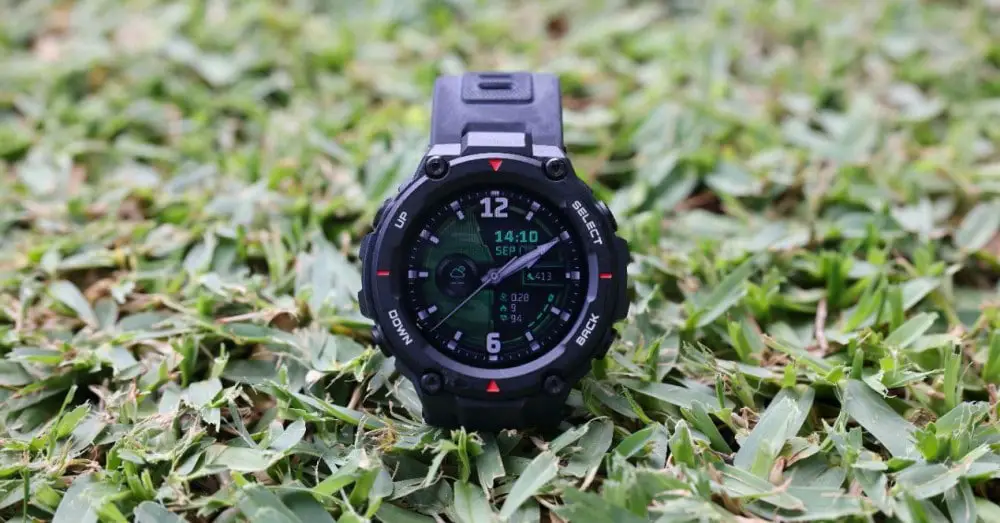 When you see the official images and the cover letter, you intuit that the idea of Amazfit with this T-Rex is to offer an extremely resistant watch with which to survive the worst of wars. Well, once you take the watch out of the box you feel something completely different from what you were expecting, and that is that this smartwatch is quite light .
My first idea was to find a sturdy, tight watch that felt relatively heavy and felt robust. But nothing is further from reality, since the device is very light, with a plastic touch on the back and with the feeling of feeling hollow. Basically I expected to find something similar to the G-Shock from CASIO, known for its excellent construction, but the feeling was something else.
This is not to say that the watch looks bad. Unlike. Its design is quite pintón and resultón, and usually attracts glances, but no longer a trompe l'oeil of something that is not exactly what it feels like to wear it on. But one thing is the sensations when wearing it, and another the field tests. And nothing better to test its resistance than to throw it directly to the ground. And yes, this T-Rex is hard to peel, since it has not been fazed by the continuous blows that it has taken when slamming it against the ground. Its case is stoically resistant to impacts, and beyond the scratches and scratches that appear for obvious reasons, its Gorilla Glass 3 glass and the body have remained intact at all times.
Problems with water?
We've read a lot about the T-Rex's alleged water resistance, so we had no choice but to put it through tests to see exactly how it performs when wet. Well, we must say that we have not encountered any problem so far, since after putting it for several hours in the freezer and leaving it as many more than two meters deep in a pool, the clock has continued to work correctly.
This article will be updated in the future if we run into a problem that arises in the future, but for now the only thing we can say is that the clock continues to work as the first day after applying all kinds of abuse.
Limited smart features
It is possible that when you think of a smartwatch you are imagining a watch with which you can be connected to your phone and interact with it without having to take it out of your pocket. This Amazfit T-Rex obviously communicates with your phone, and it will show the notifications you receive, but everything is absolutely limited , since we will not be able to interact beyond reading part of the information received.
For example, if we receive an audio message through WhatsApp or another messaging application, we will not be able to hear that audio through the clock. That is perhaps a very specific function, but the problem is that we will not be able to read too long messages, and not even reply to them from the clock. Everything is limited to a small preview that will force you to pick up the phone again to find out everything.
The functions offered by the system of this T-Rex are very similar, if not identical, to those of a Xiaomi Mi Band 5, so its proposal is basically to offer a large screen with which to navigate comfortably for the options. For the rest, there is not much else you cannot have with a 30 euro bracelet, and that is a big problem for this watch if you are not looking for a device that can withstand a fall off a cliff.
Comfortable to wear
Thanks to the four buttons it includes (two on each side), navigating through the menus is quite simple. In fact, it is quite comfortable, and the click of them is firm and pleasant, feeling at all times that we are pressing each of the buttons. Comfort also benefits from the strap, which is made of extremely flexible rubber and is highly resistant to pulling and squeezing. The material may not be the most breathable in the world, it is especially suitable for sports activities, as it keeps the wrist cool and is extremely easy to clean under running water.
The problem is that the strap makes use of very specific pins, based on hexagonal head screws that are not the most practical to manipulate. Perhaps knowing the strength of the strap, the idea of changing it is remote, but considering that users often seek customization in this type of device, the T-Rex is not an appropriate model for it.
Endless battery
But if there is a detail that we should especially mention, it is related to its battery. So that you understand quickly, you will be able to wear this watch for a month without worrying about charging it. Obviously if you are going to go out a lot to exercise and use the GPS connection during long sessions, the autonomy will be drastically reduced, but with a couple of days of exercise a week, you will reach 20 days of autonomy without problem.
This is the look that we liked the most about the T-Rex. A watch that feels like a regular watch in terms of autonomy, and you will not have to be aware of charging it every day.
Is this Amazfit T-Rex worth buying?
We are facing a watch that offers a fantastic price for what it offers, since for the 119 euros for which it can be found it is an option to take into account. However, you must be very clear that your tough, military-stamped cover letter might not be the one you claim to have. It is true that it is shock resistant and waterproof, but other products with military certifications have other types of finishes that do feel like 100% rugged products.
Anyway, leaving aside the issue of certifications (in the end, the watch withstands shocks and water, and with that you may be more than satisfied), analyzing the smartwatch aspect does not offer us anything special that a simple smartband cannot offer us, so if you are looking for a smartwatch with quite advanced functions, this is not your product. If, on the other hand, you do not want too many complications, and you settle for a team with which to carry your sports activity moderately, this Amazfit T-Rex is the most interesting option with which to be able to use it in any type of condition.