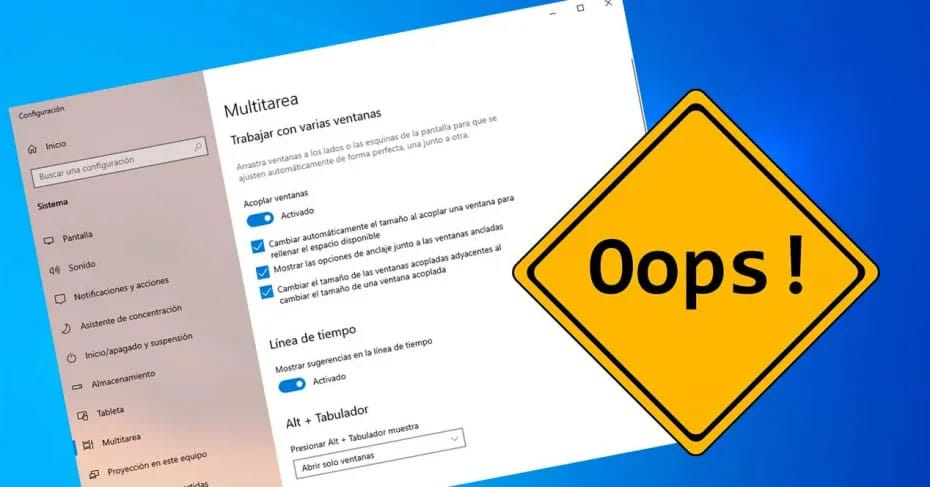 Windows is a multitasking operating system. This means that we can run two or more programs at the same time, and both will be running at the same time. In addition to all the processes that Windows runs underneath while we run it, we can also have several programs open, and move them freely from one to another. We can even switch programs using the Alt + Tab keyboard shortcut anywhere in the system. However, there are many users who, since the last Windows update, have lost this possibility.
The keyboard shortcut Alt + Tab has been present in Windows since the arrival of version 2.0 of it. When we press it, we can see how an overlapping section appears above the screen from which we can move very easily through all the programs that we have open. We can even see a miniature of them.
Windows 10 October 2020 Update has been an update more like a Service Pack than a big update. This has focused on correcting many bugs and problems detected in the operating system that were causing a malfunction, and thus preparing the system for 2021. However, in addition to correcting many problems (something that we do not deny), it has also introduced other many failures. Among others, it has broken multitasking for many users.
Alt + Tab does not work after updating Windows
Microsoft took advantage of the release of the new version of Windows 10 to introduce changes to Windows multitasking. Specifically, what Microsoft intended to do is make it easier to switch between open Edge tabs using this keyboard shortcut.
Unfortunately, this change did not sit very well with the operating system, since all it has done is that this keyboard shortcut stops working correctly for many users. Especially those who use Edge, Microsoft's new browser.
Users affected by the problems claim that Windows is displaying the windows in a random and incorrect order that has nothing to do with the original order. In addition, when you select a window to go to it, Windows 10 opens a completely different one that does not correspond to the selected one.
Both the Microsoft forums and the Feedback Hub are filling up with troubled users. Microsoft is already aware of these bugs in the operating system and claims to be working on a solution, although it will take much longer than expected to arrive.
Solution to the problem of multitasking
Microsoft will release at some point a cumulative patch for Windows 10 that fixes this problem. However, as we have told you days ago, we will not see more cumulative updates not related to security this year, but the solution to these bugs will probably be at the end of January 2021 .
Until then, the only way we can fix this is to uninstall the 20H2 , October 2020 Update, from Windows 10. By doing so, we will revert to the May update and multitasking will work normally again.
We hope that among all the changes that are coming for the Windows 10 2021 updates, there will be greater control over system updates to avoid these types of problems.