If we do not spend a lot of time investigating each of the different functionalities that our phones include, it will be very difficult to find the little tricks or uses that we can do with them. In addition, this is something that usually happens in apps that are integrated, as is the case with the Xiaomi mobile Notes tool.
Maybe if you are a more experienced user you know all or at least some of these qualities that this MIUI application offers us, but if not, get ready to learn 6 different tricks with which you can get more out of the Notes on your mobile from the Chinese firm. And best of all, it will only take us a couple of minutes to get hold of these methods.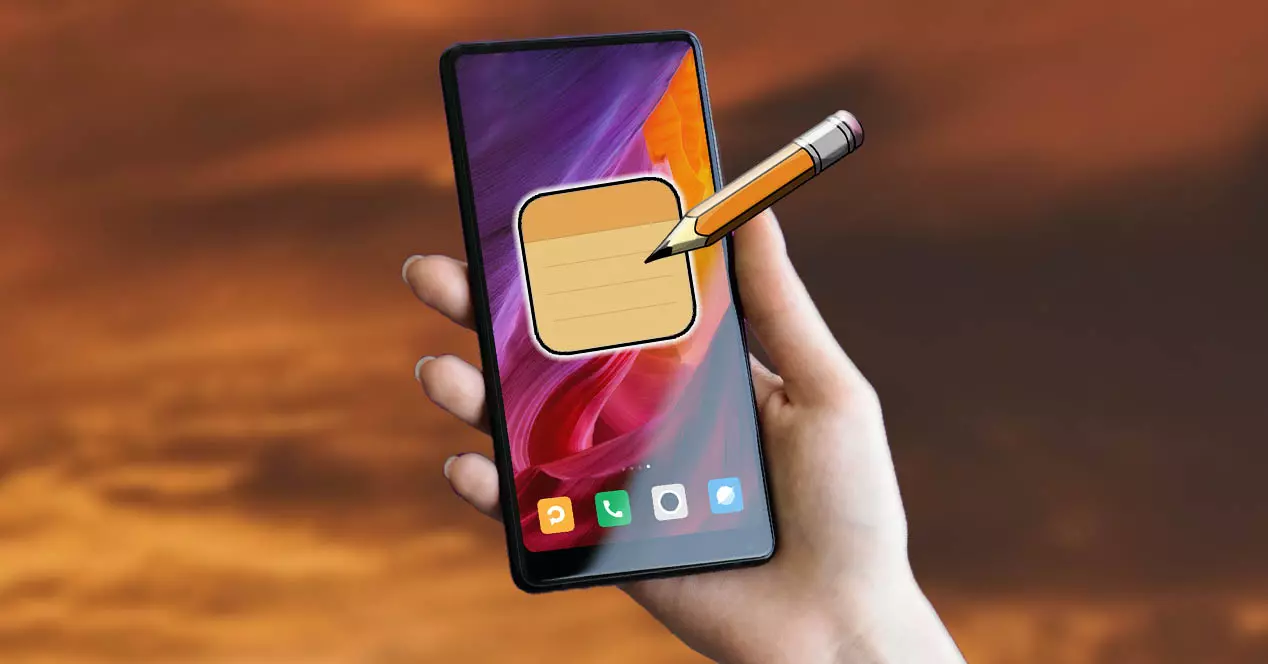 Your profits
Not everyone is an expert in everything, so you may not yet have made the most of all the applications that are integrated into your smartphone with MIUI . Therefore, we bring you six different ways so that you not only use the Notes on your mobile device to write.
Hide them
Many times we leave the mobile phone to people who are too eager to browse our Xiaomi device. If you are worried that they will find what you are writing in the Notes application, you are in luck, because now we can hide all that we are going to create, or they already were. To do this, we must enter the app and follow these steps:
Create a note and click on the three dots that will appear on the screen.
Select the hide option.
It will ask us for a pattern to unlock them.
To access those that are hidden, we just have to slide the screen down and quickly we will have to keep going down until a lock is shown. When you release, you will have to enter the pattern that you have previously established, or even the fingerprint.
Save multimedia files
Within this MIUI tool we can not only point out different things so that they do not fall into oblivion, but we can record what we want by adding an image of what we were looking for, for example, or better yet, an audio. To do this, once we enter a note, when the keyboard is displayed, two symbols appear: one for audio and another icon for images. By clicking on them we can easily add them to any page that we have created.
Access faster
This trick will help us to enter this application from any point of the Xiaomi system. So that you don't have to waste time writing down something that just came to mind. To configure it, you must enter Notes> access its settings> select the Quick Notes option and activate the switch that will appear next to this function.
Customize them
Sometimes it is too simple to have only a blank background, but luckily we can change it to give more life to the shopping lists that we create. By clicking on the button in the shape of a shirt, it will allow us to give our own touch to the note that we have created with this MIUI app. When clicking on it, different default styles will appear that we can apply to put an end to the typical white background.
Give it an order
It may be that if we do not follow a logical order we will end up getting lost among the different documents that we have been creating within this Xiaomi mobile application. For this reason, it is always good to maintain order. To do this, MIUI makes it easy for us, since we can quickly categorize those that we have been creating over time thanks to the folders function. We just have to select all those notes that we want to put in the same folder and then click on the Create a folder option. Finally, it will ask us to put a name to distinguish it from the rest.
Create mind maps
For those who are studious, or who need some organization to write, this function will be of great help. We refer to the creation of mind maps on the mobile phones of the Chinese firm. And all within the Notes application itself. As soon as we create one in the app, we can see it in two ways: with the usual text or in mind map format. In addition, this option will still be available for those that we have already created, that is, we can transfer the texts to a mind map if we wish.