Whether we are going on vacation or preparing a business trip abroad, we are probably worried that we will not live up to a language other than ours. The problem increases if, enchanted by exotic destinations, we decide to visit a destination where we do not even know its writing system. And in this type of cases, the classic dictionaries will not get us out of trouble since we will not be able to consult it.
For these types of situations there are apps capable of translating through the camera of our phone. Thanks to them we just must focus our mobile on the message in question and it will appear almost by magic translated into our language.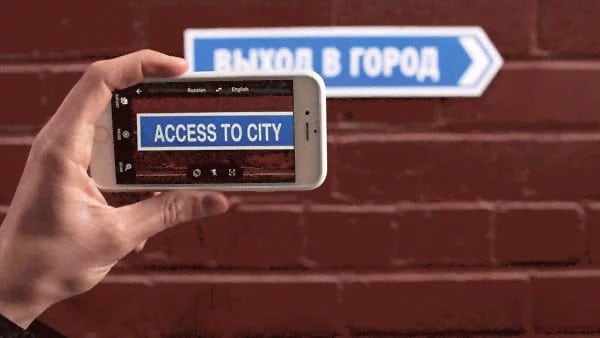 Currently there are many applications that can perform this task, but not all of them offer results with the same level of quality.
Would you like to know which ones we like the most?
Best Free Apps to Translate in Real Time with Your  Android/iOS Mobile Cameras
Google Translator (Android & iOS)
Google Translator was one of the pioneer applications when it came to translating messages using the camera of our mobile phone. This one is completely free and offers versions for both Android and iOS. You can download it quickly and conveniently under.
Google Translator offers the classic translation in which we write a message and it appears translated, the translation of voice messages and two different ways to translate with our camera.
First, it offers a real-time translation where, just by focusing the message with the camera, it will appear with the translation superimposed on the image.
Secondly, we can take a picture of the message and then, point with our finger which part we want to translate. After that Google Translate will show that underlined message in the language of our choice.
One of the strengths of Google Translator is that, by using the Google translation engine, it offers a host of compatible languages. In this way you will have no problem translating everything you do not understand regardless of the country you are visiting.
Google Translate for Android | Google Translate for iOS
---
---
Microsoft Translator (Android & iOS)
Microsoft Translator is the commitment of the Redmond company to translate any message you don't understand. In a similar way to Google Translate, this application allows you to translate both written text and from our camera but also allows you to translate voice conversations. You can download the application for free and securely under.
To translate a message with our camera using Microsoft Translator, we will first have to take a picture of the text in question and then upload it to the application. After that we will receive the message perfectly translated into the language we want.
Having no real-time translation, the application may be a bit slower to use than Google Translate, but it is still very convenient and useful.
Microsoft Translator for Android | Microsoft Translator for iOS
---
---
Naver Papago is an interesting application that will allow you to translate text messages, audio and of course, also images through our camera.
This is very simple to use and offers reliable results in a few seconds, all without paying a single cent. You can download Naver Papago under.
Translating a text through an image with Naver Papago is really simple. Simply open the application, click on the camera icon and take a photo of the text to be translated. Naver Papago will recognize the text and will show it translated instantly.
The only weakness of the app is that it has 13 languages: Korean, English, Japanese, Chinese, Spanish, French, Vietnamese, Thai, Indonesian, Russian, German and Italian.
Naver Papago for Android | Naver Papago for iOS
---
---
Yandex Translate (Android & iOS)
Yandex would be the Russian equivalent of Google and as such, it offers an excellent application with which to translate messages in the blink of an eye. With its 95 languages at your disposal, you will hardly miss any of it, becoming an excellent free alternative to the rest of the programs on the list.
Yandex Translate allows the translation of text and audio messages both online and offline and, of course, translation through images.
To use this service, simply take a picture of the message to be translated or upload it to the application you already have on the reel of your mobile. After that Yandex Translate will show you the perfectly translated message.
You can download Yandex Translate securely under.
Yandex Translate for Android | Yandex Translate for iOS
---
Camera Translator: Translate + (iOS)
Finally, we want to recommend Camera Translator: Translate +. This excellent application offers more than 100 languages with which to translate any text that is placed in front of the camera of your mobile.
The operation of Camera Translator: Translate + is very intuitive. Simply upload the image of the text to be translated and wait for the application to review and translate it.
Once the process is finished, Camera Translator offers interesting options such as sharing the translation with other applications on your mobile phone.
Its only disadvantage is that if we are Android users, we will not be able to use it. You can download the iOS application from here.
We hope this list will help you when translating texts with your phone's camera.