If you're in search of a smartphone with an enormous battery that eliminates the need for a charger, you've come to the right place. A recent report by Versus highlights the top four smartphones currently offering exceptional battery life. It's worth checking out, especially because the capacities of these devices are far beyond what you're accustomed to.
What makes them unique is that they come from lesser-known brands, unlike the usual suspects such as Samsung, Xiaomi, or Apple. The smartphones listed below belong to companies like DOOGEE, OUKITEL, Ulefone, and others. These manufacturers specialize in creating ultra-durable smartphones designed for extreme situations, while also excelling in other aspects.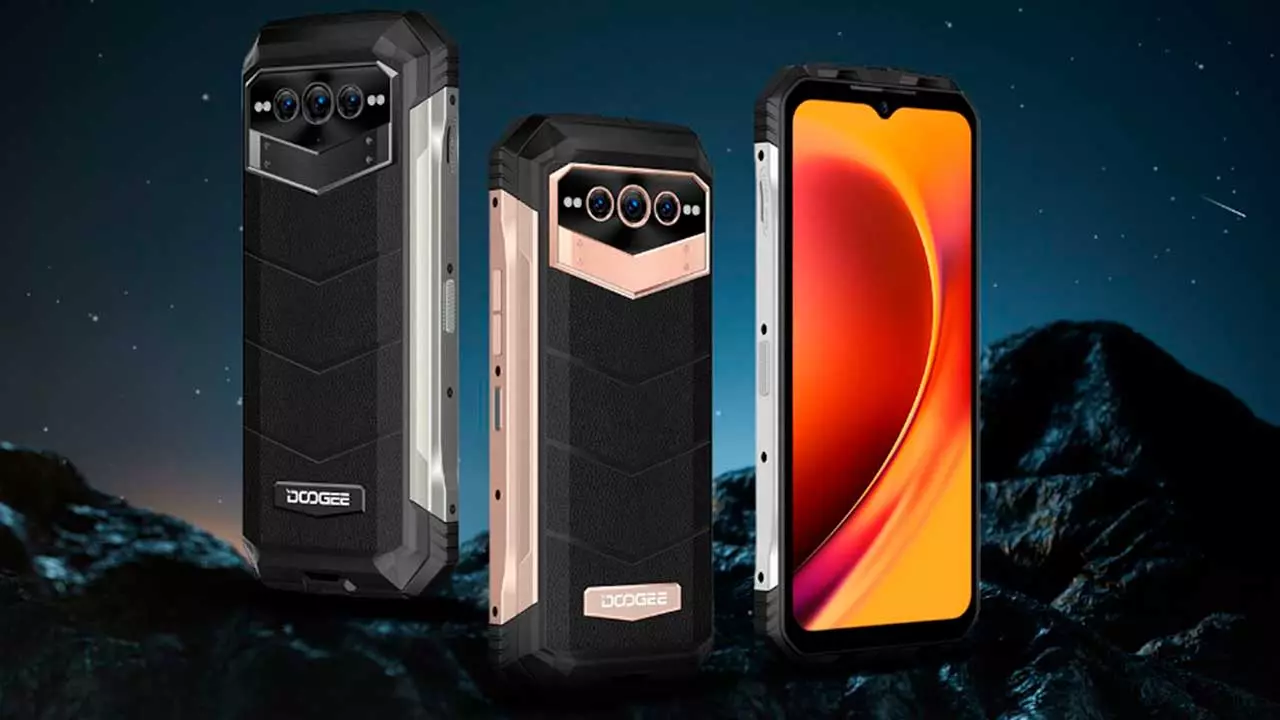 4 mobiles with giant battery
When it comes to selecting a mobile phone, battery life is one of the most crucial factors to consider. Nobody wants to be left with a dead battery in the middle of the day or constantly rely on carrying a charger. That's why we have compiled a list of the top four smartphones with the largest battery capacity in 2023, as determined by Versus. Additionally, we provide a brief description of each device to give you a better understanding of what you can expect from your purchase.
DOOGEE V-Max
Meet the unrivaled battery powerhouse, the DOOGEE V Max. With an astounding 22,000 mAh capacity, this mobile device reigns as the ultimate battery champion, allowing you to enjoy over a week of usage without needing to charge. Its remarkable endurance is complemented by a rugged design that is both waterproof, dustproof, and shockproof, ensuring durability in challenging environments.
Equipped with a Mediatek Dimensity 1080 processor, the DOOGEE V Max delivers outstanding performance, enabling seamless multitasking and smooth operation. The device features a generous 6.58-inch screen with FHD+ resolution and a swift 120 Hz refresh rate, immersing you in vibrant visuals and fluid scrolling.
Capture stunning moments with the rear camera, equipped with three lenses boasting impressive specifications of 108 MP, 20 MP, and 16 MP. From breathtaking landscapes to detailed shots, the camera system produces remarkable image quality.
The DOOGEE V Max, offering its seemingly infinite battery life, is available for 479.99 euros, accompanied by a generous 20 GB of RAM. This combination of long-lasting power and ample memory makes it an enticing choice for those seeking a superior mobile experience.
Oukitel WP19
Securing the second spot is the Oukitel WP19, available at a price of 399 euros. Boasting an impressive 21,000 mAh battery, this mobile device offers exceptional longevity, capable of delivering up to 6 days or even more of uninterrupted usage. Built to withstand rugged conditions, the WP19 showcases robustness and durability, earning IP68 and IP69K certifications for water and dust resistance. However, it's worth noting that its MediaTek Helio G95 processor is better suited for regular tasks rather than highly demanding operations.
Hotwave W10 Pro
Taking the third spot on the Versus list is the Hotwav W10 Pro, equipped with an impressive 15,000 mAh battery. While it shares qualities that make it suitable for withstanding various situations, the performance of its processor falls somewhat short and may limit the optimal usage of applications. Notably, the Hotwav W10 Pro features a generously sized 6.88-inch screen, offering an optimal viewing experience. What's even more appealing is its affordable price, coming in at less than 200 euros.
Ulefone Power Armor 13
Presenting yet another rugged and durable smartphone, the Ulefone Power Armor comes prepared to withstand bumps, scratches, water, dust, and even extreme conditions. Priced at 254 euros, this device boasts a massive 13,200 mAh battery, offering an impressive week-long battery life. Under the hood, it houses a Helio G95 chip, which delivers moderate performance and may not be optimal for demanding gaming or editing applications. However, an intriguing feature of the Ulefone Power Armor is its quad-camera setup, promising versatile photography capabilities.
Mobiles with good battery and best known
The smartphones you've just witnessed not only excel in their immense battery capacity but also in their durability and resistance. However, it's important to note that their substantial weight may become uncomfortable over extended periods due to their larger size. Additionally, some of these devices offer extra features such as fast charging, wireless charging, or a laser distance meter.
If you prefer to opt for more popular mobile brands within the industry, unfortunately, none of them currently offer batteries as large as the aforementioned devices. Nevertheless, there are still some notable options that provide excellent battery life:
1. POCO F5 Pro: Priced at 579 euros, this is the pinnacle of POCO devices, featuring a long-lasting battery.
2. POCO C40: This budget-friendly mobile is available for 100 euros and comes with a 6,000 mAh battery.
3. Nubia RedMagic 8 Pro: Designed for gaming enthusiasts, this device offers an almost infinite battery life experience and is priced at 769 euros.
4. Honor X7a: Combining beauty and functionality, this device sports a 6,000 mAh battery and is available for 200 euros.
While these options may not have the same colossal battery capacities as the previous devices, they still provide commendable autonomy and belong to renowned brands in the mobile industry.