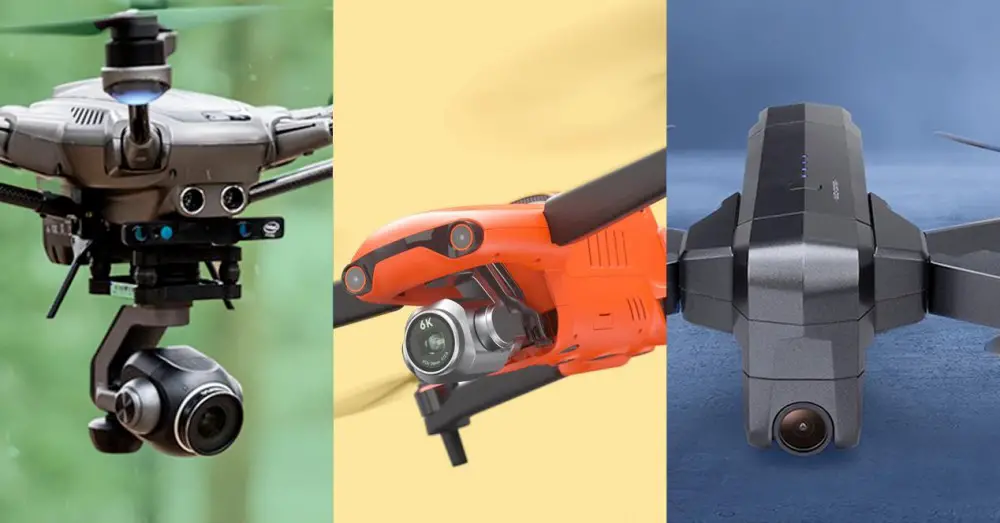 When you consider buying a drone, the first brand that comes to mind is DJI . Practically all the drone models that the Chinese have for sale are leaders in their segment . However… Is there an alternative to DJI that is worth it? Whether you are looking for cheaper alternatives to DJI drones, or similar products, but with some more advanced features, in this post we will introduce you to three products that rival three DJI drones that can help you.
Are there any decent alternatives to DJI drones?
Yuneec Typhoon H Plus – DJI Phantom
Although they are similarly priced, the Yuneec Typhoon H Plus may be a better product than the Phantom . It weighs a little more than the DJI, but it comes with a spectacular controller with a 7-inch screen. Its camera allows you to record 360 degrees , with three-axis stabilization and 4K resolution in your videos. The photos taken by the product have a size of 20 megapixels .
If you are looking for a professional drone, with very good stabilization and image quality, you should consider the Typhoon H Plus. It also has Intel RealTense technology, which will allow you to avoid obstacles and follow your goal without losing your way. It also has six rotors , which know how to adjust in the event of a failure, preventing the drone from falling to the ground or losing height. Each battery supports 25 minutes of flight , and two units come with the product, as well as other accessories such as a carrying case.
Autel Robotics EVO 2 Pro – DJI Mavic Pro
We continue with drones for professional use . This model from Autel Robotics has a list of specifications to take off its hat. You can record at 6K resolution at 60fps or 4K at 120fps. If, on the other hand, you are looking for a drone to take photos, you should know that the sensor of this product also remains at about 20 megapixels . Both the quality of the video and the photos are outstanding.
The drone can fly at 35 kilometers per hour. It can move away to a maximum radius of 9 kilometers from the remote, which means that you will be able to use it even in very saturated places, since the strength of the signal will not be an impediment for this product. Its weight is also quite light , since it stays at 1.19 kilograms. As a negative point, its remote control has a fairly small screen, and it does not integrate a 'Geofence' system either.
Ruko F11 Pro – DJI Mavic Mini
The Mavic Mini made its debut in the category of drones that do not require a license to be flown thanks to its weight. And we all love it, but that does not mean that there are equally interesting products. The Ruko F11 Pro is the best lightweight drone you can buy if you're short on savings for the Mavic Mini. Its 4K camera can be adjusted in a range of 90 degrees . It has several intelligent flight modes, such as following you or hovering over a point of interest. If the drone gets lost, it will know how to return to the starting point without us having to intervene, and its batteries have a range of 30 minutes .