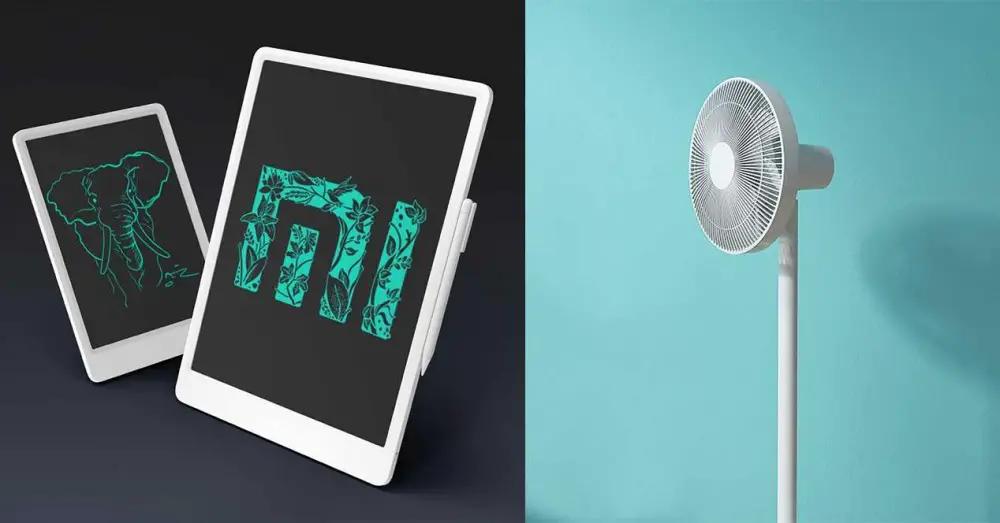 Xiaomi continues to bring new products, and the company has suddenly launched two new ones: a smart fan that improves on the previous version and that we can control by voice, and a tablet aimed at children with an LCD panel that allows drawing and erasing. . We go with all the news.
Xiaomi Mi Smart Standing Fan 2
The Mi Smart Standing Fan 2 is a new smart fan with WiFi and double blades (7 outside and 5 in the center) that has 100 levels of regulation controllable from the fan itself or from the app. It has a natural breeze simulation algorithm to enjoy a more comfortable experience at night.
The fact of having a double blade design allows for increased airflow, with a range of up to 14 meters. The engine has a very low energy consumption, where at speed 1 it can consume 1 kWh throughout the summer. At level 4, the maximum, the consumption is 10 kWh, barely 1 euro and a half at current prices.
Being intelligent, in addition to controlling the settings in the app, we can also control it by voice by being able to integrate it with Alexa or Google Assistant , where we can say the exact level of intensity we want by choosing between 1 and 100.
The fan is adjustable in height, so we can put it on the floor with a maximum height of 1 meter, or compressed on a table. It has a horizontal rotation of 140 degrees, we can tilt it up to 39 degrees up or down. Its loudness level is 30.2 dB at the minimum, and 55.8 dB at the maximum.
Its price is 99.99 euros , and it is already on sale in the official Xiaomi store. At Amazon we also have it for sale, and it is worth 10 euros less than on the official website:
Xiaomi Mi LCD Writing Tablet
Second, we have the Mi LCD Writing Tablet , which is a digital whiteboard with an LCD film and magnetic pen that allows writing in blue and green colors that offers a writing sensation similar to that of writing on paper. To do this, the pen has pressure sensors, drawing thicker lines on the screen when you press. The pencil weighs 7 grams, and has four neodymium-iron-boron magnets with high magnetic force. It can be placed on one side of the terminal to use it, and it is also possible to use the finger to draw.
The tablet consumes very little battery, where a button cell can last up to 365 days if 100 deletions are made per day. We also have a screen lock button so that what we have drawn is kept and not erased in case this is important and we want to leave it for someone to see when we get home.
The screen is 13.5 inches in size, with product dimensions of 319 x 225 mm, and a thickness of 7 mm. Its weight is only 345 grams.
Its price is 19.99 euros , and it can already be purchased in the official Xiaomi store and on Amazon .