Connecting to the Internet wirelessly has gained a lot of weight compared to cable. We have more and more compatible devices and also technology has advanced by offering greater speed, stability and quality. However, on many occasions problems may arise. Errors appear that prevent us from navigating the network correctly. In this article we are going to explain why the Wi-Fi adapter disappears and what we can do to solve this problem and be able to navigate normally.
Reasons for the Wi-Fi adapter to disappear
There is no single reason that causes the wireless network card in our computer to become unavailable. This could be caused by different errors and problems. Hence, we must at all times know the main causes and manage to remedy the problem to connect to the network.
Lack of drivers
Undoubtedly one of the main reasons that the Wi-Fi card disappears or that it never even appears in our system is that we do not have the drivers correctly installed. Generally, operating systems such as Windows usually detect well the devices that we connect and recognize them without having to install anything additional. But sometimes it could happen that the lack of drivers prevents us from using them well.
Therefore, something essential is to make sure that we have all the drivers installed correctly. We must always try to download them from official sources, to avoid problems that may affect us.
Outdated network card
Another reason the Wi-Fi adapter disappears is having outdated drivers. Many users overlook this fact and it is very important. We must always keep everything updated to avoid problems of this type, in addition to being able to make use of the improvements that have been included.
Malware on the system
There are many security threats that can affect our computers. There are many types of viruses, Trojans, and other varieties of malware . They could affect the system, the installed programs and also the hardware itself. This is what could happen to the network card.
It is possible that the flaw that we cover in this article is due to some type of malicious software. This could be causing device conflicts and affecting our security and performance.
Physical problem with the card or connectors
Without a doubt, it is another reason why the Wi-Fi network card is disconnected and does not appear. There could be some kind of physical problem, that a component has been burned or damaged by a blow. In this case it could work momentarily but have continuous cuts and problems.
Software conflict in the operating system
These types of failures usually occur after a system update. It is very important to have the equipment with the latest versions, but sometimes after changing the version of the OS there may be conflicts with the drivers. It is another reason why the network adapter could suddenly disappear and we cannot connect wirelessly.
Generally, it is solved by also updating the drivers of the card or making sure that the update of the operating system has not been cut for some reason. In an extreme case we can always revert the changes and wait for a future update.
Tips to avoid network adapter problems
We have seen what are the main reasons for the Wi-Fi adapter to disappear. We have seen that it can occur for very different causes, so it is also worth taking into account some possible solutions that we are going to give to solve this type of error.
Have everything updated
Having our equipment and adapters updated at all times is essential to keep it running smoothly. In this case, it is essential to have the latest version of the Wi-Fi card, but it is also essential to have the operating system itself.
To update the drivers of the network card in Windows we have to go to Start, we look for Device Manager, we go to Network adapters and we look for the card that interests us. We have to right-click and click Update driver.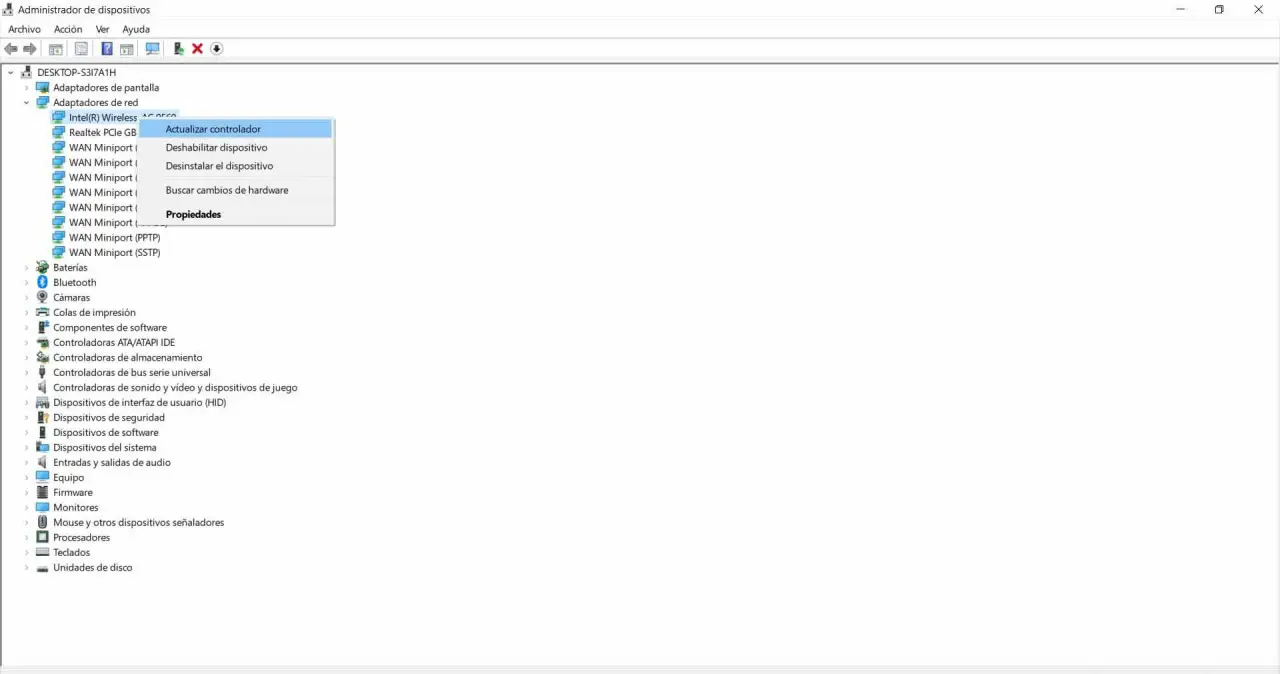 Keep equipment safe
Of course something that can not be missing is to have our devices protected . We can make use of many security tools. An example is having an antivirus, firewall and other programs that help prevent the entry of viruses and any malicious software.
This is something that we must apply regardless of the type of system or device that we are using. Security problems can come through different means and it is essential that we are protected at all times.
Reset network settings
Whenever we have a problem like this, such as the fact that the wireless Internet adapter disappears, we can reset the network settings. This can fix many similar bugs in a simple way.
To do this we have to go to Start, we enter Settings, we go to Network and Internet and there we look for Network Reset. It is the one that appears at the bottom of the window. What you are going to do is remove and reinstall the network adapters, as well as set the original settings.

Restart the router and device
This point is basic. When we have any problem, a possible solution is to restart. We refer to restarting both the computer and the router, since in this way we can fix errors that may appear related to the network.
Now, in the case of the router, we must keep it off for at least 30 seconds. In this way the restart will be correct and we will be able to turn it on again and check if the error has been solved. It is a simple procedure that we can carry out easily.
In short, these are the main causes and possible solutions that we have to avoid the error that the Wi-Fi adapter disappears. We have seen that it can occur for certain reasons and it is always advisable to maintain the security and proper functioning of any equipment connected to the network. In this way we will be able to navigate without any complications and we make sure that our devices work well.