It is possible that you want to buy a new computer and have decided to buy the best of the best. If you are interested in having the best graphics card, we bring you the two most powerful models currently. Specifically, we bring you the most powerful AMD and NVIDIA graphics cards on the market , so you can choose the manufacturer that you like the most.
Currently the most beastly graphics card on the market is the NVIDIA RTX 3090 Ti, which is closely followed by the AMD RX 6950 XT. They are two huge graphics cards that offer support for Ray Tracing and upscaling technology, which allows for higher frame rates.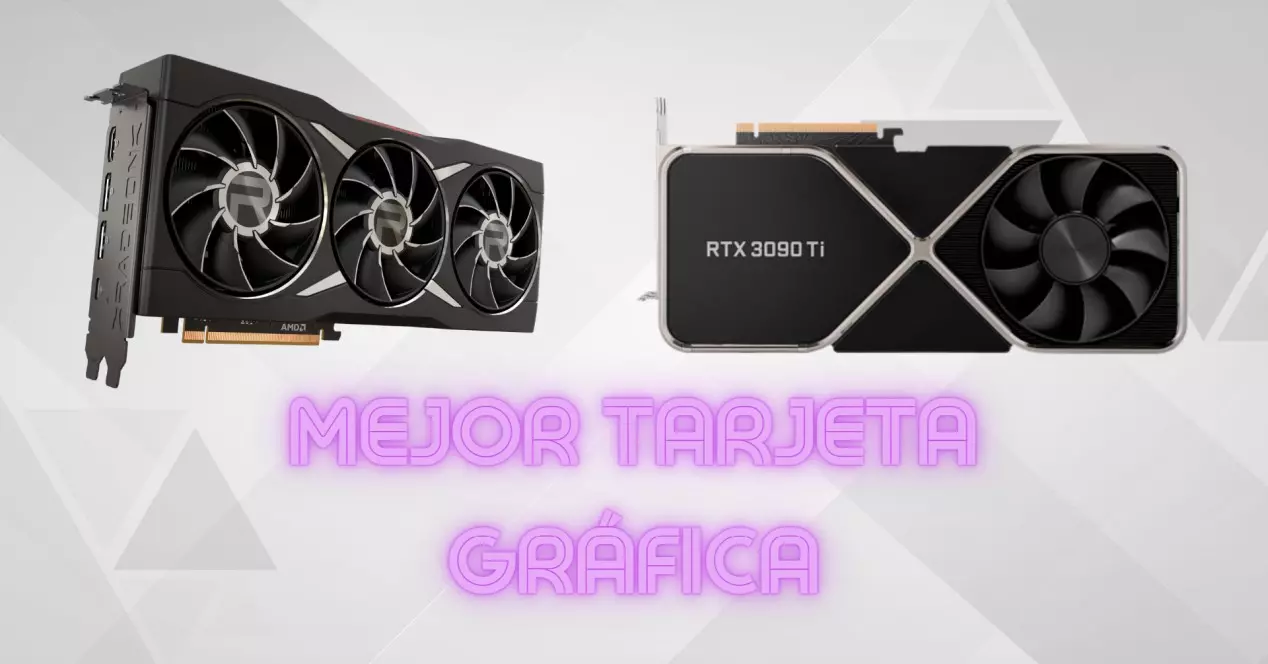 NVIDIA RTX 3090 Ti, aka "The Beast"
NVIDIA graphics cards are usually the most powerful on the market and the most expensive. In addition, they are often the first to introduce certain interesting new technologies. We must remember that the RTX 20 Series were the first to support Ray Tracing and DLSS , NVIDIA's own artificial intelligence-based upscaling technology.
Regarding the specifications of the RTX 3090 Ti, it has a whopping 10752 CUDA Cores, 336 Tensor Cores and 84 RT Cores . This graphics card works at a base frequency of 1560 MHz and can reach up to 1860 MHz. It also has a total of 24 GB of GDDR6X memory with a 384-bit memory bus and a bandwidth of 1 TB/s.
These are the reference specifications, then the assemblers usually modify the frequencies upwards. The most brutal models on the market can have up to 100 MHz extra, which means a little more performance in games. In addition, they integrate special heatsinks, usually quite huge and visually impressive.
We are talking about the most aberrant graphics card that we can find on the market to play video games. Basically, there is no game that cannot be played by this game in 4K resolution with high FPS rate. We must point out that NVIDIA announced these graphics cards as the first in the world to support the execution of games in 8K resolution @ +30 FPS , although at the moment there are hardly any games that support that resolution.
AMD RX 6950 XT, the quiet one
In recent years, thanks to the AMD RDNA architecture , the gap between AMD and NVIDIA graphics cards has been shortened. While they are still a bit behind, especially in techniques like Ray Tracing, the gap has narrowed tremendously.
We are going to see the specifications of the RX 6950 XT, which has a total of 5120 Stream Processors and 80 RT Cores. Thanks to these latest cores, it offers support for Ray Tracing , which is complemented by AMD FSR , the company's own upscaling technology that does not require additional hardware.
This graphics card works at a base frequency of 1925 MHz, has a Game frequency of 2116 MHz and reaches 2324 MHz in Boost mode. It integrates a total of 16 GB GDDR6 with a 256-bit memory bus and a bandwidth of 576GB/s
You might be wondering how they can be so close in performance if AMD's graphics seem "worse". The reason is the working frequencies, which are much higher than NVIDIA graphics. Thanks to this "trick" with fewer computing cores, the performance can be quite comparable.
AMD has been more conservative in its announcement, indicating that it is intended for gaming in 4K resolution with rates above 60 FPS. The truth is that it makes no sense to talk about higher resolutions either, considering that there are hardly any 8K monitors and these are absurdly expensive.