The demand for 5G smartphones has surged as an increasing number of affordable devices offer this capability for internet browsing. As a result, we have compiled a list of the five most budget-friendly smartphones with 5G connectivity that are currently available.
What's even better is that these devices are priced at around 200 euros, making it unnecessary to spend a fortune to acquire a phone that offers excellent value for money. We have provided a detailed description of each selected device below. So don't hesitate any longer and embark on a high-speed internet journey by purchasing a 5G smartphone.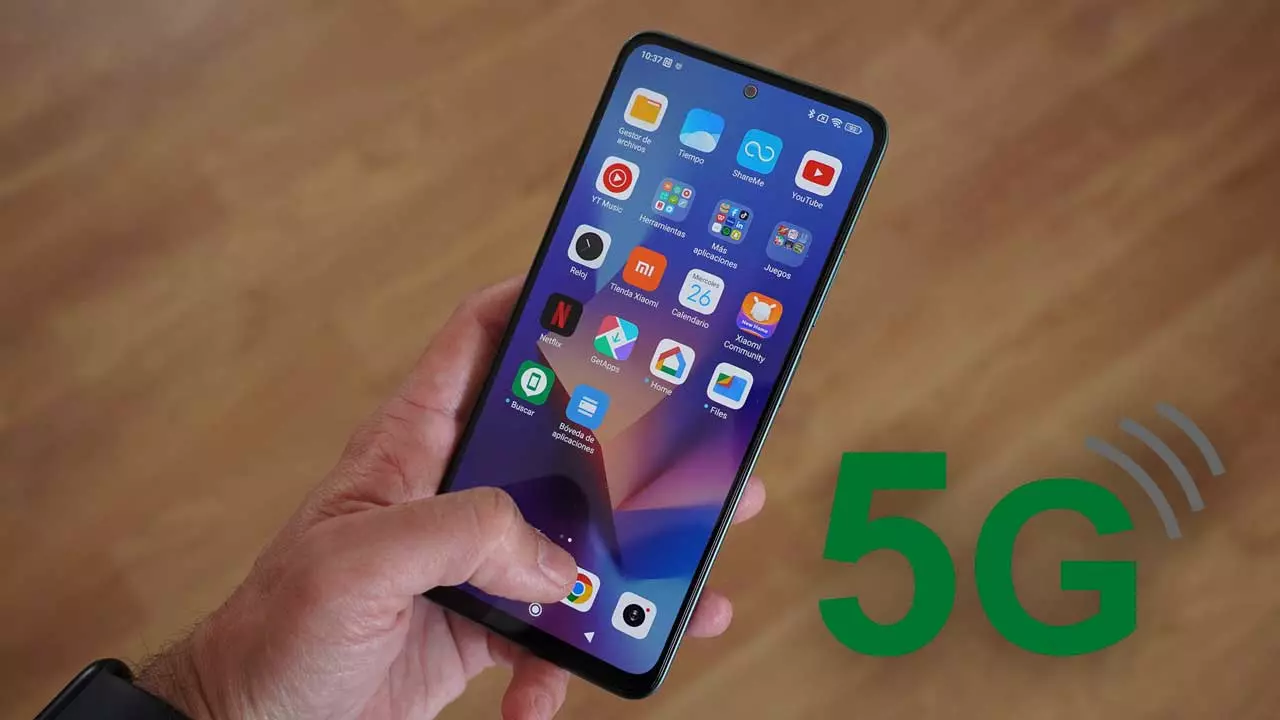 Xiaomi Redmi Note 12 5G
Xiaomi's Redmi Note 12 5G stands out as one of the most recent releases and arguably the best value for money option in 2023. Priced at just 224.99 euros for the 6 GB RAM and 128 GB storage configuration, this smartphone offers an exceptional deal.
What sets it apart is the inclusion of a 120 Hz AMOLED screen, a rare feature to find in budget-friendly mobile devices, delivering a high-quality visual experience.
Powered by the Snapdragon 4 Gen 1 processor, the Redmi Note 12 5G promises outstanding performance and seamless compatibility with 5G networks. Furthermore, it boasts a 5,000 mAh battery capacity with 33W fast charging, ensuring long-lasting battery life for extended usage periods.
The camera setup of the Xiaomi Redmi Note 12 5G is led by a 48 MP primary sensor, capable of capturing impressive photos considering the affordable price of the phone.
POCO M4 5G
Xiaomi presents yet another affordable device, the POCO M4 5G, positioned as the most inexpensive 5G mobile on the market. Priced at just 159.98 euros for the 6 GB RAM and 128 GB storage variant available at PcComponentes, it offers an unbeatable deal.
The POCO M4 5G features a 90 Hz LCD screen, ensuring smooth visuals for gaming and system animations, enhancing the overall user experience.
Powered by the Dimensity 700 processor, this device is suitable for a wide range of activities, although it is advisable to use it judiciously for resource-intensive tasks. Notably, the model excels in its 5,000 mAh battery, supporting 18W fast charging and even offering 5W reverse charging functionality. This means that you can use your phone to supply power to another device, adding to its versatility.
Samsung Galaxy M23 5G
The South Korean brand offers a wide range of smartphones known for their quality. Among them, the Samsung Galaxy M23 5G stands out, featuring a 120 Hz LCD screen that delivers smooth image transitions, although it may not provide the same vibrant colors as an AMOLED display. However, it compensates for this with a Snapdragon 750G chip, ensuring seamless performance for running any application.
Remarkably, the Galaxy M23 5G is priced at only 189 euros, available as a promotional offer at PcComponentes. This deal is too good to miss, especially considering that it comes with Android 13 based on One UI 5.1, the latest versions of the operating system. Additionally, it comes equipped with a 5,000 mAh battery capable of 25W fast charging. The device excels in capturing impressive photos with its 50 MP main camera, producing faithful and true-to-life colors.
OnePlus Nord CE 2 Lite 5G
PcComponentes offers the OnePlus Nord CE 2 Lite 5G at an attractive price of 212 euros. This affordable 5G smartphone boasts a 120Hz display, providing a highly fluid user experience, although it should be noted that it utilizes an LCD panel, resulting in slightly less brightness compared to the Redmi Note 12.
The device is powered by the versatile Snapdragon 695 chip, capable of running various applications with ease, although it's advisable to exercise caution when it comes to graphics-intensive games.
The camera on the OnePlus Nord CE 2 Lite 5G is one of the best in its price range, thanks to its 64 MP lens and excellent image processing capabilities. The device retains a 5,000 mAh battery, accompanied by 33W fast charging support. However, the standout feature of this device is the OxygenOS, which serves as its customization layer, offering a unique and optimized user experience.
OPPO A78 5G
If you're seeking a next-generation 5G mobile device from 2023, similar to the Redmi Note 12 mentioned earlier, the OPPO A78 5G presents an intriguing option with its innovative camera module design. Priced at 209 euros for the variant with 4 GB of RAM and 128 GB of storage, it features a Dimensity 700 processor, comparable to the performance of the POCO M4 5G, providing more than enough power for all your needs.
The OPPO A78 5G sports an LCD panel with HD+ resolution and a 90 Hz refresh rate, offering enhanced fluidity. In line with other options discussed in this article, it is equipped with a 5,000 mAh battery and supports 33W fast charging. The device incorporates a 50 MP primary rear camera, which surprisingly performs reasonably well in low-light conditions, although it doesn't deliver exceptional results.