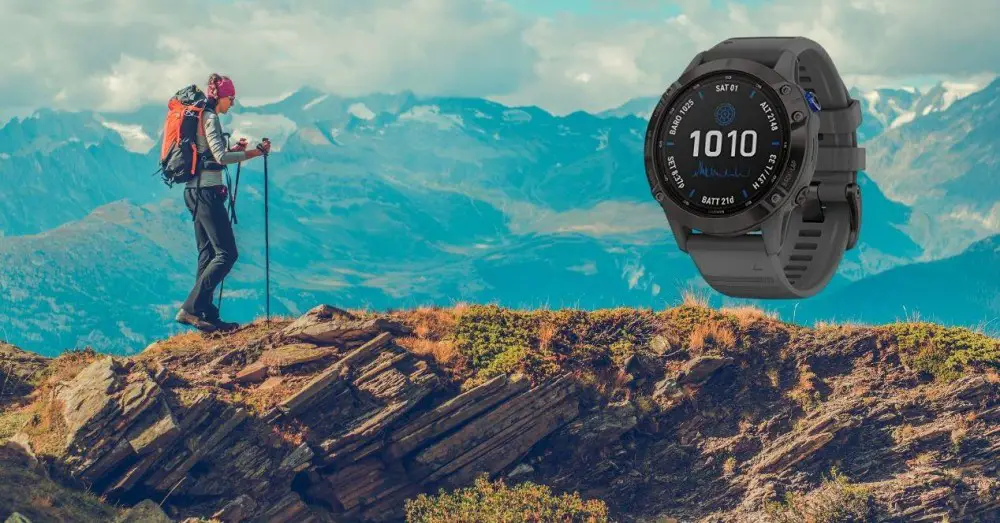 One of the most interesting accessories for sports activity, especially if you do it frequently and want to control your progress, are smartwatches. But not just anyone is worth it, you have to find one that offers you very good functions to accompany you and guide you all the way . That is why I have made a selection with the best options.
If you are looking for a good watch for hiking or to accompany you on your mountain routes, the watches that I am talking about will not disappoint you because they have everything you need to go wherever you want, controlling your sports activity , health factors related to it and much more. In addition, with its GPS functions you will not get lost.
Fenix 6 Solar: Don't worry about your charge
Do not get lost on your mountain routes with the Garmin solar GPS watch with a 1.3-inch screen and advanced functions , which makes it an excellent companion on your hiking routes. One of its most outstanding features is that it has solar charging , so it will accompany you even if you are going to run out of battery and have nowhere to charge it.
It is perfect for camping, getaways or multi-day excursions. Has a guide who knows the terrain . In the health options you will enjoy its heart rate sensor on the wrist and pulse oximetry.
Suunto 9: With precise location information
You'll love this multisport GPS watch because it's great for hiking. Also, right now on sale you can buy it for just over 250 euros. It allows you to control more than 80 sports and is waterproof up to 100 meters, but above all you will love it for its long duration of up to 120 hours.
It has a full color screen and allows you to see steps, calories, sleep, interval guide, heart rate, lap recognition with location and mountain training.
Its advanced GPS tracking and route planning with information about your location with heat maps is perfect for you, among many other options that it includes for your routes.
Galaxy Watch5: Samsung with route tracking
We must not forget about this Samsung model that can accompany you on your routes , offering you the information you need to keep going and controlling your physical and sports activity. Control your health 24 hours a day and measure your body composition, among other options for monitoring health and sports activity.
It has a highly resistant sapphire crystal screen, so you don't fear scratches and falls. Plus, it has GPS route tracking with the new Route Workout feature.
The unisex Garmin Fenix 6x Pro multisport smartwatch will cost you less than 500 euros right now thanks to the Amazon discount. It offers you excellent benefits, although hurry up because they run out.
It comes with a preloaded map from topoactive europe with extensive navigation features, for trail running, hiking or whatever you want, plus a wrist-based heart rate sensor, oxygen saturation information and current training load monitoring, among many others. other possibilities.
It is a watch with a sporty design, very elegant, resistant and perfect to take on your routes. In addition, you can enjoy your favorite playlists from Spotify and other services, so you can listen to music while you're walking or at your stops.
Garmin Instinct: Highly resistant
Your routes will be like never before thanks to Garmin's resistant GPS watch that stands out for its good features and price. It has gone through military standards to resist inclement weather and a reinforced screen.
You can use its preloaded activity profiles for hiking or any other activity you do. It allows you to access its various global satellite navigation systems for better tracking at all times. Among its sensors you will find an altimeter, a barometer and a three-axis electronic compass.
Control your heart rate, health and activity with this complete watch.
Amazfit T-Rex 2: Very complete and cheap
An Amazfit sports watch that stands out for having the best options for its price. It is multisport with GPS and real-time navigation, with more than 150 sports modes and control of many health options. It has blood oxygen and heart rate monitoring and much more.
You'll love it for its military-grade toughness and hiking possibilities with route import and navigation. Its positioning is double band with 5 satellites. It works even at very low temperatures.
Polar Grit X Pro: Great battery and good indications
It is a multisport watch with sapphire crystal and military durability perfect for hiking. In addition, it offers you a long-lasting battery so that it resists much more in any use that you give it. It allows you to monitor your heart rate on the wrist.
One of its advantages of this watch is that it has turn-by-turn directions with komoot in real time so you don't get off track. You will be able to analyze your sleep patterns and see how you have recovered from training, among other factors that you can control at night to make better decisions during the day.