Thanks to the possibility of making an approach from a realistic simulation, few sports have such a variety of titles on mobile devices as golf. Therefore, if you are attracted to golf, we recommend that you try the following titles on your iPhone or iPad .
What features should these apps have?
To be able to enjoy this type of game, it is essential that they have the most realistic graphics possible, as well as different types of clubs and balls, so that it is as similar as possible to reality. If they also have real golf courses and real players, it is much more attractive to play.
Another feature to keep in mind is that these games must have characters that you can customize. In this way you will feel much more represented and you will have more desire to play. In addition, it is noteworthy that they have a way to compete against your friends or against players from all over the world.
best free games
Within this type of games, there are many that are free, but others are paid. In this section we offer you the best games at no cost, even if some have in-app purchases. However, even if they have purchases, you can play perfectly without having to pay.
golf-king
It features real-time one-on-one matches, realistic courses with stunning graphics, customizable characters, intuitive stroke controls, and much more fun. You will be able to play on spectacular golf courses against rivals from all over the world in online confrontations. You will win and collect trophies to unlock higher tournaments. Discover new golf clubs and improve them to increase your performance.
Customize your look with endless combinations of characters, hats, glasses, shirts, pants, and shoes. You will be able to celebrate your victories with different gestures and movements, as if it were real life. You will be able to collect the best golf clubs and caddies to have many more advantages. To play with this application you will need an Internet connection.
Golf Battle
With this app you can play with your friends in a mini golf battle. It has several multiplayer golf games in a 1 vs 1 version or with up to 6 of your friends on more than 120 mini golf courses. Play golf on the same course as your friends and watch them in real time, plus you can show your friends your awesome custom golf clubs and balls. It has super easy controls so you don't have to spend time learning how to play.
Play in real time with real players from all over the world. Incredible 3D graphics. Win prizes and powerful golf equipment. Unlock and upgrade your clubs. Level up and progress through over 120 holes, courses and levels.
WGT Golf
You'll be able to play the best golf courses, with more than a dozen championship golf courses, including Pebble Beach (2010 USGA US Open), Chambers Bay (2015 USGA US Open), Bandon Dunes ( the best complex, created by Golf Digest) or the Bethpage Black (2009 USGA US Open). With the Country Club mode you can join a private country club, to play private club tournaments and get club rewards.
You will be able to make swings, drives, chips and putts using different golf shots from different places such as bunkers and greens, since it is a 3D simulation. It has match formats, such as 18-hole stroke play with putts and 9-hole closest-to-the-hole format matches. It has a multiplayer head-to-head mode, where you will play real-time stroke golf matches. New Topgolf multiplayer game mode, in which you will compete with up to six players with a unique scoring system.
Super Stickman Golf 2
This app has 32 dynamic fields and moving obstacles, portals, magnets and much more await you in the most creative fields of the moment. It has a multiplayer mode in turns, with which you can face all your friends with the new mode. You can win great rewards and show off prizes by sharing them on social networks.
It also has career mode, which is back and bigger than ever. Play online against up to 3 people and fight to see who gets to the cup first. Or, level up and try the 8-player local option. The game characters are customizable. Stand out from the crowd with new characters with accessories like hats. Each hat contains a unique ability and some are rarer than others.
Golf Clash
Play in real time, on the best courses and against players from all over the world, competing in tournaments and 1v1 games. You can also challenge your Facebook friends. You'll be able to improve your clubs and unlock circuits as you hone your golf skills. It has a revolutionary hitting system, easy to learn and difficult to master.
There is a community of thousands of players online waiting for your challenge, plus you can progress to more advanced circuits as you take more risks. As you gain experience, you'll earn weekly league promotions to earn bonus club cards, and unlock chests as you discover and collect premium clubs and balls.
Best paid apps
This section brings together the best paid games. Some of them you will have to pay when downloading the application, while others have a trial period or some free game modes, but to qualify for the best levels, you will have to pay.
Golf Peaks
Golf Peaks is a small puzzle game where you climb mountains playing golf. Use the cards to move the ball and solve more than 120 handmade puzzles and conquer the tops. It also has more than 10 worlds that you complete and several types of blocks that you can experiment with. It has a movement system that is based on cards.
It has a minimalist design and a simple interface, which creates a relaxing atmosphere for you to enjoy playing. It has an achievement system that will motivate you to continue beating levels. In addition, it is so simple that you can play with one hand, ideal for you to play at any time, whether you are traveling or relaxing at home.
extreme-golf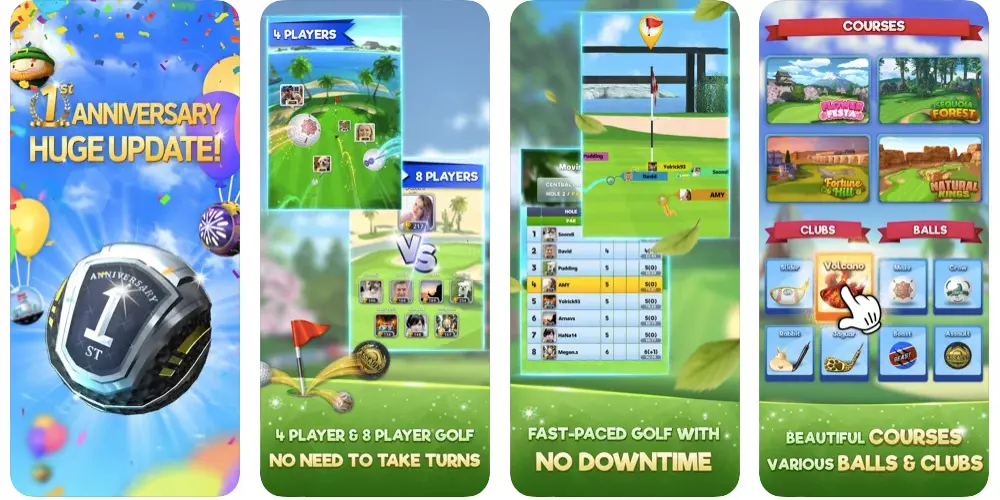 Real-time multiplayer golf battle and you don't have to wait for others. Hit the green with golfers from all over the world through instant matchmaking! You can go up in category and become the king of golf. Simple controls and quick and easy games. There are different types of clubs, including drivers, woods, long irons, short irons, rough irons, wedges, sand wedges, and putters. You will be able to dominate the different courses with various clubs and unique balls.
You can get together with your friends for a richer and more exciting experience. They will be able to help you improve your shot and strokes. You can compete together to climb the rankings and get different prizes and trophies. It has a wide variety of game modes, among which are 4-player games in real time, the quick mode or the tournament, in which you will compete against players from all over the world.
PGA TOUR Golf Shootout
Play against real opponents from around the world in Versus mode, work your way through challenging PGA TOUR TPC courses in single player and earn daily challenges and rewards. Unlock and upgrade golf clubs and enjoy a complete experience with beautiful 3D graphics.
Smooth and simple controls for easy-to-learn gameplay Discover and upgrade over 50 golf clubs with unique stats and abilities Compete with opponents from around the world in Versus mode or progress in Single Player Play on four golf courses real PGA TOUR TPC with 72 holes.
Idle Golf Tycoon
This game is something different since it is not only to play golf, but you can get rich building golf courses. Grow your golf course from a small hole to a thriving golf club with members enjoying the best golf of their lives. If you like sports games, golf games or management and simulation games then this is going to be the most fun game with lots of updates, courses and features to come.
As a golf club tycoon, transform your small plot into a lush green golf course with hundreds of members playing at your prestigious golf club. It attracts the best players in the world to tournaments. The way to truly become a golf club tycoon is to organize tournaments where you attract the best professional players from all over the world. Organize the best golf tournaments to attract as many spectators as possible.
Mini Golf 100+
It is a game of mini golf, and not golf like the previous ones. Currently, it has 500 holes for you to enjoy the game and can play for a long time. Its graphics are realistic thanks to 3D and its operation is simple, you only have to shoot. The first 100 levels are easy, and once you advance, the difficulty will go up.
You can find a treasure chest on the field, hit it and open it, get a new ball. The balls are interchangeable, and there are also 3 missions every day, the difficulty is high, but there are rewards. As you go up in levels, you will go up positions in the tournament and you will be able to get prizes and trophies. It has some courses for you to become the best mini golf player.
What are our favorites?
In the free games, Golf King stands out. It has everything you could ask for in a game with these characteristics: good graphics, a feeling of playing real golf, and the ability to connect with your friends to see who is the best on the golf courses.
Of the paid games, Extreme Golf undoubtedly stands out. You will be able to play without having to wait for turns, either competing against players from all over the world, against your friends or against yourself, so that you can improve your shots. Its fun interface will make you feel like you're in a video game.