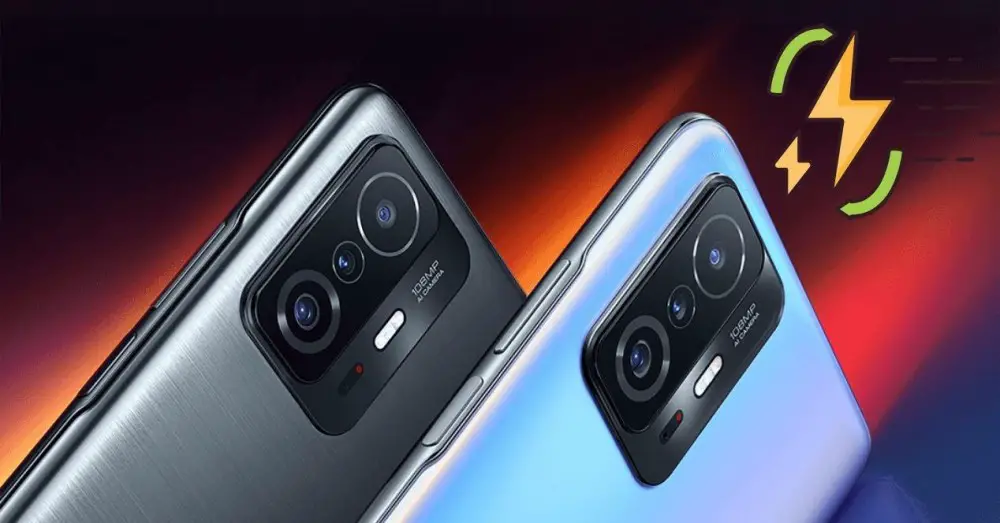 If you are looking for a mobile with very fast charging, but you do not want to spend your savings on it or need the latest launch in the brands' flagships, these are the mobiles that offer you an excellent price and charge very quickly.
You can have the mobile available for whatever you want in just a few minutes or have it fully charged in about an hour . Learn more about everything they can offer you for their price and the great charging power that all of them have. Do you want to discover our selection?
Xiaomi 11T Pro, the most complete
Right now you can buy this mobile for almost half the price, at less than 400 euros in its version with 8 GB of RAM and 256 GB of storage. It is a model with a great Snapdragon 888 processor, a 120 Hz fluid screen and a 108 MP Pro camera. But without a doubt what stands out the most is its battery life for more than a day with its 5000 mAh and its 120W fast charge with which you will have your mobile available in just 17 minutes.
It combines the best combination of battery and safe charging technology in a model designed for all your needs and that you can now buy for much less.
OnePlus Nord 2, very fluid and with 65W charging
You can buy this OnePlus model for just over 350 euros right now in its version with 8 GB of RAM and 128 GB of storage, more than enough for everything you need to do with your smartphone. Although there is a more powerful model with 12 GB of RAM.
It has an excellent 50 MP AI triple camera system. Its fast charging system is 65W Warp Charge , with which you will fully charge your mobile in just half an hour. Although this is very little, if you are in a hurry, you will have a battery for the whole day in 15 minutes.
Redmi Note 11 Pro+, your battery to 100% in 15 minutes
This Xiaomi mobile has many excellent features, including a large screen and excellent 108MP camera . But if what interests you is its charging power, this is 120W, with which you can charge your 4500 mAh battery in just 15 minutes. Less than what it takes for many to have a coffee! You will never be without a mobile since its autonomy is at least one day and you charge it very quickly.
In addition, its price is quite good considering its features, and right now you can find it on sale for 345.80 euros in its version with 8 GB of RAM and 256 GB of storage.
OPPO Reno 6 Pro, the most powerful with fast charging
You can get this OPPO for less than 500 euros, specifically 468.44 euros with this offer . You will take a very powerful mobile with 12 GB of RAM and 256 GB of storage. Its screen is a 6.55-inch AMOLED with a 90Hz refresh rate and its Snapdragon 870 5G processor.
It has a 4500mAh battery with 65W fast charging . With this, you will have a battery for a long time and your mobile will be fully charged in just 38 minutes.
POCO X4 Pro 5G, the cheapest with a huge battery
You can buy this POCO for less than 300 euros and it charges super fast thanks to its 67W Turbo charging power, with which you will have up to 90% charge in 31 minutes . With 8 minutes you will have a 30% battery that will last several hours of use, in case you have an emergency. With its large 5000 mAh battery, it will last you much more than a day. It has a 6.67-inch fluid screen with a 120Hz refresh rate.
In addition to a good battery and fast charging, this phone has a great Snapdragon 695 processor and a flagship-level 108MP camera for you to take the best photos and videos. It is an excellent option for its price.