If you are looking for phones that offer you an excellent Internet connection to fully enjoy movies, series, streaming, downloads and everything you see on the Internet, as well as to play the best games with minimal latency , we present some models that it is worth considering.
These are high-performance smartphones that provide you with the best Internet connection , of different brands, ranges and that offer you various features, so that you can choose the most interesting one for you.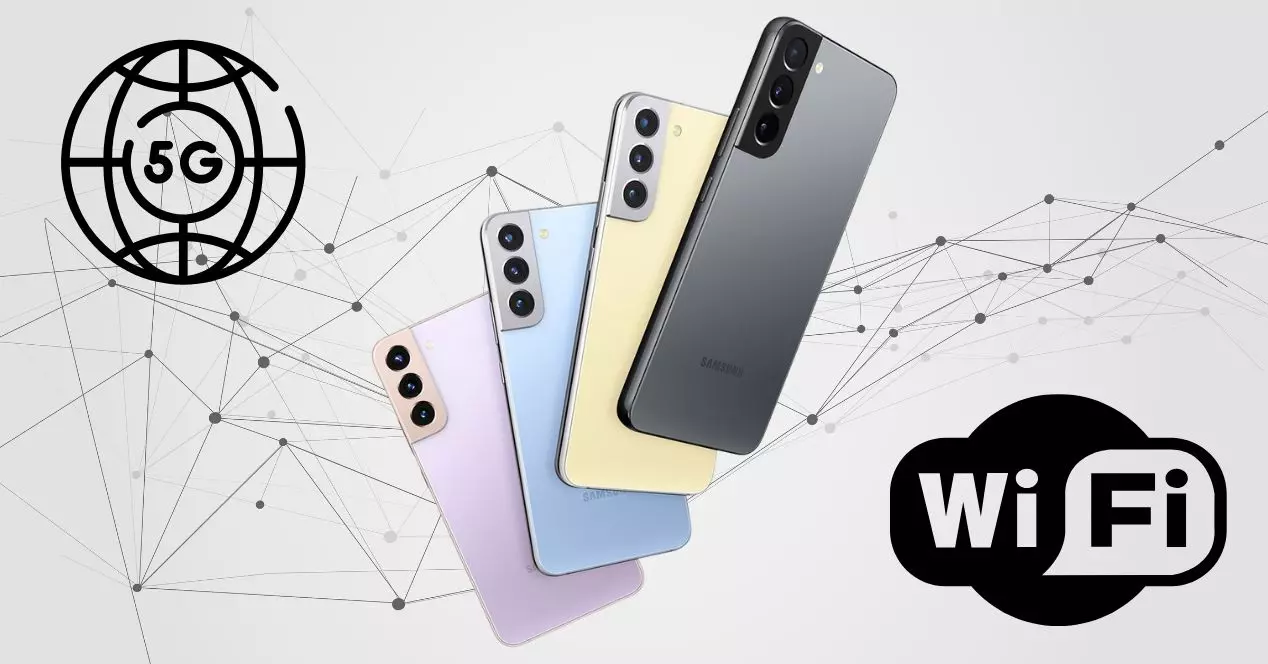 Why are they better connected?
We have made this selection with models that stand out for their high connection possibilities both inside and outside the home. On the one hand, they have 5G technology that allows them to access high-speed networks anywhere, always taking advantage of the best available speed and with the minimum latency. Thus, you can enjoy your favorite content at any time.
These mobiles stand out for having the best WiFi technology of the moment, to always be up to date. Specifically, they are all equipped with WiFi 6 , the wireless transmission standard that improves all those that have existed up to now, providing greater efficiency and speed in WiFi connections while reducing the energy consumption that is needed. This is designed to also operate in the 2.4 GHz and 5 GHz bands.
We will be able to enjoy both frequency bands, the 5 GHz band that provides higher speed and the channels overlap less, although the range is lower, and the 2.4 GHz band that provides a greater range, although the speed is not as high. In addition, it is compatible with the 6 GHz band. All this while optimizing battery consumption in the content you view on the Internet. That said, we present you the best options of the moment in the medium and high ranges.
OPPO Find X5 Pro
OPPO Find X5 Pro 5G is a high-end mobile that stands out for its features. It has a great processor, 12 GB of RAM and 256 GB of memory. It is a mobile with a 6.7-inch Amoled screen and WQHD+ resolution in which you will fully enjoy all the content and uses that you give to your mobile.
In addition to a large 50 MP camera and an excellent 5000 mAh battery life with 80 W fast charging, it stands out for its connectivity, with the best Dual 5G technology for the highest connection speed and lowest latency. You will also enjoy all the possibilities of Wifi 6.
OnePlus 10 Pro
The OnePlus 10 Pro 5G model offers you great connectivity possibilities, added to its high performance thanks to its processor, 12 GB of RAM and 256 GB of memory. Its camera is of high quality and it has an excellent autonomy of 5000 mAh with 80 W Supervooc fast charge.
You will enjoy it with its 5G support, plus WiFi 2×2 MIMO, compatible with 2.4G/5G supporting WiFi 802.11 a/b/g/n/ac/ax. One of its main attractions is WiFi 6 connectivity.
Xiaomi 12 Pro
The Xiaomi 12 Pro is a 6.73-inch Amoled 120 Hz smartphone with an excellent Snapdragon 8 Gen 1 processor, its 12 GB of RAM and 256 GB of storage. It has a 50 MP triple camera system and a good long-lasting autonomy of 4600 mAh.
This phone offers you the best 5G technology to enjoy your connection anywhere with the best possible coverage. Also, you will enjoy WiFi 6 on it. These are some of the advantages of this high-end Android 12 mobile with MIUI 13.
Galaxy S22+
The Samsung Galaxy S22+ is a high-end phone with 256 GB of storage and 8 GB of RAM with which you will enjoy its features to the fullest. It is a 6.6-inch model with a high autonomy of 4,500 mAh.
You can enjoy the best Wi-Fi 6e internet connection with its 2.4GHz, 5GHz and 6GHz tri-band system without problems, in addition to accessing the best connection outside or inside the house with 5G technology.
POCO F4 GT
POCO F4 GT is a mobile that, beyond its excellent features at a very good price, thanks to its Snapdragon 8 Gen 1 processor, 12 GB of RAM and 256 GB of storage, you will enjoy the best Internet connection in the areas with the greatest coverage 5G, to be able to view content faster and without latency and play with your mobile. You will also enjoy the best connection quality at home with WiFi 6+.
It has a 64 MP triple camera system with high battery life thanks to its 4700 mAh with 120 W fast charge.
Pixel 6Pro
With the new Pixel 6 Pro, you can enjoy the best 5G Internet connection and high Internet connectivity with WiFi 6E. It has Bluetooth 5.2 and many other connectivity options in a high performance mobile.
Right now you can get this Pixel 6 model at an excellent price to enjoy all its features, with its latest generation Titan M2 chip , a 50 MP camera with three professional lenses including a telephoto lens. Its battery will last much longer than the day, even if you make intensive use of it.
iPhone 13 Pro
This is a high-end model with which you will enjoy its excellent features that also include the best 5G and WiFi 6 connectivity options, among many others for the best viewing experience. You can buy it in its 128 GB, 512 GB or the best autonomy of 1 TB versions, in addition to the A15 Bionic chip for ultra-fast performance.
It has a Super Retina XDR display with ProMotion and a 120Hz refresh rate for browsing, gaming and watching videos like never before. It is a high-end phone from Apple with which you will enjoy all its features, the highest performance and first-class connectivity.
iPhone SE 2022
iPhone SE 2022 is a third generation Apple mobile that you will find at an excellent price today. You can find it in versions of 64, 128 and 256 Gb of storage with A15 Bionic chip for higher performance.
With it you can enjoy 5G networks at higher speeds and with less latency, as well as the best content viewing experience with WiFi 6. Undoubtedly, excellent features for a mobile at an excellent price that competes with the best Android range half. It has a great autonomy and a very practical size of 4.7 inches.
Honor 50
This is a low-priced mobile that stands out for its speed in Internet access on 5G networks and from home. It is a Snapdragon 778 processor powered phone with 8GB of RAM and 256GB of storage. You can enjoy the best Internet connection with 5G for higher speed and lower latency and WiFi 6.
In addition to a good 108 MP camera with a 32 MP front, 8 MP wide angle, 2 MP depth and 2 MP macro, this mobile has a 4300 mAh battery with 66 W fast charge.
Xiaomi Redmi Note 11 Pro+ 5G
The Redmi Note 11 Pro+ 5G is a phone with a 6.67-inch FHD+ 120 Hz Amoled screen with which you can enjoy the best Dimensity MTK 920 processor with 8 GB of RAM and 128 GB of storage at an excellent price. It has a large main camera of 108 MP, a battery life of 4500 mAh with hypercharge of 120 W.
It is a 5G phone so you can enjoy your movies, series, streaming and the content you view from your mobile faster. An excellent mid-range option that also has WiFi 6.